Earn up to ₹30k with Pocket52's First Deposit offer on Rummy and Poker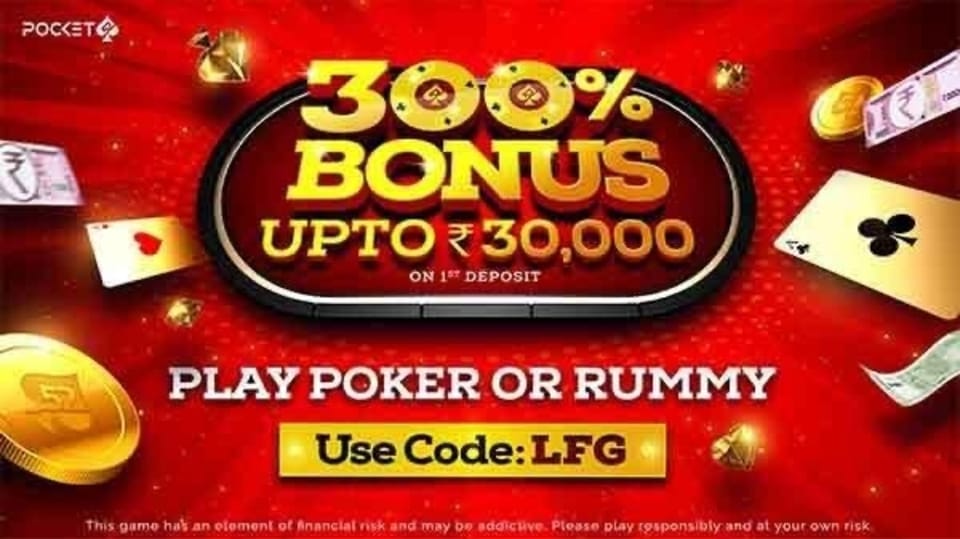 Pocket52 welcomes all its users with lucrative deals and discounts, and what better way than to give 300% bonus upto ₹30,000. Yes, you read it right! Learn more!
The world of gaming has become more advanced than ever. From simple board games to state-of-the-art offerings today, much has changed over the past decade. The introduction of new and innovative games has only exacerbated post the pandemic, and the future looks bright!
While all kinds of card games are played online by millions of players every day, poker and rummy are some of the most popular. The popularity of these games has led to a rise in the number of gaming sites! So, if you are looking to experience gaming like never before, and win big, it's time to head to Pocket52.
What sets it apart?
Pocket52 welcomes all its users with lucrative deals and discounts, and what better way than to give 300% bonus upto ₹30,000 on your very first deposit. Yes, you read it right! This makes for a great deal, especially for new users, as the extra money acts like a cushion, and reduces the fear of losing money that comes with real money online games such as poker and rummy.
A 300% welcome bonus up to ₹30,000 is on the cards. Sounds too good to be true? Well, a bonus like this will not hurt even a poker pro or a rummy enthusiast. There's nothing like getting a good head start when it comes to playing a game, and no one understands it better than Pocket52!
How does the bonus work?
Let us help you understand how the bonus works. Deposit any amount of up to ₹10,000 on your first deposit using code LFG and you will get a 300% extra bonus on your deposit amount, viz. up to ₹30,000.
Here's a case in point. If you deposit ₹5,000 on your first deposit using coupon code LFG, you will get 300% of ₹5,000, meaning ₹15,000 extra bonus cash. What's better than getting triple the money you deposited, especially in competitive games like rummy and poker?
Now, of the 300% extra bonus, players will get 15% as instant cash in their wallets right away and the remaining 285% will be credited as users continue to play their favourite games on Pocket52.
Users can easily play online rummy and poker with their bonus cash and earn more rewards as they go along. Pocket52 doesn't just offer the most rewarding welcome benefits; India's #1 online gaming platform is also easy to use, fast, safe and secure, making it the preferred choice of the community of gamers today!
It also provides users - from beginners to professionals - an opportunity to participate in FREEROLL Tournaments, without spending a penny. Users have to go through a simple 3-step registration process, after which they can start playing in the best poker and rummy tables.
The last word
So, wait no more! Kick things off in style and avail the best deposit offer in the gaming industry with Pocket52. No harm in showing off your skills with that extra bonus in your wallet.
Pocket52 is available for Android, iOS, MacOS Desktop & Windows. Create your account & claim your triple bonus! CLICK HERE