Samsung has launched a smart monitor that claims it can 'do it all': Check out price and specs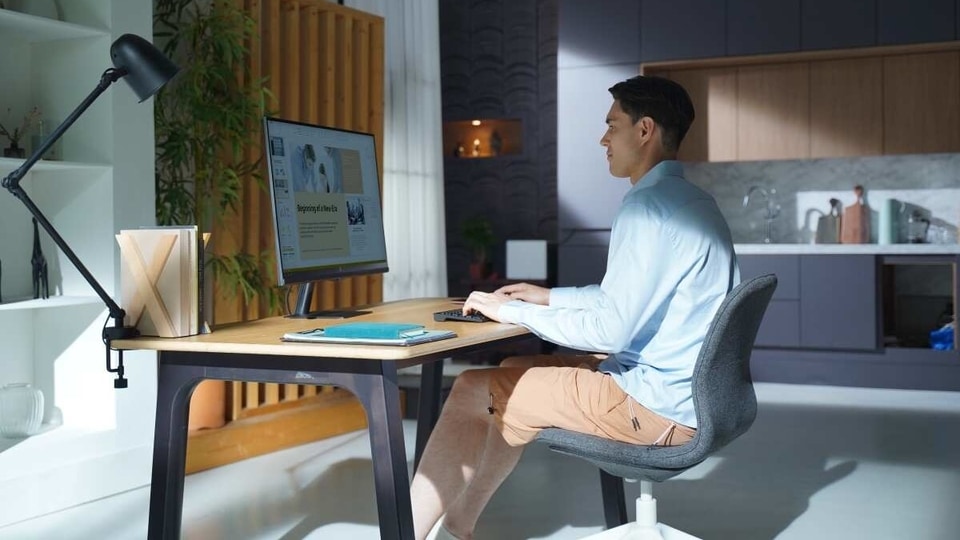 Samsung's new Smart Monitor comes with Samsung DeX and Microsoft 365 work office and school work, and there is also Netflix, YouTube, Apple TV and other OTT apps built-in.
Samsung has launched an all-new Smart Monitor which comes with a "Do-It-All" screen that can be used to watch content from Netflix, Apple TV, YouTube, etc and can also be connected to the PC and be used to work using Microsoft 365. The Smart Monitor is built to multi-task and incorporates mobile and PC connectivity, remote home office, and learning features. Along with all this, there is the Smart Hub that is similar to Samsung's built-in Smart TV platform that lets users watch OTT content. You can also use these Smart Monitors like a desktop without the PC by connecting it to your Galaxy smartphones through the Samsung DeX.
The Smart Monitor has been designed with a three-side borderless, edge-to-edge display and comes with Flicker Free technology that helps remove the screen flicker thereby being less tiring on the eye. There is also the Eye Saver Mode that minimises the emission of blue light on the Smart Monitor to cause less fatigue to your eyes.
The Samsung Smart Monitor comes with numerous connectivity options for both PCs and smartphones. Users can connect their personal devices easily with a simple tap using Tap View, App Casting, Screen Mirroring or Apple AirPlay2. For home office and learning, the Smart Monitor operates Microsoft 365 applications without a PC via embedded WiFi. And this allows users to view, edit and save documents on the cloud directly from the monitor. Users will need to use Bluetooth-connected keyboard and mouse for this purpose. There is also Remote Access that allows users to wirelessly and remotely access files from a PC or view content from a laptop and a USB Type-C port for data, display, and power (up to 65W).
For entertainment, there's the Samsung Smart Hub that gives you access to Netflix, HBO, and YouTube even without a connection to a PC or a mobile device. Content can be accessed with the Smart Monitor's remote control, which includes hot keys for streaming services. The display can also be controlled by voice using Samsung's Bixby or other voice assistants like Amazon Alexa and Google Assistant. There are also Multiple USB ports and Bluetooth 4.2 support. The display has built-in channel speakers so users do not need to set up additional speakers unless they want to make things louder. The aspect ratio of the Samsung Smart Monitor can be changed be adjusted from 16:9 to 21:9, allowing a wider and more encompassing view while playing games, and viewing other widescreen content.
The new Samsung Smart Monitor is available in two models. There is the M7 that supports Ultra-High Definition (UHD) resolution in 32-inch screen size and the M5 that supports Full HD (FHD) resolution in 32-inch and 27-inch screen sizes. Both the models, and their different sizes, will be available for purchase starting today, April 9, and can be bought from Samsung's official online store, Samsung Shop, from Amazon, and also from other retail outlets.
Prices of the new Smart Monitors start from ₹28,000, but for a limited period of time, they are going to be available at an introductory price starting from ₹21,999 onwards. Those buying the Smart Monitor will also get a complimentary wireless keyboard and mouse. This offer, however, is valid for only a limited time and will be provided by sellers based on their own discretion.