Apple MacBook Pro 13 (2020) review: Just take my money, and go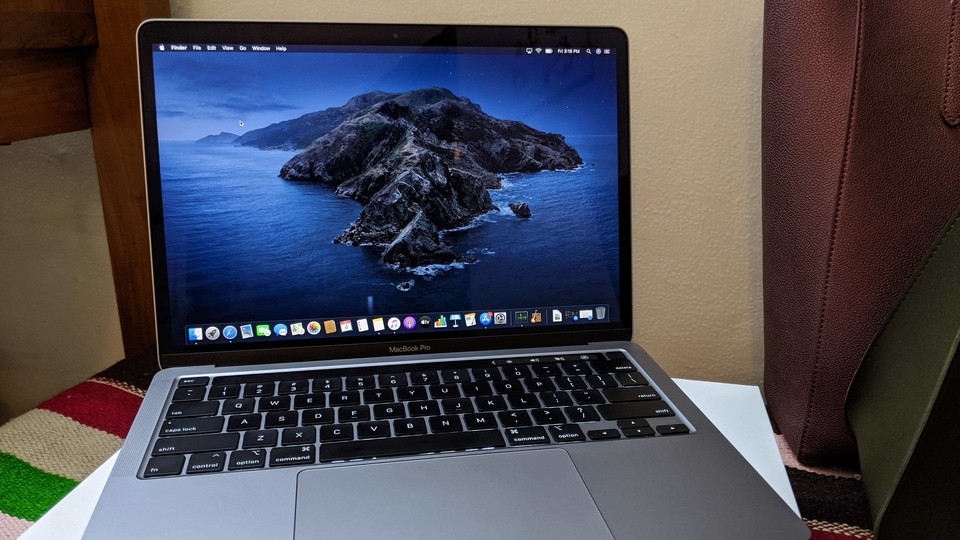 You get what you pay for, with the MacBook Pro 13 (2020) it's as simple as that. It's powerful, it's dependable and it is almost flawless in what it does and how it looks.
Brand: Apple
Product: Apple MacBook Pro 13 (2020)
Key specs: Intel Core i5/Intel Core i7, Intel Iris Plus Graphics, 16GB (3,733MHz LPDDR4X memory) RAM, 512GB SSD (on our review unit), 13.3-inch (2,560 x 1,600) Retina display with 500 nits brightness and wide color P3 gamut, 4 Thunderbolt 3 (USB-C), 3.5mm headphone jack, stereo speakers, 720p FaceTime HD webcam.
Price: Starts at ₹1,22,990
Rating: 4.5/5
My old Macbook Pro gave me nothing to complain about for nearly eight years, making an excellent case for what is otherwise a pretty expensive machine. Does it make sense to invest close to ₹2 lakhs on a machine that will easily last you for half a decade at least? Or would you spend ₹70,000 to ₹80,000 every couple of years for an upgrade?
Do the math. You'll see why it "just works".
In 2020, the story is the same and I...well...expect my history to continue. This time with the Apple MacBook Pro 13 (2020).
This is probably going to be the last of Apple's MacBooks that come with Intel inside, as the company prepares to move to ARM processors soon. And in a lot of ways this machine seems to be like a befitting swan song to the MacBooks as we know it. Who knows what all Apple plans to change with the 2021 line-up, it might not just be the chip inside.
And if the changes are monumental, you can rest assured that if you invest in this MacBook, it is going to still work through the years, get all new macOS updates for ages and exist side-by-side with the new variants.
The MacBook Pro 13 (2020) is a powerhouse, but at the same time, it's like a no-nonsense, no-compromise steel grey giant that sits in an unassuming neat form of smooth edges, and with the iconic logo on your desk. It's charmingly minimal, as always, no excesses, no loud colours, no flair - just plain class.
This time, the Macbook Pro 13 comes in four variants. Two of them come with the older 8th i5 Intel Core processors and two come with the 10th gen i7. For easier understanding, you can segregate these as the entry-level MacBook Pros and the top-end ones. The two entry-level ones are priced at ₹1,22,990 and ₹1,41,990 and come with 256GB SSD and a 512GB SSD respectively. The ones with the 10th gen Intel cores are priced at ₹1,74,990 and ₹1,94,900 and come with 512GB and 1TB SSD respectively. So given your budget, you can take your pick - either way, be rest assured that you won't be disappointed.
And just in case you are wondering - all the variants have that touch bar Apple introduced last year on the MacBook Pro.
Given the current circumstances, spending ₹1 lakh plus for a gadget or a device might not make a lot of economic sense. However, our lives have also changed exponentially over the last few months and it's become more vital than ever to invest wisely in gadgets that have the power to pull you through any and all sorts of work you throw at it - from smartphones to laptops - as we continue to work from home.
This year's MacBook Pro uses the magic keyboard - which is a relief. The butterfly keyboard that malfunctioned for many users is gone, and Apple is putting the Magic Keyboard on most everything now, including the iPad Pro.
The typing experience on these is great, thanks to perfect key spacing and feedback. Touch typists will have no problems getting used to this keyboard. The scissor-switch mechanism under the backlit keys feels sturdy and reliable. Oh, and it has an escape key again.
You also get Apple's Touch ID fingerprint sensor on the power button and the touch bar on top, that lies between the Esc key and the power button. Unlike Windows, Apple has not brought in the face unlock feature to its laptops yet (I really hope they eventually do) but the touch ID works smoothly.
Besides the keyboard, essentially, there is no design change on the MacBook Pro 13 (2020) - Apple has not deviated from the iconic design of its laptops except for a subtle change of colour - the rest remains the same.
The 13.3-inch screen is bright and clear going up to 500 nits, the thick bezels are all around and the speakers etc are all as reliable as they always were. Now, if you are moving to a MacBook Pro from a Windows laptop, the thickness of the bezels will strike you, particularly when most high-end Windows laptops have been moving closer and closer to designs with almost no bezels. But if you are moving from a MacBook to a MacBook, you're fine.
The webcam on the MacBook Pro 13 (2020) is a 720p just like it was on the last iteration and as with every Apple webcam/front camera, it's disappointing. It gets the job done, but the quality is just passable. Apple should really look into better webcams now.
What you actually need to get used to is using the Touch Bar. The Touch Bar lights up with function options depending on what you are doing on the machine at any given moment. Like if you have a video on, the bar shows you volume controls, with Google Docs open it gives you edit options, with WhatsApp Web it offers you emojis and word suggestions.
Of course, almost all of this you can just do on the screen itself with the trusty trackpad, but this is an additional perk. And it looks mighty cool. I know it's been there for a while now but this was the first time I was using it and it was quite fun for me trying to customise it to what I needed.
When it came to performance, I found literally nothing I could complain about. Absolutely nothing. On Chrome at any given time of the day I have more than 10 tabs open, I opened another 10 on the Safari and there wasn't a stutter. The MacBook Pro is meant for heavy-duty work, and that's what it does. This is a machine that's been created to handle heavy content editing be it photos, videos or music, and in that case, some 20 tabs with CMS, video streaming even some light video making and editing is cakewalk for this machine.
With the MacBook Pro, it was like nothing had happened at all. The unit I had, came with the 10th Gen Intel Core i5 processor under the hood, 16GB of LPDDR4X RAM and 512GB SSD - it was fast, snappy and a breeze to work on.
I have come to love Apple screens, be it on the iPhone, the iPad or the MacBook - the way Apple handles colour is entirely something else (cooler, more natural tones) and therefore watching content on it is perfect. Compared to Windows screens, this may appear tad muted but it's better for your eyes and you will get used to it very fast on this 13.3-inch flawless Retina Display with its True Tone feature. Just don't focus on the bezels.
Speaking of battery on the MacBook Pro 13 (2020), I managed to get about 5 hours, give or take a bit, while working on Chrome. Chrome is a battery guzzler so I wasn't surprised in the least. Apple promises 10 hours of battery on this, but I didn't get that while working on Safari either. The amount of time I could juice out of it improved (to a little more than six hours) when I used Safari instead of Chrome and lowered the brightness, but that's technically not how I use a laptop - so you see the problem there?
Basically, if you want the battery to do good - do not use Chrome.
Should you buy it?
I'd say - absolutely! But I also understand that this depends entirely on your budget. And having said that, the MacBook Pro is an investment you can bank on. If you don't drop it off a shelf or a baggage trolley (I've done that once) it will easily last you for years without needing any repairs or hardware upgrades. That is good math.
You get what you pay for, with the MacBook Pro 13 (2020) it's as simple as that. It's powerful, it's dependable and it is almost flawless in what it does and how it looks (can't get over those thick bezels now that I've pointed them out, right?). If you need a sleek powerhouse right now and have the money - I don't know what you are waiting for.