Asus ROG Zephyrus M16 Review: Lots of power in a slim package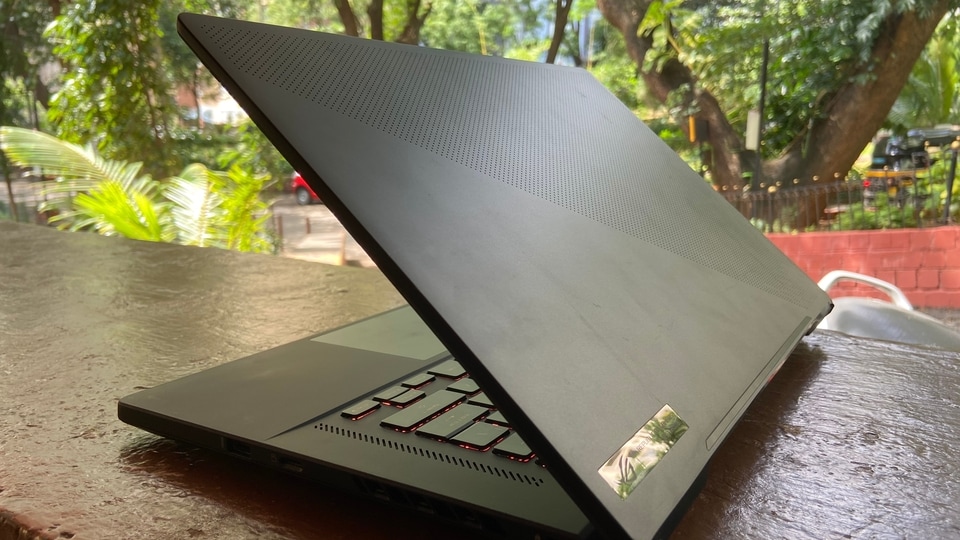 The Asus ROG Zephyrus M16 is a powerful gaming laptop that promises capable performance, good build quality and above-average battery life. We've spent a couple of weeks testing this laptop and here are our thoughts.
Pros
Powerful performance
High quality display
16:10 aspect ratio
Compact size
Backlit keyboard
Cons
Heating during intensive operations
Average battery life
Large plug
Specifications
CPU

Intel Core i9-11900H

GPU

RTX3070 (8GB GDDR6)

Memory

16GB DDR4 3200MHz SDRAM

Storage

2TB SSD

Screen

16-inch 1600p IPS 165Hz (3ms)

Battery

90Whr @ 240W charging
Asus launched the Asus ROG Zephyrus M16 laptop a couple of months ago, featuring top of the line specs and a slim, compact body – which makes it one of the better-looking gaming laptops available on the market today. This laptop costs nearly ₹2.30 lakh and it is packed with specifications – it was able to handle every game we could throw at it. We've spent the past couple of weeks with the Asus ROG Zephyrus M16 and here's what we think about this gaming powerhouse.
Design and display
Asus' ROG laptops come with all the bells and whistles you would expect to see on a gaming laptop aside from a powerful CPU and GPU, such as a large, bright display with a high-refresh rate, an RGB backlit keyboard, ample connectivity options, and so on. You can tell this device is an Asus ROG laptop, thanks to a small logo on the top of the chassis, which sports a dotted design that looks nice when you tilt your head or open the lid without being too flashy.
The company has included a 15.6-inch QHD display on the Zephyrus M16 with a maximum brightness of 500 nits a 135Hz refresh rate and a response rate of 3ms. The screen is very bright, looks great and a variety of content looks very good – Asus says the display DCI-P3 has 100% coverage, and is Pantone validated. Asus has also included a large number of presets for different modes, and they change different settings. They're also user-configurable, which is great for power users. It is a relief to see this laptop use the 16:10 aspect ratio, not just for gaming but also when browsing the web.
All around the laptop are large cooling vents, and the laptop lifts up on the edge of the lid when opened to allow room for cooling when you use it on a flat surface like a desk. With all the components and features that the Asus ROG Zephyrus M16 is packing under the hood, it is quite surprising to see how compact and svelte this laptop is. It weighs 1.9 kilos, which is much lighter than what Lenovo's Legion or Alienware and even Asus offer with similar laptops. The charging adapter and cable are heavy and unwieldy and it adds a lot of weight to your bag when you're carrying it around.
The keyboard on the Zephyrus M16 is LED-backlit and lands at a slight angle when the lid is open, which makes typing a breeze with soft, but noticeable physical feedback. The company is unapologetic with the design, with a range of modes for the lighting. You can control all of this with the Armoury Crate app that has its own dedicated key next to the media control keys at the top. The laptop also lets you unlock with your fingerprint, which is located on the power button. Asus has also included a large touchpad on the Zephyrus M16, and tapping, swiping and using gestures all work like a charm.
Performance and heating
The Asus ROG Zephyrus M16 is equipped with the 11th Gen Intel Core i9-11900H chipset (up to 5GHz) paired with a GeForce RTX 3070 GPU (1390MHz) at 80W TGP (with an additional 20W via Dynamic Boost). These are some of the best specs you can get on the Intel side of gaming laptops, and the Asus ROG Zephyrus M16 packs a serious punch when it comes to resource-intensive tasks.