Xiaomi Mi Power Bank Hypersonic 50W quick review: Don't miss it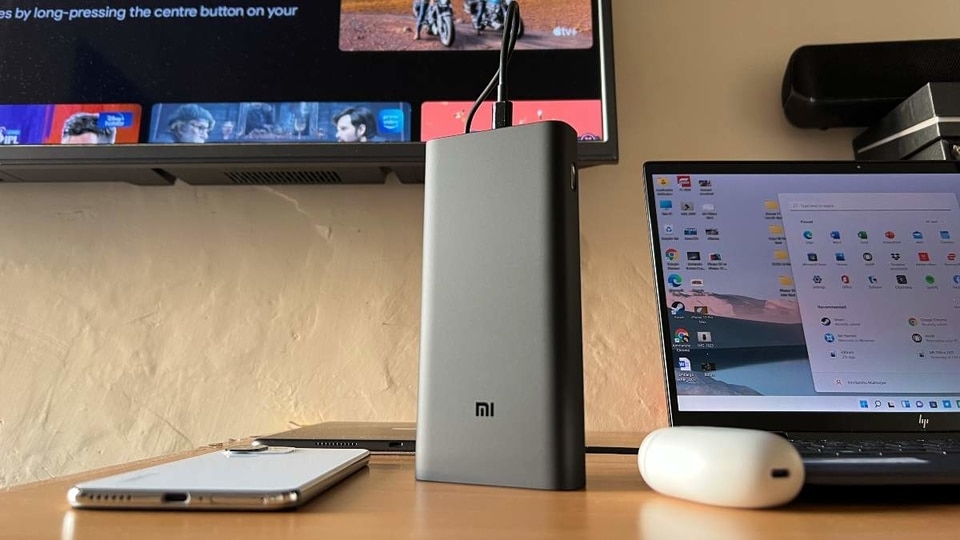 Xiaomi's 50W power bank is an ideal companion for WFH needs. It can charge most laptops too with Power Delivery support but is it worth its asking price?
Pros
Charges laptops
Fast charging for most smartphones
Affordable
Specifications
Charging speeds via USC-C

50W, 15W, 27W, 36W, 45W, 40W

Ports

1 x USB-C, 2x USB-A
Xiaomi sells some of the most affordable power banks in India with varying features and the latest one to join its lineup is the...wait for it (drumroll)… Xiaomi Mi Power Bank Hypersonic 20000mAh (50W). Phew, quite a tongue twister! As part of its name suggests, this is a 20000mAh battery pack that supports up to 50W charging speeds and has Power Delivery (PD) 3.0 support.
On top of that is Xiaomi's aggressive pricing; this 50W PD power bank costs ₹3,599, which is much less than what regular laptop battery packs from Dell and other companies cost. Is it worth buying then? Is this the answer to eliminating multiple chargers for a busy day?
Basic features
Xiaomi has earned a reputation for selling some of the most well-built and well-designed power banks under the Mi branding. This 50W Hypersonic power bank is no different as it carries on the tradition of using a sturdy metal body with neatly laid out ports as well as a power check key.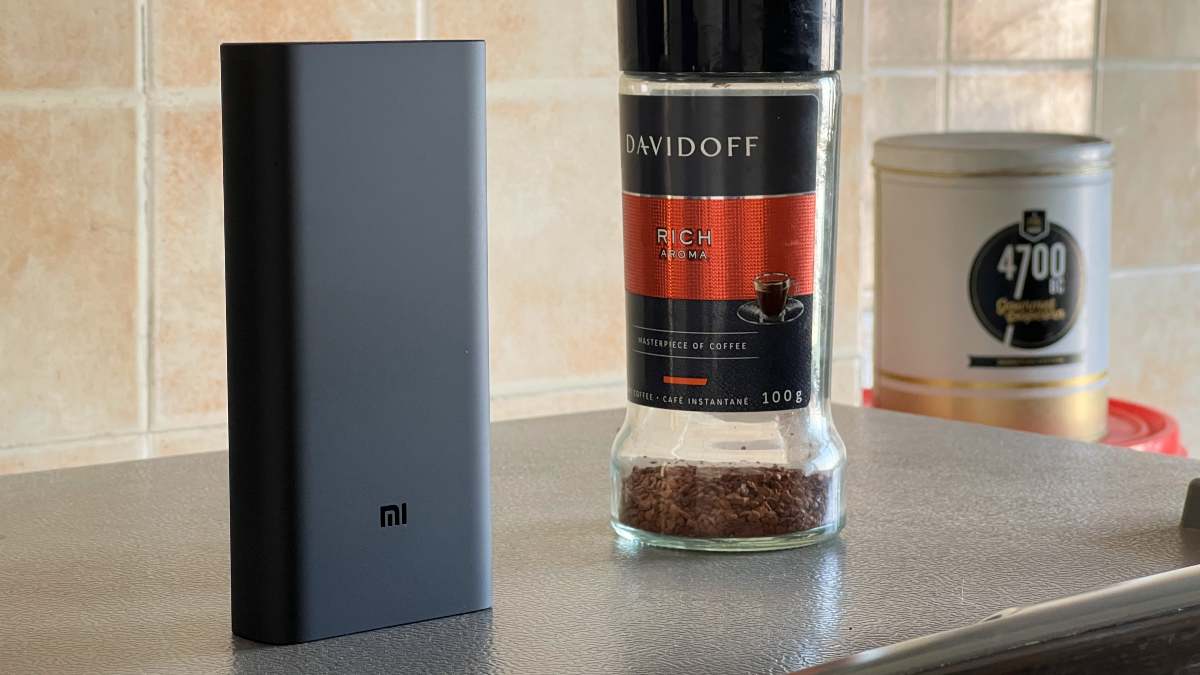 All the ports are laid on a single side and spaced out widely. The two USB-A ports can charge two devices at the same time at speeds of 22.5W whereas the USB-C port is for the modern gen phones and laptops. An array of tiny LED indicators hint about the power levels. Xiaomi also bundles a USB-C to USB-C cable in the box; no USB-A cable or separate 45W charger.
Charging performance
This is where it all gets interesting for this heavy black slab. The advertised 50W fast charging only works on Xiaomi's Mi 11 Ultra for now and rest of the speeds depend on the device you use. The USB-C port is what you should be using all the time. The supported speeds on this port include 50W, 15W, 27W, 36W, 45W and 40W.
Using this port and the supplied cable, I was able to charge the Xiaomi 11 Lite NE 5G at a fast 27W speed, which took just over an hour for a full top-up. The Motorola Edge 20 Pro also relied on 27W speeds to fill itself up, with almost 1 hour of charge time. The iPhone 13 Mini took a while to charge and so did the iPhone 13 Pro Max (close to 2 hours). The Samsung Galaxy M52 5G made the most out of this; it charged at its fully supported speeds, something which its 15W charger cannot.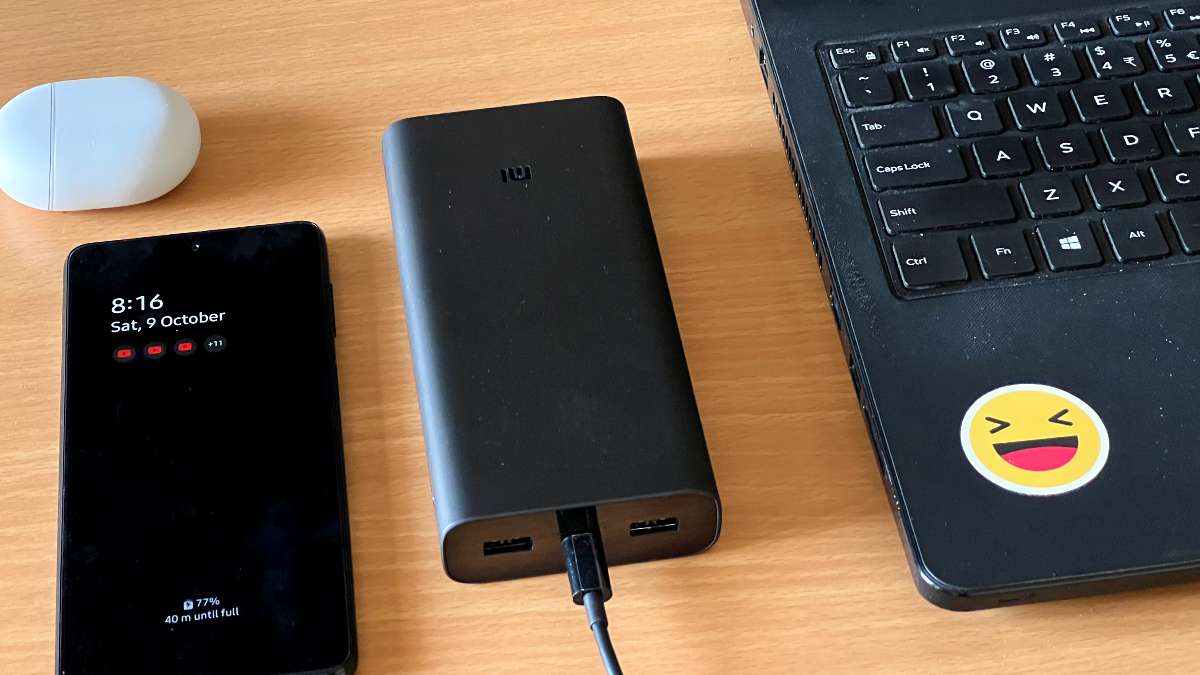 On to the laptops now. The power bank was able to charge both an HP Envy x360 and Lenovo ThinkPad L480. The HP laptop kept warning of slow charging but it was filling it up (your laptop needs to support 45W charging). The Lenovo laptop did not show such messages but it took a lot longer to full charge than the supplied 65W charger in the box. Note that it is the USB-C port that can charge laptops.
The two USB-A ports charge at slower speeds, individually maxing out at 22.5W speeds. And, if you are using two or all three ports simultaneously, the charging speeds will drop considerably across all devices. Charging wearables or midrange smartphones from these shouldn't hurt. The power bank itself supports 45W fast charging but with a 30W PD charger available, it took over four hours to recharge.
The 20,000mAh capacity battery was able to do four full recharges before drying out. I wish Xiaomi had offered a higher capacity 30,000mAh battery inside, given that it is meant to support laptops. Nonetheless, the battery pack should be able to support a smartphone and a laptop easily over a weekend.
Despite fast charging sessions one-after-another, I never observed heating or warm temperatures across the surface. It seems that Xiaomi's clever protection features are working well to keep it all cool and safe.
Verdict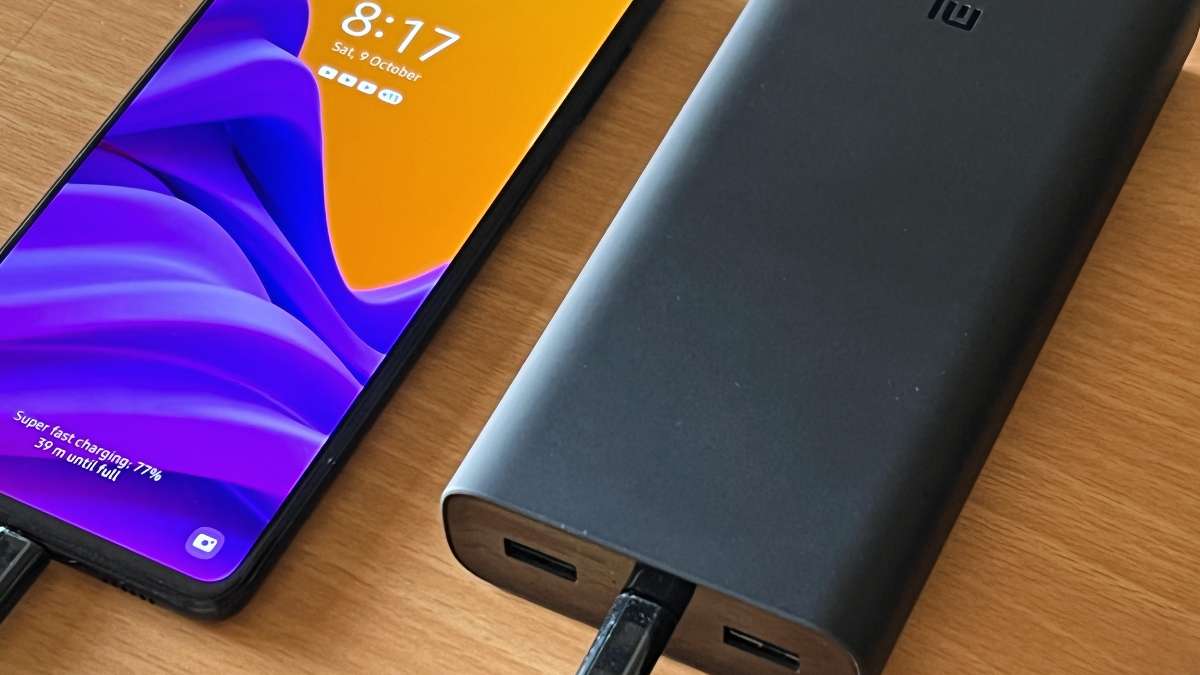 With its ability to charge compatible laptops, the Xiaomi Mi Power Bank HyperSonic 20000mAh (50W) (...phew again) is what the doctor ordered. IF your laptop supports PD USB-C charging, you can bid goodbye to its chunky charger and rely on this instead, if you are on the move. Most Android users (especially Samsung users) will enjoy faster PD charging on the go while iPhone users may also see some speed benefits. And at ₹3,599, it feels like a bargain, given its solid build quality.
Our take: A must-have accessory for power users.