Bumble users can now play games in virtual video dates
Bumble's new feature 'Night In' brings games that users can play on a video date.
12 Mar 2021, 09:44 AM IST
in news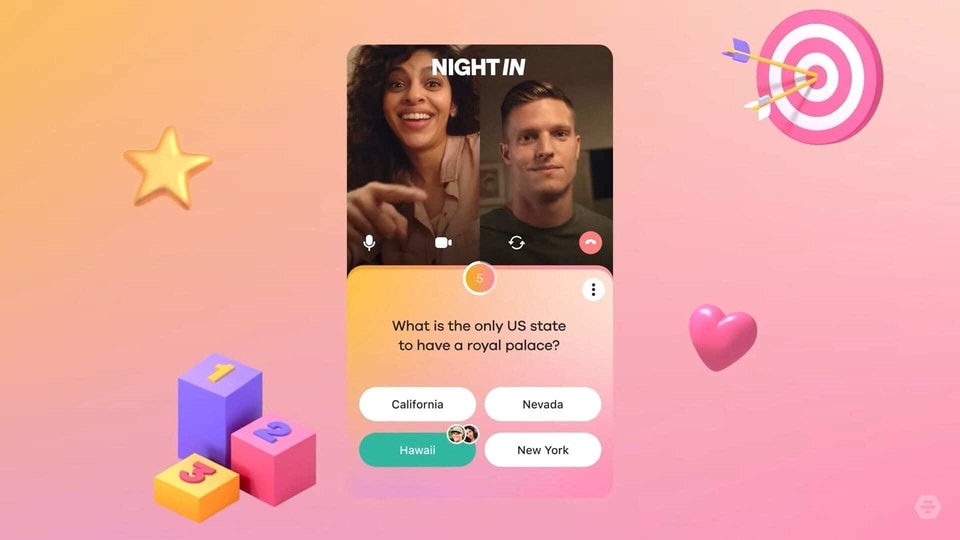 Dating app Bumble has launched a new feature that lets users play games on a virtual date. The new feature is called "Night In" and it's currently available only to users in the US and Canada. Night In is a part of Bumble's in-app video calling feature.
The first game available to play is trivia which includes a set of questions that users can answer on a one-on-one video call. Bumble plans to add more games in the future, The Verge reported. Night In is available as an icon in the chat message, and it can be accessed daily between 6:00 pm and 12:00 am. Users can also schedule the trivia date ahead of time. When a request is sent, the other user will have to accept to play the game. Once all the questions are answered, both users will have the option to stay on the video call. Also, this feature will only be available if you've matched with someone on Bumble.
Bumble launched video and voice calling back in 2019, making it one of the first dating apps to bring in these features. These features have also seen a major uptick during the pandemic where they were used 70% more. Rivals Tinder and Hinge also introduced video calling amid a rise in these features due to Covid-19 lockdowns. The pandemic also helped fuel the dating app's growth with CEO Whitney Wolfe saying that it encouraged people to build a relationship and meet new people on their phones.