Emoji slider: Instagram Stories gets new polling option; here's how to use it
Instagram now lets you conduct polls in Stories with emojis, and a sliding scale.
Instagram has rolled out the best feature for its polling option in Stories and it's an emoji slider to rate the polls. The slider features top emojis available in Instagram along with a sliding scale, similar to an on-screen volume slider. The new feature is in addition to the older yes-no poll you can create in Stories and is available for both Android and iOS users.
To get started with the new emoji poll slider, just launch Stories. Take a photo or use an existing one. Tap on the first sticker icon on the top right corner. You will see a host of stickers and other features for Stories. The new emoji slider is located right below the "#hashtag" option.
After tapping the slider, you can set a question and choose an emoji of your choice for the poll. The emoji's size increases as you scroll to the right on the horizontal slider.
"When you see an emoji slider in a story, just drag the emoji to the left or right and watch it animate as you make your decision. Release the emoji to set your response, and you'll see the current average of how others have responded so far," says Instagram on its website.
"Whether you're looking for input or just want to see who's around, interactive tools like the poll sticker and emoji slider help you get closer with your friends and followers."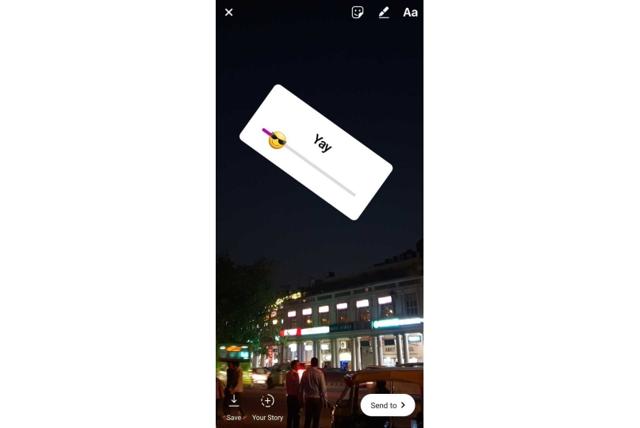 The slider is likely to be a huge hit among users. Its binary polling option is quite popular among users. Over the past few months, Stories and its polling option have been used by businesses to engage with consumers.
Just last week, Burger King in the US conducted an Instagram Stories poll to pick their favourite toppings. After the poll concluded, Burger King sent unique coupons to select fans to redeem them at any Burger King location of their choice for free.
Instagram Stories, a rip-off of Snapchat's Stories, has become a popular feature within the photo-sharing platform. Parent company Facebook recently announced that WhatsApp Status, another Snapchat Stories-inspired feature, had more than 450 million daily active users, estimated to be 260 million more users than Snapchat's daily users.