Facebook Reels goes official in India, to also feature recommended Reels from Instagram
Facebook's short form video test in India is now officially called "Reels." Facebook users can now create and share Reels on the News Feed.
09 Mar 2021, 06:30 AM IST
in news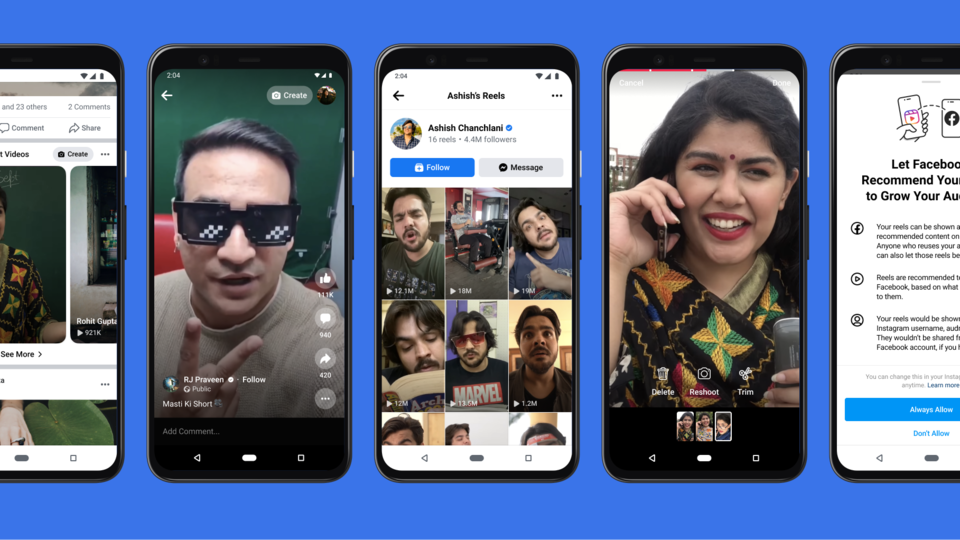 Facebook on Tuesday announced the official launch of short form videos on its platform, a feature it had been testing since last year in India. The feature is now called "Facebook Reels." Facebook also announced it would allow select Instagram creators to share their Reels on Facebook. This feature is being tested in India first.
Facebook is rebranding its TikTok-like short form videos to Reels. Facebook had started testing the ability for users to create and share short form videos on the News Feed last year in India. Facebook Reels is similar to Instagram Reels wherein users can select a song from Facebook's music library, choose different effects, set a timer, speed up or slow down the video, and more.
Facebook is still keeping Reels different on each platform. Facebook Reels will stay on Facebook with the option of sharing it on the News Feed. The same goes for Instagram Reels, which can be shared only on the app. It's only for select creators that Facebook is allowing cross-platform sharing. There's no word yet on when Facebook will make this feature open to all creators on Instagram.
Select Instagram creators such as Pooja Dhingra, Ashish Chanchlani, Awez Darbar and Bong Guy will have the option to share their Instagram Reels as recommended videos on Facebook. Creators, who are part of this test, will see an option to share their Reels on Facebook. These Reels will be shown as recommended content to anyone on Facebook with the creator's Instagram username.
The latest test comes as part of Facebook's effort to cash in on the short form video craze in India, something TikTok started. It launched Instagram Reels here shortly after the TikTok ban, and also introduced a dedicated Reels Tab first in India. It also made Reels available on the Instagram Lite app for users in India first.