Google has a special 'turkey' Easter egg for Thanksgiving
This Thanksgiving in the US, Google's Easter egg translates any language to turkey talk.
21 Nov 2020, 09:24 AM IST
in news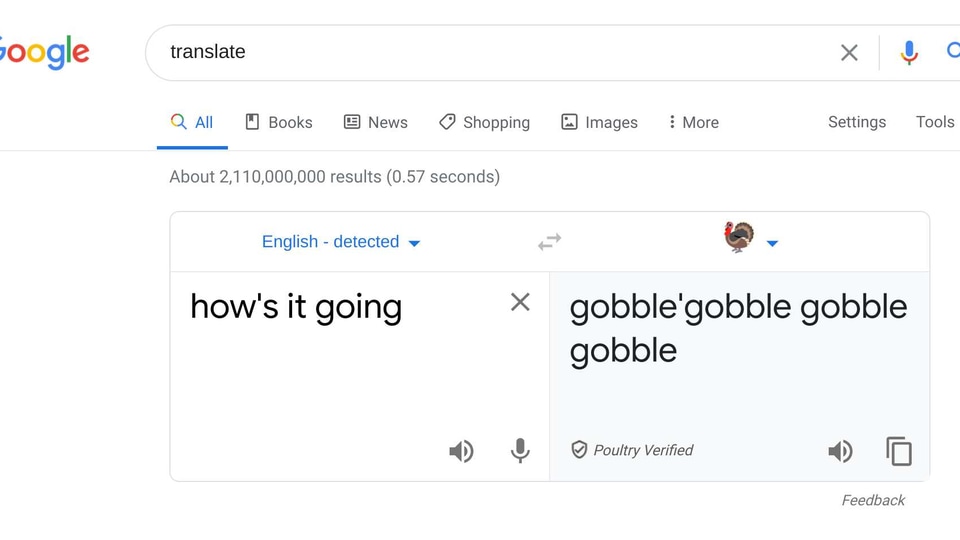 Google has a special Easter egg to celebrate Thanksgiving that will take place in less than a week in the US. The Easter egg translates what you say to "turkey" language. In the US, Thanksgiving is celebrated on the fourth Thursday of November, and this year it falls on November 26.
The Thanksgiving Easter egg was first spotted by Search Engine Roundtable, and it is powered by Google Translate. You'll just need to search for Google Translate or "translate" in Google Search. Here, you'll find the Google Translate box where you can type the text and translate it to the languages available. Type any text in the first box, tap on the language button for the drop-down list of languages. You'll spot a new turkey language here denoted by well, the turkey.
You can type the text in any language other than English, and the translator will offer results in turkey, 9to5Google reported. For example, "how's it going" is translated to "gobble'gobble gobble gobble." Also, all translations are "Poultry Verified."
Since this Thanksgiving is for the US, the Easter egg is exclusive for users in the country. It's a small but nice gesture for most festivities that have been taking place virtually or in a small manner due to the pandemic.
Google regularly introduces Easter eggs for special occasions. It recently had the Easter egg for the Diwali festival in India. The Easter egg lets you use one diya to light other diyas so the Google Search results page brightens up. This perfectly portrayed the meaning of festival which is the victory of light against dark.