Google Maps will now show real-time transit bus location to Delhiites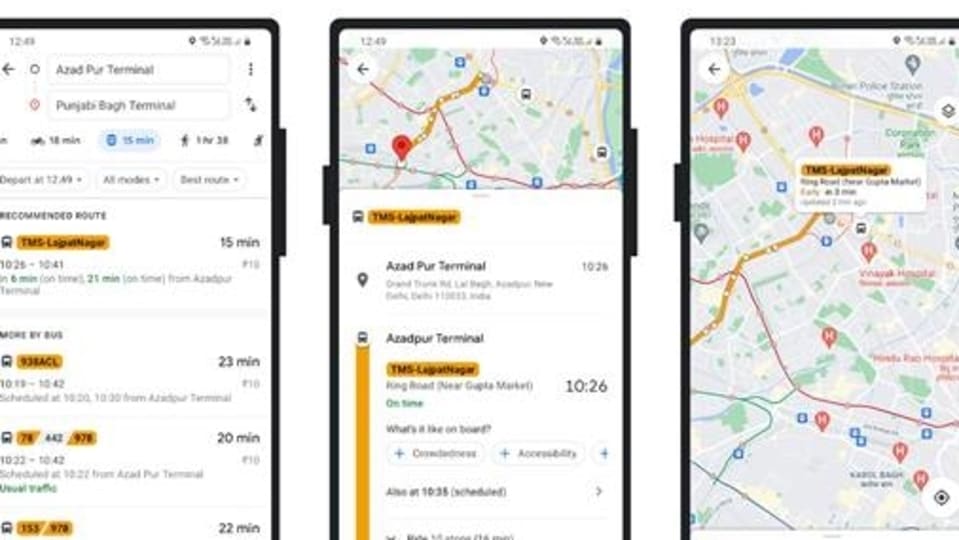 Google Maps will tell commuters in Delhi when the next bus is arriving at their bus stop and provide an estimation of how long their trip is going to take.
Google Maps is one of the most popular and most widely used navigational platforms in the world. Be it a metropolitan city or small village, Google's navigation app is equally effective in helping users travel between various locations in places across the globe. Over the years, Google has made Maps more effective by adding features that give users detailed information about the public transportation system in a city. In Sydney, Australia Google Maps already gives the indoor Street View imagery for 130 train stations and a dozen metro stations. It has also introduced wheelchair accessible routes in Sydney and other major cities across the globe. Now, Google Maps is rolling out a major update to its platform that will make public transit via buses in Delhi a tad bit easier.
Starting today, commuters in Delhi will be able to get real-time bus information in Google Maps. Commuters will not only see when the next bus is arriving at their bus stop but they will also get an estimation of how long their trip is going to take. Google Maps will also tell commuters if the bus that they were waiting for has been delayed. Google, in a blog post today, said that Google Transit will automatically update the times in line with the new conditions and that the arrival times will be based on real-time information available that are marked in green or red on Google Maps.
Also read: Looking for a smartphone? Check Mobile Finder here.
In addition to this, commuters will also be able to access real-time bus information by searching for a particular bus stop, tapping its name and its listed bus numbers. "You will then see a listing of all buses arriving, with the location-enabled buses displaying their real-time ETA," Google wrote in a blog post. What's interesting is that this feature is also available in Hindi. This will enable users to navigate the trip in their preferred language. Google has teamed up with Delhi Transport Ministry, Delhi Integrated Multi-Modal Transit System (DIMTS), Indraprastha Institute of Information Technology (IIIT) Delhi, and Lepton Software to bring this feature to Google Maps users in Delhi.
If you are living in Delhi, here is a step-by-step guide that will help you use this feature:
Step 1: Open Google Maps app on your Android or iOS device.
Step 2: Enter your destination and tap the 'Go' icon or tap the 'Go' icon and enter the 'Source' and 'Destination' locations.
Step 3: If it's not already selected, tap the 'Transit' icon (the little tram) to view times, bus numbers, routes and real-time arrival information highlighted in green or red.
Step 4: Tapping a recommended route will let you view more information on the route's stops.
Step 5: Tap the bus stop to see a listing of all arriving buses, where relevant real-time info is depicted by the green or red beacon.