Inspiration4 landing: SpaceX mission successful, non-astronaut civilian crew splashes down after days in space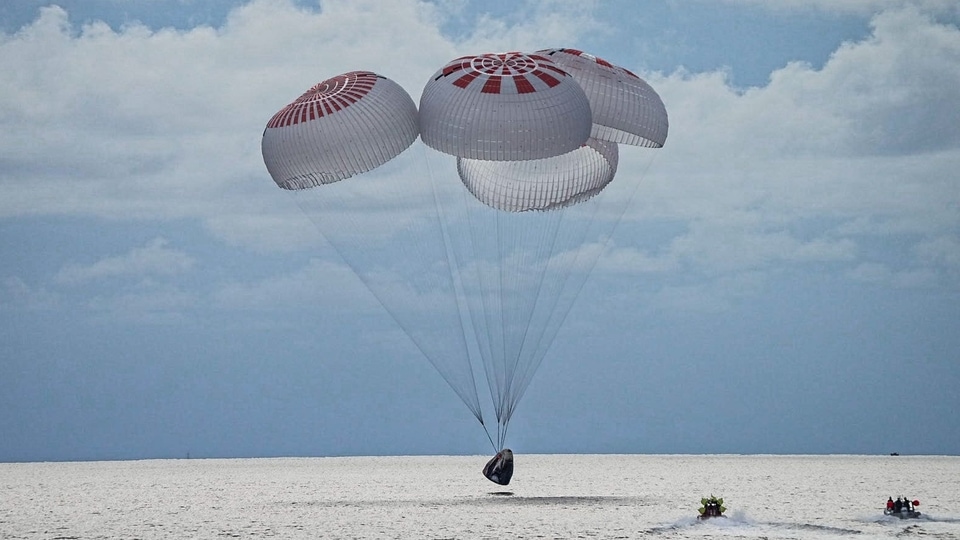 Inspiration4 landing was successful as the first-ever non-astronaut civilian crew splashes down in space days after lifting off into space aboard the SpaceX Crew Dragon capsule on the Falcon 9 rocket on September 15.
Inspiration4 landing: SpaceX mission has proved to be a success, as the four Inspiration4 non-astronaut civilian crew members who were launched into space by Elon Musk's SpaceX a few days ago, landed safely in the Atlantic Ocean early on Sunday morning. The crew completed the first orbital mission in space for three days, with not a single professional astronaut among them.
The Inspiration4 landing occurred days after the four members Jared Isaacman (a tech billionaire), Dr Sian Proctor, Hayley Arceneaux (bone cancer survivor and health worker) and data engineer Chris Sembroski took off for space on September 15. "Splashdown! Welcome back to planet earth @Inspiration4x!" SpaceX tweeted at 4:38 AM IST when the crew landed.
Also read: Looking for a smartphone? Check Mobile Finder here.
Notably, the Inspiration4 space mission recorded multiple historic records in space, including (and most notably) being the first all-civilian human spaceflight to orbit, the first black female spacecraft pilot, the youngest American in space, the first person to fly to space with a prosthetic, the farthest flight for human spaceflight since the Hubble missions, the first time SpaceX has operated three Dragon spacecraft in space. It was also the first free-flight of a Dragon spacecraft on a human spaceflight mission, the largest contiguous window ever flown in space – referring to the dome for observation aboard the Dragon spacecraft.
However, according to the Inspiration4 website, the most important revelation was that the mission had achieved one of its primary goals set by Isaacman – raising awareness and funds for St Jude's Children's Research Hospital. At the time of publishing this story, the Inspiration4 mission had raised $154 million dollars for the hospital. SpaceX founder Elon Musk also pledged $50 million in a tweet. Isaacman had financed the Inspiration4 flight as part of the fundraiser for the hospital. It is also noteworthy that crew member and medical officer Arceneaux was treated for bone cancer at the same hospital, where she now works as a physician's assistant.
Meanwhile, space enthusiasts who want to track the course of the Inspiration4 mission and everything that took place can watch the "Countdown: Inspiration4 Mission to Space Live Launch" documentary series on Netflix, which captures the story of the crew and their families and the mission over the past few months. With four episodes building up to the launch event on September 15, viewers will be able to watch the actual flight, mission and return to Earth at the end of the month, when the last episode is to be released.