James Web Space Telescope "UNBOXING"! NASA, ESA boldly go where no man has gone before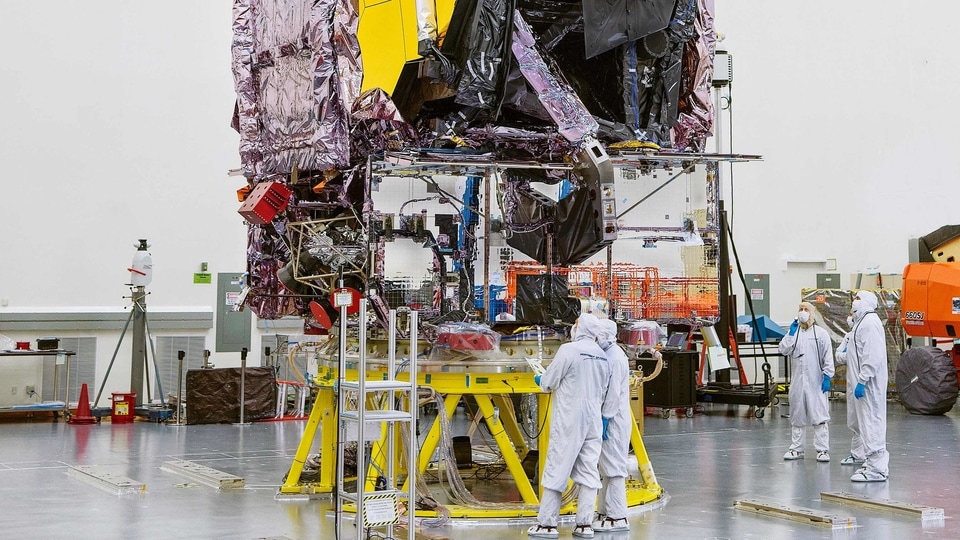 Just take a look at the James Web Space Telescope "UNBOXING"! It provides a fascinating picture of a tech marvel that is about to be shot into space. In the process, NASA and ESA did what has never been done before - Unboxing of a space-bound object!
James Web Space Telescope "UNBOXING" provided a glimpse into the giant telescope and the kind of complex work that it entails for those working on it.
Every time the denizens of the tech world get a shiny, newly-launched gadget in their hands, they just want to take the packaging off and show the entire process to the world. First the wrapper comes off, then the box is opened and the product is shown around like a trophy. Well, it seems, that scientists, engineers and astronomers too get this strong feeling to unbox their very own "gadget" through their own concept of unboxing. At least that is what they did just a day ago. And no, it was not a Google Pixel 6, iPhone 13, or a Samsung foldable or any other recent phone costing a few hundred dollars. Nope. The unboxing that was carried out by NASA and ESA, was of none other than the James Webb Space Telescope, which is all set to replace the Hubble Space Telescope up there in space. Cost? The price tag is $10 billion and counting.
As if there was not enough hype, and controversy, around the James Webb Space Telescope as it is, the astronomers managed to ramp it up further by a few degrees. The ESA (European Space Agency) tweeted a number f photographs that showed "techies" doing the unboxing of this mammoth technological marvel. The message was, "Space Telescope #unboxing! Opening of the @ESA_Webb @NASAWebb container and first view of the payload at @EuropeSpacePort . Welcome to Kourou!"
To make sure that no one thought it was some kind of a mistake or a prank, ESA tweeted the second part too with yet more photographs, "#WebbUnboxing part 2 and transfer to clean room for the @ESA_Webb @NASAWebb space telescope. #WebbFliesAriane #Webb #WebbSeesFarther #Ariane #JWST #VA256 Service Optique Kourou @esa @CNES @Arianespace."
The unboxing process continued till the Space Telescope was shown fully from various angles. Needless to say, if nothing else, it showed that NASA and ESA are willing to "boldly go where no man has gone before" - to coin a phrase from iconic TV serial Star Trek. In more related news, William Shatner, who essayed the role of Capt Kirk in the serial, has just returned from a trip to space aboard Blue Origin spacecraft at the ripe old age of 90.
Unboxing apart, for the engineers, scientists, astronomers and other people involved in sending James Webb Space telescope on its way into space, the going is set to get tougher and tougher as launch day approaches. The task is as gargantuan as it is complicated.
James Webb Telescope will be shot into the sky aboard the Ariane 5 rocket and it is expected to do things that the Hubble Space Telescope is not because of its old technology. The launch date is December 18.