Our products resonate deeply with the joy of creating memories, says Fujifilm India's Kunal Girotra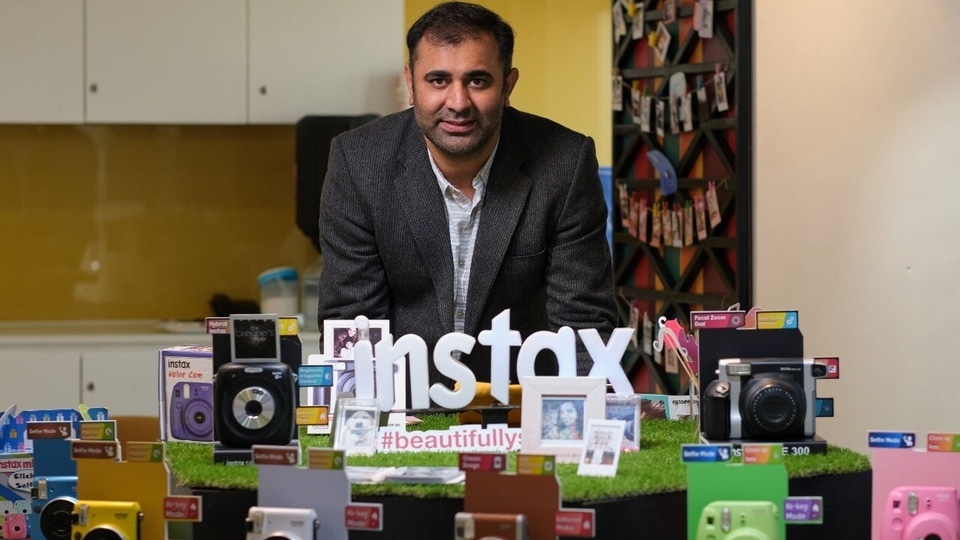 Instant cameras are all about creating memories in a snap and that's what Fujifilm's Instax cameras focus on. We spoke to Kunal Girotra, Head of Division, Image Capturing, Fujifilm India to find out what plans they have for 2021.
Instant cameras are memory machines. It is all about capturing moments and also getting a physical memento in hand instantly to keep forever. Fujifilm's Instax cameras are all about that feeling. And this has just gotten bigger over the last year as we all got locked down at home. With so much at stake, it's all the more vital that we hold people we love closer, even if it is just through pictures.
To find out what Fujifilm India did in 2020 and what they have planned for 2021, we chatted with Kunal Girotra, the Head of Division at Image Capturing, Fujifilm India. And here are excerpts from our chat:
What plans do you have for the Instax cameras in 2021?
It goes without saying that Instax has come a long way since its inception, and as we tread into 2021, we are focused to diversify our marketing channels, tap into a wider range of audience to build a more customer-centric brand, introduce a new range of products and augment our e-retailing relationships to become an omnipresent brand.
In the coming year, we plan to bank upon the feeling of nostalgia to indulge millennials to augment our reach. It has been quite the revelation for us, as we found that more and more millennials resonate with our brands as much as teens and tweens, and are choosing the Instax gift box range as a gifting option during the pandemic.
Over the last couple of years, with our persistent efforts we were able to partner with Flipkart, Amazon, Nykaa, among others, to create a vast online presence, and so this year we further aim to enhance our reach by partnering with e-retailing platforms such as FirstCry.com and more. We will also leverage our position as a gifting choice, and provide our customers with new bundle offers they'll be unable to resist.
Moreover, we have already begun with our beanfeast in India as we recently launched our 'Selfie-mode' Instant Camera, Instax Mini 40.
So, going further, we will engage our customers with influencer marketing campaigns, contests, product reviews and more, to offer a better understanding of our product range and to build our niche in the market.
Assuming we are looking at another year where we might be stuck at home, what is your strategy to push customers to buy your products?
During the first phase of the Covid 19 pandemic, our Fujifilm Instax range of products have been able to capture the attention of teens, tweens, and corporates across the country. Our potential target audience is getting well-versed with our best-in-class technology whether it is instant cameras or print-related solutions.
In the previous year, we launched a series of customer engagement campaigns via our digital platforms, such as Instax Doodle Art Contest, influencer engagement campaigns, DIY workshops, and more, which helped us constantly display our innovative line-up of products effortlessly in a fun and quirky way and forge an instant connection with our customers. Hence, we are curating an inclusive plan that reaches out to not just teens, tweens, or corporates, but millennials as well, who are highly influenced by the feeling of nostalgia which is a huge selling factor for our Instax range.
So, in the coming times, given that we may be stuck at home, we will work on building the Instax Community with persuasive, entertaining, and engaging marketing efforts, and strategically leverage our market position to spread love, cheer, and positivity amongst the people as the times get tough. At Fujifilm India, we will remain consistent with who we are as a customer-first company by seeking constant feedback and designing delightful experiences to keep the customers hooked.
Also Read: Instant photos and memory machines: Bringing back picture albums
Are we going to see any software/hardware upgrades on the Instax cameras this year?
Yes, there is so much more that we have to showcase to the world. We are constantly upgrading our software and hardware to provide a more convenient and user-friendly experience, and 2021 will be all about that. With the launch of Instax Mini 40, we have already started the fest and there'll be more from the new range of Instax instant cameras that will catch the attention of our potential customer range and the industry, as our products debut in the market.
Also Read: Fujifilm Instax SQUARE SQ1 review: Three pictures and a proposal
How have your products fared in the last year, since the pandemic began?
It's been a great year for us at Instax since the pandemic began. In 2020, we were not only able to achieve our targets but go above and beyond as we saw an 84% year-on-year growth in the sale of our Instax range of products across the country. We observed a huge spike in sales amongst the millennials and corporate gifting alongside teens and tweens as our products capture the moment instantly and create a feeling of nostalgia.
What worked best for us is that we were able to position our Instax range of products as the preferred gifting choice among millions, as people were unable to be present with their loved ones. So, we reached to them with our products as a token of love and to build real connections.
How do you see 2021 shaping up for you? In terms of marketing, is there anything new you are planning to explore?
With several cities going into a state of lockdown pertaining to the mushrooming number of cases, we feel that we are in for a roller coaster ride in 2021 as well, with our highs and lows. However, our brand and products resonate deeply with the joy of creating memories, and hence, we're working on aligning with the changing dynamics of the country to reach out to our potential customers with our range of products and enable them to capture and preserve their special moments.
In terms of marketing, we will proactively design and curate strategies around the celebration of festivals whether it is Father's Day, Sibling's Day, Raksha Bandhan, Diwali, or Christmas. Our Instax range of products is about celebrating each and every moment of your life as it brings back the nostalgic feeling amongst people. Besides tapping into festivals, we are working on collaborating with influencers from different niches like travel, DIY or cooking, to enhance awareness for Instax range of cameras as it perfectly complements the brand attributes where one can shoot, print, and share an original instantly.
Also Read: Fujifilm Instax Mini 11 review: A cute little memory machine
What is your favourite product from the whole range of Instax cameras and why?
For me, the entire range of Instax instant cameras creates a 'wow' factor especially for its brightest and quirkiest designs, top-tier specifications, eccentric style, vintage feel, and affordability. Yet, if I had to choose one of my favourites from the whole range I'd pick Mini LiPlay. It is my all-time favourite Instax camera as it is way ahead of its time and captures the beauty of the moment just as it should. Plus, it is more than just an instant camera as it allows you to choose which picture to print from your smartphone and makes you reminisce about the time capture in the frame with its QR technology.
Also, on a very personal note, I use LiPlay at home to capture my two-year-old daughter's activities, the special moments, the laughs, and whatever limited words she can say in the frame with the QR technology, which I can scan from my smartphone to relive the moments.