Sony Xperia XZ1 first impressions: An old fashioned design with top-of-the-line specifications
Sony's Xperia XZ1 comes with a 5.2-inch full HD HDR display, 3D image scanner and Qualcomm Snapdragon 835 processor. Here are our first impressions of the smartphone.
If first-arrived were ever a measure of a phone's success, Sony took a good four-day headstart over Apple's iPhones on Monday when it launched its latest smartphone, the Xperia XZ1 in India with a price tag of ₹44,990. Remember, Apple's iPhone 8 and iPhone 8 Plus only hit Indian shelves on September 29. But then, Apple's not the only brand Sony intends to take head-on with the Xperia: A range of premium Android smartphones, including the Samsung Galaxy S8, Galaxy Note 8, LG G6 and OnePlus 5, are vying for top honours in a market known for its high attrition rate.
Without getting into the Xperia's survival chances, here's what makes it stand out in the crowd: A slew of top-end specifications, and the built-in "3D scanning" feature that allows you to create 3D avatars of faces and objects. You can either share it on the social media, take 3D prints, or even project them on real-life background. But then, is it the feature that will differentiate it from the crowd in the market? We used the smartphone briefly and here are our first impressions of it.
In terms of design, Sony's premium smartphones haven't changed much since the launch of Xperia Z in 2013. Almost four years ago, Sony's smartphone stood out in the crowd for their distinct design, a combination of minimalism and superior build quality. Cut to 2017, the same familiar design now seems underwhelming and nowhere close to what Samsung and LG have pulled off with the phones such as the Galaxy Note 8 and LG G6.
The Xperia XZ1 measures 148 x 73 x 7.4 mm and weighs 156gm. It does feel light and compact, but not comfortable to get used to. Unlike a lot of new Android smartphones, the Xperia XZ1 has sharper corners, digging deep in your palms during prolonged single-hand usage.
With the likes of Samsung, LG and several others moving to edge-to-edge front panels, the Xperia XZ1 retains thicker bezels both at the top and bottom. Interestingly, it has on-screen navigation buttons, making the bottom bezel bland. Compared to the Galaxy Note 8, this one comes across as an old-fashioned boxy smartphone.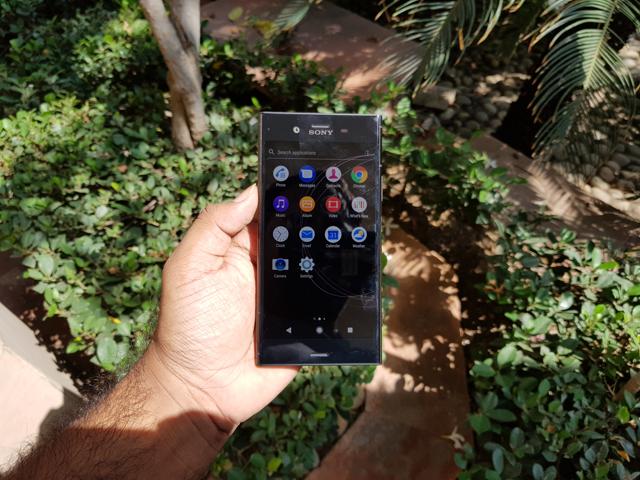 The base has the USB Type-C port whereas the top features the 3.5mm audio jack. On the right edge, you have the volume rocker and power button, which also doubles as the fingerprint scanner, something we have seen on a number of older Xperia smartphones. There's also a dedicated camera button on the lower right edge. On the left, we have the SIM/microSD slot, which is covered by Sony's familiar rubber flap. Of course, the flap makes it easier to remove and insert SIM/microSD cards. The trouble is, these rubber flaps get loose over time. Here's hoping Sony's addressed this irritant with the Xperia Z1.
The old fashioned design aside, Sony's perhaps relying too much on the 3D scanning feature. Yes, it's an interesting feature, but it can't be the game-changer. How many times in a day do you see yourself using it? It's entertaining, but requires a bit of practice, hit and trials to get a 3D scan right. During our brief usage, it took us a long time before we got one scan right. It's easier when you're scanning an object instead of a face. Indeed, it works well once you've become a pro.
However, other than its underwhelming design and a rather gimmicky 3D image scanner, the Xperia XZ1 does tick all the right boxes to be called a solid, premium smartphone. For instance, it's powered by Qualcomm's top-end 835 SoC coupled with 4GB of RAM. It runs on Android 8.0 Oreo out-of-the-box, one of the first non-Google smartphones to ship with the latest Android OS in India. It comes with 64GB of built-in storage, and supports expandable storage up to 256GB via a microSD card.
Add to it Sony smartphones' traditional expertise in the photography department. The Xperia XZ1 comes with a 13-megapixel front camera, a 19-megapixel rear one with the company's 'Motion Eye' technology which enables slow motion video recording at a whopping 960 frames per second (fps). It has f/2.0 aperture, Electronic Image Stabilisation (EIS), 5-axis stabilisation and 25mm lens.
The Sony Xperia XZ1 impresses in bits and pieces but leaves much to be desired. At ₹44,990, it does have an advantage over the Galaxy S8, which starts at ₹54,000 approximately. The LG G6 though is selling online for much lesser at ₹35,900.
Watch out for this space for a detailed review of the Xperia XZ1 soon.