You can no longer forward a WhatsApp message to more than five chats: Here's why
You can no longer forward a WhatsApp message to more than five chats in one go. WhatsApp has also introduced two videos to encourage users to question credibility of forwarded messages.
After being pulled up by the government over fake news, WhatsApp has begun rolling out new initiatives aimed at curbing spread of rumours and educate users on how to spot fake news.
The company on Wednesday said it had begun rolling out the cap on forwarding a message to more than five chats (contacts or groups) in one go. This includes limit on forwarding messages, photos, and videos.
"We believe that these changes - which we'll continue to evaluate - will help keep WhatsApp the way it was designed to be: A private messaging app," WhatsApp said last month.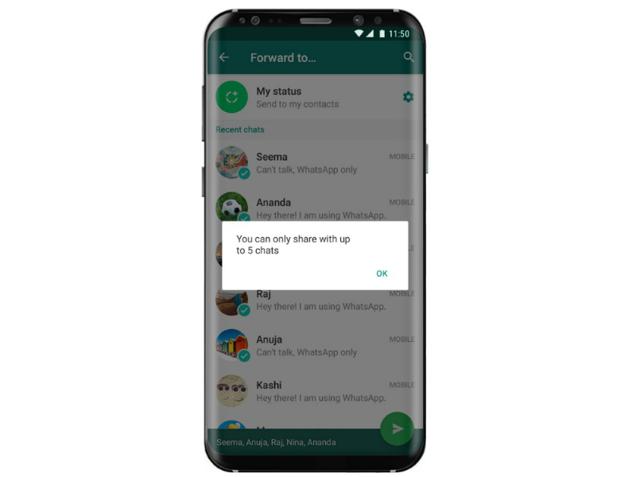 Apart from the limit on forwarding messages, WhatsApp has also introduced a new label for messages that has been forwarded. The label helps users identify whether a message has been written by the send or simply forwarded. The company is also working on a "spam link detection" feature to help users identify malicious websites which may compromise users' privacy and data.
WhatsApp, which has more than 230 million users, in India is also focusing on educating users about fakes news and rumours. The company is working with researchers on issues related to misinformation on WhatsApp. It introduced a "WhatsApp Research Awards" under which it will fund "independent research proposals that are designed to be shared with WhatsApp, Facebook, and wider scholarly and policy communities."
"We welcome proposals that explore the social, cognitive, and information processing variables involved in the consumption of content received on WhatsApp, its relation to the content's credibility, and the decision to promote that content with others. This includes social cues and relationships, personal value systems, features of the content, content source etc. We are interested in understanding what aspects of the experience might help individuals engage more critically with potentially problematic content," the company said.
As part of its efforts to educate users, WhatsApp recently published full newspaper ads offering "easy tips" to distinguish between fake news and credible information. "Do not pay attention to the number of times you receive the message. Just because a message is shared many times, does not make it true," offer one of the tidbits of advice.
"We are also working hard to educate people about how to stay safe online. For example, we regularly put out information that explains how to spot fake news and hoaxes — and we plan to run long term public safety ad campaigns in India, given its importance to us at WhatsApp. As a starting point, we will soon publish new educational materials around misinformation and conduct our news literacy workshops," said the company in a letter to the government last month.
The company has now launched two educational videos including one in Hindi to encourage users to spot fake news and question them.