WWDC 2019 highlights: iOS 13 to iPadOS, here's everything Apple announced
Apple at its WWDC 2019 developer conference unveiled new versions of its software services including iOS, watchOS 6, and macOS. It also launched a new Mac Pro device at the event. iOS 13Apple previewed iOS 13, the latest software update to iPhones. The latest iOS update brings the much-awaited Dark Mode. It also features new ways to browse and edit photos, sign in to apps and websites (Sign in with Apple), and update to native apps like Apple Maps, Apple Messages and others. Apple claims iOS 13 is faster and more responsive than the last year's iOS update. watchOS 6Apple introduced watchOS 6 update for Apple Watch. The latest update brings new watch faces and new apps for the wearable. Apple Watch users now get an independent App Store. The update also focuses on health focused features such as cycle tracking. There's also a redesigned Health app on iOS 13.iPadOSApple launched a dedicated operating system for iPads. Called iPadOS, Apple's latest software update is very similar to the latest iOS update but with several optimisations for iPads. The latest update brings multi-windows update, new home screen, new features for Apple Pencil, and an upgraded Safari browser. Here are the highlights from Apple's WWDC 2019 conference.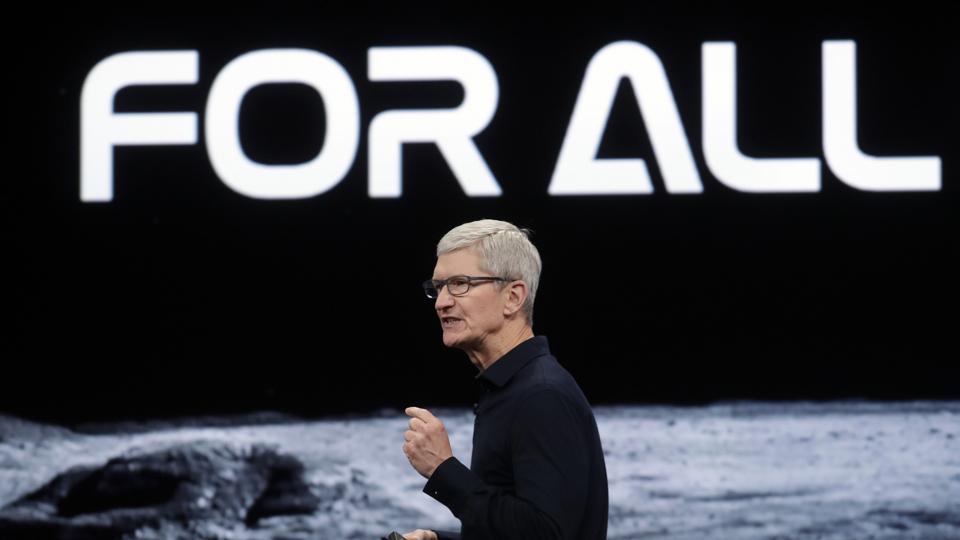 03 Jun 2019, 12:23 PM IST
Find My
Apple introduced a new "Find My" app for iPhones and macOS. The feature can help users locate their offline devices. Mac is also getting Screen Time feature.
03 Jun 2019, 12:15 PM IST
Future of iTunes
Apple officially introduces Apple Music, Apple Podcasts, Apple TV for Mac, set to replace iTunes. Apple has also added new features to these apps.
03 Jun 2019, 11:49 AM IST
new Mac Pro
Apple introduced a new Mac device at the WWDC conference. The new Mac features stainless steel frame, compact form factor. It's powered by Intel Xeon processor. It has two thunderbolt 3 ports, two USB A ports, and 3.5mm headphone port.
03 Jun 2019, 11:35 AM IST
iPadOS
Apple has introduced a dedicated OS for iPads. The new OS brings tablets-focused features like multi-window capabilities and gesture-based navigation. iPads will soon support USB thumb drives and microSD cards. iPads also get "desktop-class" Safari browser on iPads. Apple Pencil has also been updated with a dedicated API for developers.
03 Jun 2019, 11:24 AM IST
Photos
With iOS 13, users can adjust the lighting in different Studio Light modes. Users can also rotate videos iOS 13. Just like Google Photos, Apple Photos will use machine learning algorithms to identify screenshots and other photos which users may want to archive.
03 Jun 2019, 11:16 AM IST
Apple Messages
iOS 13 now allows users to create Apple Message users to share their names and emoji avatars. Apple Messages also now supports new memojis. It also now has a WhatsApp Sticker-like memojis.
03 Jun 2019, 11:12 AM IST
Sign in with Apple
Apple has introduced its own sign-in system which blocks third-party apps from tracking you. The sign-in system is similar to Facebook and Google sign-in system. Apple also allows users to hide their email IDs on third-party apps. Apple will give a random unique email ID for such apps. Emails sent to such IDs will come to your actual ID but the app will never see your real email ID.
03 Jun 2019, 11:06 AM IST
More iOS 13 features
Apple has revamped Reminder app with smarter features. Apple Maps has also been refreshed with new UI. The updated Apple Maps will be rolled out in the US by end of this year. The latest version will arrive in select countries next year. Apple has also introduced new privacy features, especially to give users more control on apps tracking location.
03 Jun 2019, 11:02 AM IST
Dark Mode
As expected, Apple's iOS 13 now supports system-wide Dark Mode.
03 Jun 2019, 11:01 AM IST
iOS 13
Apple at its WWDC conference unveiled iOS 13. The latest iteration of Apple's mobile OS comes with a range of new features. Set to be available later this fall, app updates will be up to 60% smaller in size. Apple says iOS 13 will help apps load 2x faster than iOS 12.
03 Jun 2019, 10:59 AM IST
Tim Cook trolls Google
Cook reveals its last year's iOS 12 had 85% adoption on Apple devices. Cook pointed out that Google's Android Pie v9.0, which launched before Apple's, had mere 10% adoption.
03 Jun 2019, 10:47 AM IST
watchOS 6
Kevin Lynch takes the stage to reveal new Apple Watch features. Apple Watch now comes with new watch faces. Apple Watch now features more iPhone apps such as voice memos and calculator among others. It also supports the Tip functionality to split the bills with friends. Apple is extending fresh APIs to developers to build independent Apple Watch apps. Apple Watch now also supports App Store. watchOS 6 comes with cycle tracking and other new tracking features.
03 Jun 2019, 10:42 AM IST
Gaming
Cook announced that Apple TV will now support popular gaming controllers such as Xbox One S, PlayStation 4.
03 Jun 2019, 10:39 AM IST
Apple TV+, tvOS
Apple TV+ will be available on Apple TV this fall. No word on the subscription rates yet. Cook showcases a revamped tvOS with a lot of personalisation features. tvOS can now support multiple users -- similar to Netflix. tvOS also features Apple Music which offers personalised experience for different users on the platform.
03 Jun 2019, 10:32 AM IST
Tim Cook takes the stage
Apple CEO Tim Cook begins the opening keynote. He thanks to the developer community for building a robust app ecosystem for Apple's iOS and MacOS platform. Hardware, Software and Services -- Tim Cook points out the company's new focus areas. Just last month Apple had introduced three new services -- Apple TV+, Apple News+, and Apple Arcade.
First Published Date:
03 Jun, 09:47 PM IST
71589391369170
NEXT ARTICLE BEGINS