Philips launches 10 new Android TV in India, prices start from ₹21,990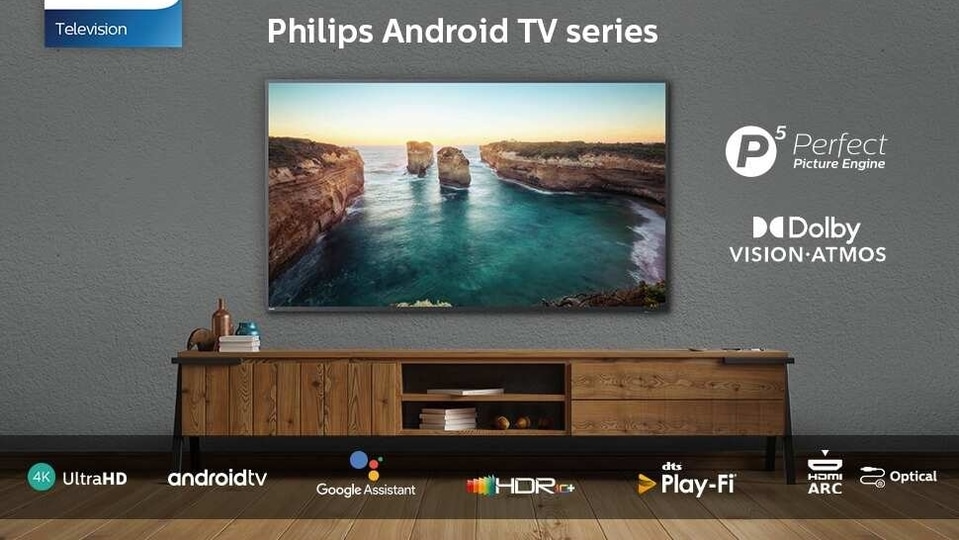 Prices of these new TVs start from ₹21,990 and go all the way up to ₹149,990.
TPV technology has announced 10 new TV models across the Philips TV range that cover a wide price range and come equipped with the latest technology. The new range of products include 8200, 7600, 6900 and 6800 series.
The new Philips 4K Ultra HD Android LED TV 8200 series comes with easy access to apps via Google Play Store, Google Assistant support etc. You can also give voice commands to the Philips Android TV via the remote and also through Alexa enabled devices to, for example, kick start apps such as Netflix, Amazon Prime, YouTube or Hotstar.
The Philips 4K Ultra HD LED Smart TV 7600 series is supported by Saphi Smart OS. With both the 7600 and the 8200, Philips is bringing in their critically acclaimed P5 engine technology which improves the source perfection, color, contrast, sharpness and motion to deliver a more vivid picture quality.
There is also Dolby Vision and Dolby Atmos support along with HDR10+. Both the series are equipped with 2 Way Bluetooth technology for connecting soundbars and headphones.
The Philips Android Smart 6900 and Saphi Smart 6800 series feature Dolby Digital Plus. Philips 6900 TV series comes with Android TV OS with built-in Google Assistant support. The 6800 TV Series is equipped with the SAPHI OS.
The Philips 4K UHD LED Android TV 8200 series is available in four sizes - 70-inch, 65-inch, 55-inch and 50-inch screen sizes (70PUT8215, 65PUT8215, 55PUT8215, 50PUT8215) and are priced at ₹149,990, ₹119,990, ₹89,990 and ₹79,990 respectively.
The Philips 4K UHD LED Smart TV 7600 series is equipped with P5 Perfect Picture Engine and is available in two sizes – 58 and 50-inch (58PUT7605, 50PUT7605) priced at ₹89,990 and ₹69,990. It also provides one button access to a clear icon-based menu – SAPHI.
The Philips 6900 TV series comes with Android TV Operating System with built-in Google Assistant and is also equipped with Dolby Digital Plus and Pixel Plus HD. This series is available in two screen sizes 43 and 32-inches (43PFT6915, 32PHT6915) and is priced at ₹44,990 and ₹27,990 respectively.
The Philips 6800 TV series comes in a 43 and 32-inch variant with Full HD and HD LED Display respectively and is equipped with SAPHI technology. The 43 and 32-inch (43PFT6815, 32PHT6815) are priced at ₹35,990 and ₹21,990 respectively. The series is also equipped with Miracast for screen mirroring your android device to your TV Screen.
TPV also launched two Philips soundbars, TAB7305 and TAB5305 adding to their existing soundbar range, priced at ₹21,990 and ₹14,990 respectively.