Amazon Echo Show 15 to robot Astro, everything that was launched last night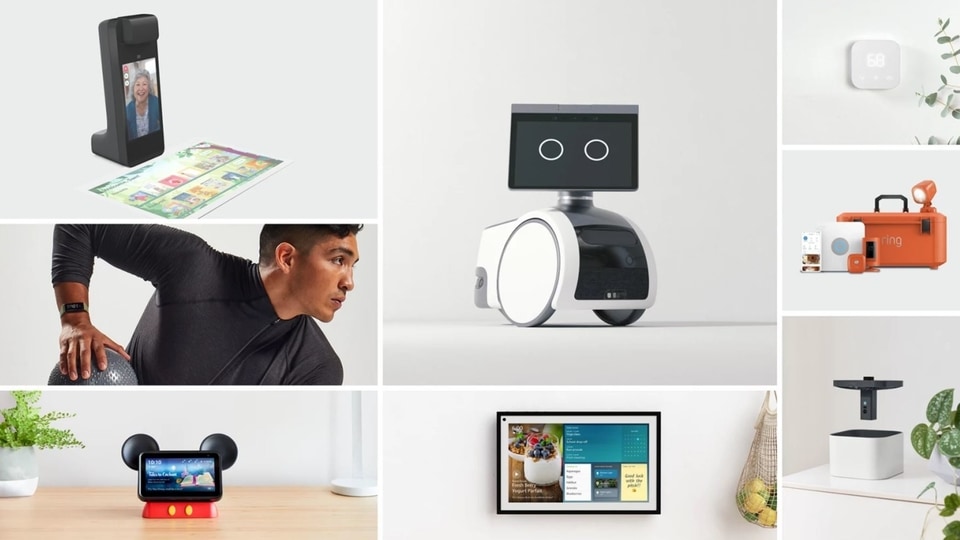 Amazon 2021: The company launched its very first home robot, Astro and the 15-inch Echo Show 15 that can be mounted on a wall.
The season of launches isn't over yet. After Samsung, Apple and Nintendo hosted their fall events to unveil their next-generation of products and services, it is Amazon's turn. The e-retail giant hosted its annual fall event during which it launched a new generation of Echo devices and a host of updates to its virtual assistant, Alexa. At the Amazon 2021 event, the company launched its very first home robot, Astro. In addition to this, Amazon also launched the rumoured 15-inch Echo Show 15 that can be mounted on a wall. If you missed the Amazon Event 2021, here's a list of top updates for you to consider:
Alexa updates
-- Amazon has introduced a new House Calendar widget on Echo Show that makes it easier for users to view and manage their family's schedules. Users can tap the screen or ask Alexa to add events or appointments and everyone in their household can see the daily schedule at a glance. There is a new feature called visual ID, that lets users teach their device to recognise them so they can see a personalized view of their daily events and reminders when they step in front of the Echo Show device's camera.
-- Echo Show smart displays are also getting digital sticky notes. "Ask Alexa to save a note about where you've stored your family's camping gear or what temperature to reheat dinner. You can also create and assign notes to individuals in your household to remind them of something or just to brighten their day," Amazon explained.
-- Amazon also announced that soon they will be able to ask Alexa for ideas about their next meal. The company said that whether users are looking for a new recipe, nearby restaurant, prepared foods from the grocery store, or even meal kits, all they need to do is ask, "Alexa, what should I eat?" or add the What To Eat widget to their home screens to discover new options at a glance.
-- Amazon said that with Your Deliveries widget on Echo Show, users will now be able to stay on top of their upcoming Amazon shipments with a snapshot of the most recent items that they have ordered and expected delivery dates.
-- Alexa users will also help users find their Echo Buds or Tile Trackers using a new map widget. All users need to do is say, "Alexa, find my Echo Buds," or "Alexa, locate my packages," to see a real-time map on their Echo Show device's screen.
-- Alexa is also getting TikTok integration. Amazon said that soon users will be able to say things like, "Alexa, play dance videos on TikTok," "Alexa, find funny pet videos on TikTok," or "Alexa, show me DIY videos on TikTok" to watch TikTok videos on their Echo Show smart displays.
-- Another interesting feature coming to Echo smart speakers is support for 'Hey Disney' wake word. Amazon said that starting next year, users will be able to access an entirely new kind of voice assistant that will work alongside Alexa at home and across Walt Disney World Resort hotel rooms. "'Hey, Disney!'" wake word will be available on supported Echo devices at home and at Disney Resort hotels.
Amazon Astro home robot
One of the biggest announcements from the night was the launch of Amazon's home robot. It users advancements in artificial intelligence, computer vision, sensor technology, and voice and edge computing for performing a host of tasks such as keeping your house safe, sounding alarm in case of break-ins, smoke, taking care of elderly people in the house, sending alerts and reminders to caregivers and acting like a home entertainment system.
Astro cost $1,449.99 ( ₹1,07,667 approx.). However, as a part of the Day 1 Edition program, it will be available for an introductory price of $999.99 ( ₹74,202) with a six-month trial of the Ring Protect Pro subscription included. It will be shipping to customers in the US on an invite-only basis later this year.
Amazon devices
-- Echo Show 15: Amazon launched the Echo Show 15 at the event. It comes with a 15.6-inch full HD display with a resolution of 1080p. The Amazon Echo Show 15 can be mounted on a wall or placed on a counter either in portrait or landscape orientation. It runs on Amazon's next-generation Amazon AZ2 Neural Edge processor. It has microphone and camera controls, the ability to view and delete users' voice recordings, and a built-in shutter to cover the camera. The Echo Show 15 will be available for $249.99 ( ₹18,551 approx.). There is no word on India pricing yet.
-- Blink Video Doorbell: Amazon also introduced Blink Video Doorbell at the event, which can be installed in a wired or wire-free manner. It comes packed with features, like long-lasting battery life, HD video, night vision, motion detection, two-way audio, and alerts integrated with Alexa. It costs $49.99 ( ₹3,710 approx.).
-- Always Home Cam: It is an autonomous indoor flying camera that shows users what's going on in their homes. It can also be set to do routes based on a triggered event, like flying to a Ring Door Alarm sensor when it's tripped in Away mode. It costs $249.99 ( ₹18,551 approx.).
-- Amazon Halo View: It is the successor to the Amazon Halo fitness tracker that was launched last year. The Amazon Halo View introduces a vibrant AMOLED color display that provides at-a-glance access to Halo health metrics, live workout tracking, and more. It offers up to seven days of battery life and it has a swim-proof design and comes in three sports band colors. It will also be available in sports, fabric, metal, and leather band options. It costs $79.99 ( ₹5,936 approx.).
-- Amazon Glow: Another interesting device that Amazon launched at its fall event is the Amazon Glow. Amazon Glow combines video calling capability with connected activities to keep people engaged and visible, making virtual visits feel more like being together in person. While kids are having fun with Amazon Glow's 19-inch touch-sensitive projected area, remote family and friends can use their own tablet to interact in a shared virtual space in real-time through the free Amazon Glow app. And the 8-inch LCD display is designed so that kids can see their loved one the whole time. Amazon Glow also has object scanning capabilities, which kids can use to turn a favorite toy into a digital sticker for art activities. It comes with a 1-year subscription to Kids+. It costs $249.99 ( ₹18,551 approx.).
-- Mickey-inspired Echo Show 5: Amazon also launched the availability of a new Mickey Mouse-inspired stand for Echo Show 5 from Otterbox.