Dyson Pure Hot+Cool Cryptomic air purifier review: An air purifier (and room heater) for your year-long needs
The Dyson Pure Hot+Cool Cryptomic air purifier costs a lot. If you have the pocket for it, this air purifier is definitely worth a try.
Updated on 15 Jul 2021, 07:10 AM IST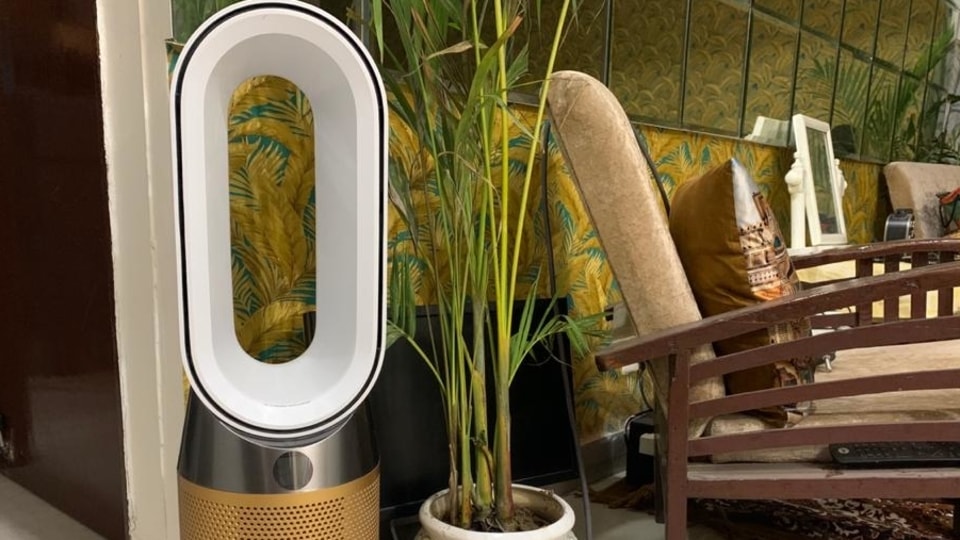 Pros
Modern design
Air flow adjustment
Effective
Specifications
LCD display

Glass HEPA and activated carbon filters

Amazon Alexa support

In-built heating technology
Living in a metropolitan city has many advantages. Wider growth opportunities, advanced healthcare facilities, better education facilities, and stronger transportation network are just some of many examples wherein living in a developed area really pays off. But the grass isn't all that green. There is one major disadvantage that presents itself as a major pain point to all the residents – air pollution.
If you have lived in Delhi for a while, you would understand that air pollution is a cause of concern all year long. While the air quality is somewhat bearable in summer months, it becomes almost poisonous as soon as temperatures start to drop and the fall sets in. Apart from the temperature, what acts as a deterrent is the practice of stubble burning in the surrounding areas. All of this results in a sharp rise in health issues across age groups. This is where the Dyson Pure Hot+Cool Cryptomic air purifier comes into the picture.
The Dyson Pure Hot+Cool Cryptomic air purifier is the second-generation of the company's Hot+Cool air purifiers and it costs ₹61,900 in India. Interested buyers can purchase it via Dyson.in, Amazon, Flipkart, select Croma stores, and Dyson Demo stores in Delhi, Mumbai, Bengaluru, and Chennai.
Now that you have had time to make peace with the hefty price tag (or have you?) let's talk a bit about its features and its effectiveness. To give you a quick summary, Dyson's Pure Hot+Cool Cryptomic air purifier, comes with a bunch of smart features. You can control it with Amazon Alexa. You can also use the Dyson Link app to control it. And then you have the tiny magnetic remote that ships with it. In addition to this, this sleek air purifier comes with a tiny LCD display that constantly updates you about the air quality of the room it's in. To top it all off, this air purifier comes with an in-built heater. All of this sounds fancy. But the real question is -- is it any good? And how do you know that it is working?
We'll answer all your questions in the review below. So, keep reading...
Design
Dyson is often referred to as the 'Apple of home appliances' and for all the right reasons. And no, I am not talking about the hefty price tag of both Apple and Dyson devices. I am talking about the design language. Apple devices, be it iPhones, iMacs or even Apple TV, have a distinct design that is both simple and elegant. This is true for Dyson devices as well. Their air purifiers have a clever design that blends in with their environment easily. This is true for the company's Pure Hot+Cool Cryptomic air purifier as well.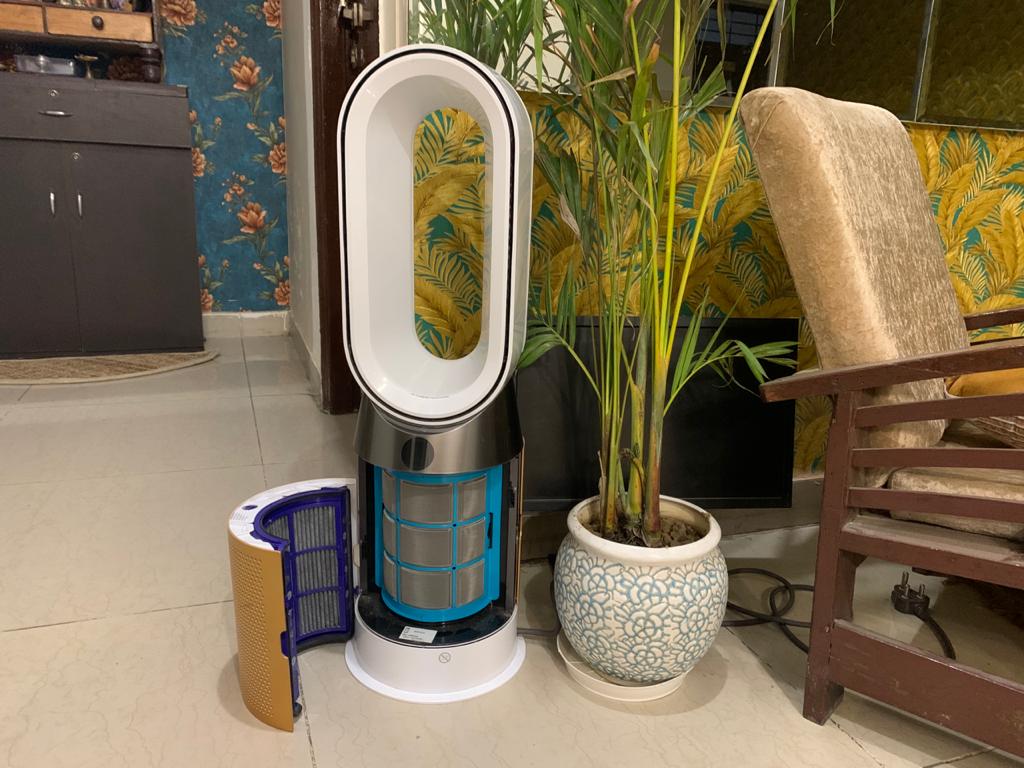 It features Dyson's signature loop design that projects air from the front loop. The head has a second opening towards the back that projects purified air when you don't want the air to be thrown, well, directly at your face. This loop-like structure sits on top of a cylinder that has small holes all around. These holes take in the air from all directions, filter out all the pollutants and then release the purified air from the loopy head. This cylinder has a coloured LCD display that displays various metrics such as air quality index of the room, level of various pollutants, mode of operation, fan speed and life of filters. Inside, it has two layers of filters – a glass HEPA filter and an activated carbon filter. We'll get into their workings shortly.
This cylindrical stand rests on a circular base that holds the entire structure together. Now, you must be wondering, why am I talking about the base separately when it's a part of the same structure? Because it's not. The loop and the cylinder are connected to the circular base in a way that the entire structure, sans the base, of course, rotates 350 degrees projecting purified air in almost all directions depending on the location where you have placed it in your house. And if you keep the air purifier in a corner like I do, you can stop the rotation with the press of a button on your smartphone or the remote and let the purified air be projected in a single direction. Alternatively, you can make this air purifier rotate at preset degrees – 90, 270 of 360. Really, whatever you like!
But wait, there's more. The structure of the air purifier, sans the base again, can be tilted forwards and backwards slightly. This further allows you to tweak the airflow in the direction that is best suited to your needs (talk about comfort!). The overall design is elegant and simplistic. You can put it in any corner of your house and be sure that it will blend in. Furthermore, the loop-like structure makes it safe for use even for those who have kids at home.
Lastly, the Dyson Pure Hot+Cool Cryptomic air purifier is accompanied by a beautiful golden magnetic remote that lets you control all the functions of this air purifier from afar. You can control the fan speed, heating ability, rotation, and mode of operation using the remote. You can also set a timer for use. One good thing about this remote is that you never have to worry about it getting lost. Don't worry it is searchable through Apple's Find My app. Instead, its magnetic capabilities enable you to put it over the air purifier's loopy head and forget about it ever falling over or getting lost.
Performance
Now, the million-dollar question: How well does it work, and is it any good?
I have been using the Dyson Pure Hot+Cool Cryptomic air purifier for quite some time now. I have used it in the winter months when Delhi air was being polluted by the crop burning practice of the nearby area and I have summer months amid the lockdown in the country. After such diverse usage, one thing that I can say about this air purifier is that it works really well. And the effect isn't too hard to notice.
When I started using the Pure Hot+Cool Cryptomic air purifier, pollution in Delhi had peaked. Even on keeping all the doors and windows closed, the air quality where I was living at the time was so bad that I was getting constant headaches. To top it all off, the poor air quality was also making my eyes burn which made it difficult for me to work (since I stare at the screen all day). After letting the Pure Hot+Cool Cryptomic air purifier loose in my room for just 45 minutes, the air inside my very clean room became cleaner. The effect I could see in my own health. My headache reduced and my eyes didn't hurt as much. And the statistics on the screen agreed with me. The air quality index that has shot up to the purple zone had come down to the yellow zone, just one step short of the recommended air quality level. If the design had intrigued me earlier, its effectiveness earned my respect.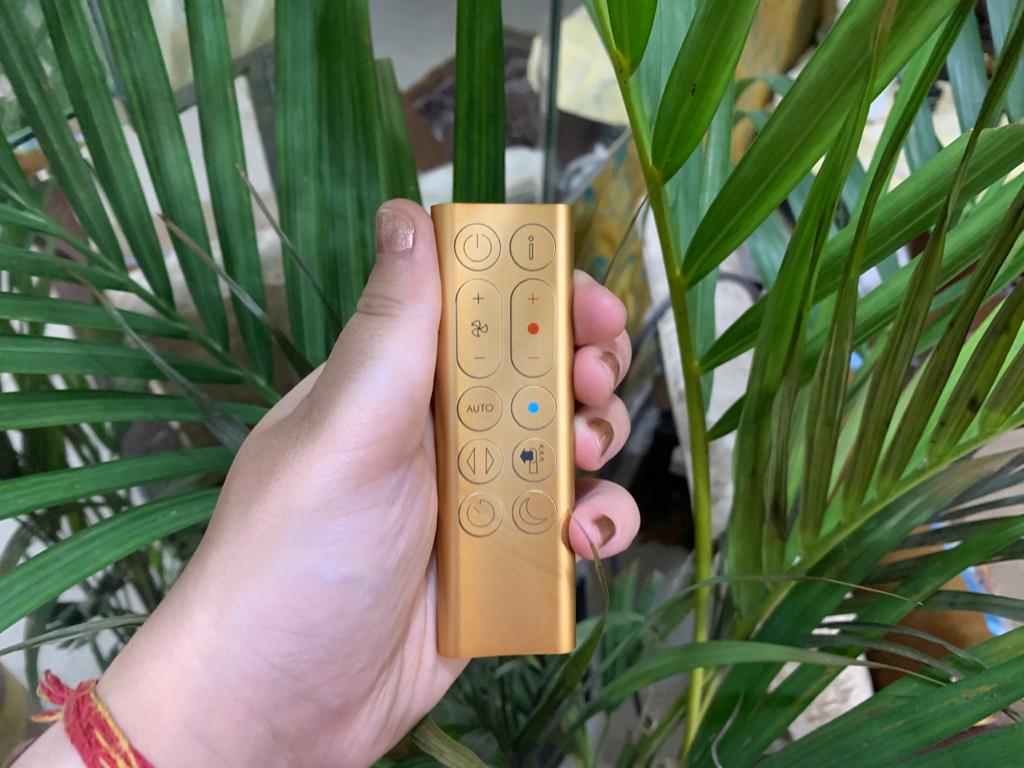 Talking about the heating capabilities, Dyson's Pure Hot+Cool Cryptomic air purifier is one of the best room heaters, ehmm… air purifiers in the market. While you may not be able to use it as an air cooler, you can most certainly use it as a room heater. You can set a temperature as high as 37-degrees Celsius while using the heating functionality of this air purifier. That temperature is not only good to keep you warm amid the chilling winter months but is good when you need immediate respite from cold after doing the dishes at night or after returning home on a cold winter evening after a day at work or maybe just a stroll outside. And in the blazing summer months, you just turn off the heating capabilities and use the Dyson Pure Hot+Cool Cryptomic air purifier just as an air purifier.
Coming to the smart features, the air purifier is really very easy to use. You can control it using the accompanying remote control or the Dyson Link app. And if you are too lazy to lift a finger, you can ask Alexa to do all your work. It works like a charm all the time.
Conclusion
Now, the most important question: should you buy the Dyson Pure Hot+Cool Cryptomic air purifier or not? Well, the answer is a simple yes. This air purifier is designed to meet all your requirements all year long. While most air purifiers project cool air, Dyson's Pure Hot+Cool Cryptomic air purifier gives you the choice to switch to warmer (and cleaner) air in the winter months. What's more, you can make it project the purified air in any direction and angle that you like. If that wasn't enough, you get Alexa support as well and an elegant design as well
Sure, the Dyson Pure Hot+Cool Cryptomic air purifier costs a lot. In fact, it WILL burn a 62K big hole in your pocket. But, if you have the pocket for it, this air purifier is definitely worth a try.