Non-metro cities in India are embracing smart speakers, says a new survey
According to the survey, users from non-metro cities use smart speakers for more than 2.5 hours daily.
28 Oct 2020, 02:56 PM IST
Smart speakers are gradually becoming popular in India. According to a survey conducted by Karvy Insights for Amazon India, smart speakers are now expanding their footprints in non-metro cities as well.
The study titled 'Understanding Smart Speaker Usage in non-metro cities' is based on inputs from over 1,000 respondents, included owners and non-owners of smart speakers.
According to the survey, 43% of smart speaker owners from non-metros said they interact with the device in Hindi.
ALSO READ: Alexa, delete everything I've said: Amazon makes privacy on Echo easier
Respondents from cities such as Lucknow, Kanpur, Patna, Jaipur, Ahmedabad, Hyderabad, Vijaywada and Vishakapatnam said that on an average they use smart speakers for over 2.5 hours every day. It is also a part of the family as 81% of smart speaker owners keep it in the living room where everyone can access it.
The survey indicates that smart speakers are used extensively for music streaming and a variety of other purposes.
ALSO READ: Alexa in Hindi turns a year older, here's how her journey has been so far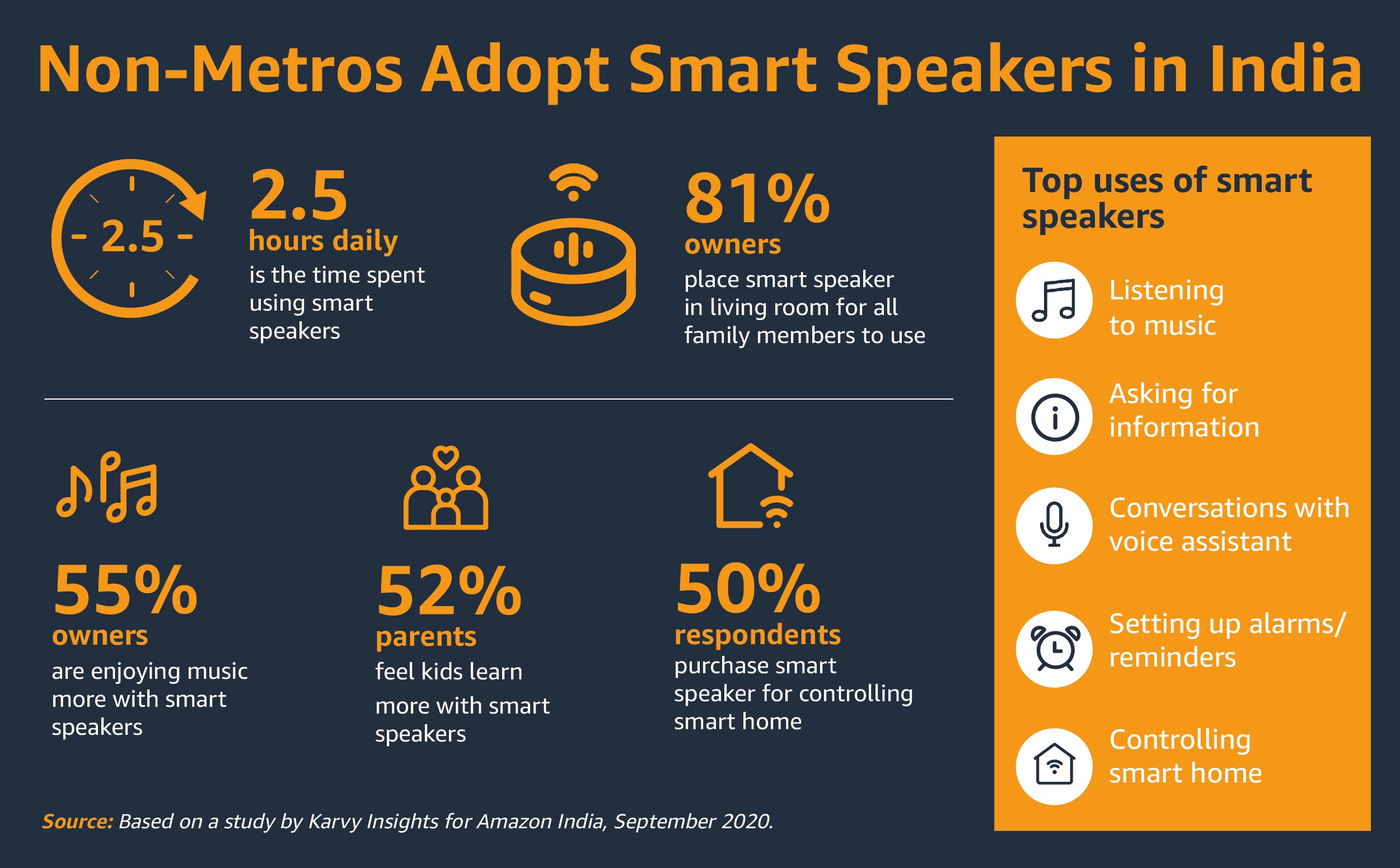 About 50% of customers used the smart speakers to pay utility bills. Interestingly, 52% of parents who own a smart speaker also mentioned that their kids are learning more than before.
"Almost 48% parents said that voice -controlled smart speakers are a great way to let kids experience the latest technology as well as use it as a tool for learning. Nearly 47% of smart speaker owners in non-metros agreed that it helped improve their children's language and pronunciation skills. With increasing screen time becoming a worrying factor for parents, 45% of the respondents added that smart speakers are better for their kids because its primary medium of interaction is voice," according to the survey.