BenQ GS2 portable projector review: Cute and efficient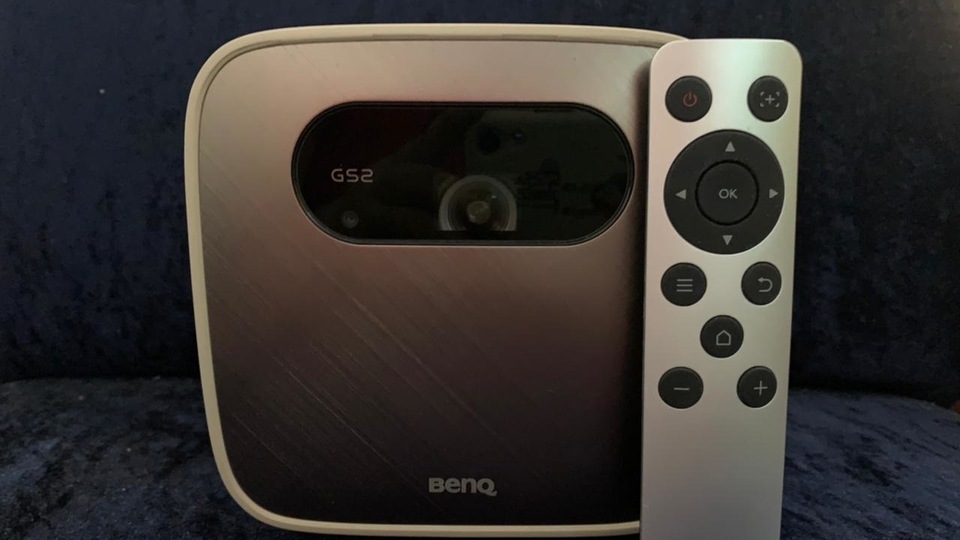 It's short and stout. It's efficient. But you need deep pockets to buy it.
Brand: BenQ
Product: BenQ GS2 portable projector
Key specs: HD quality image, parental controls, 3-hours battery life, built-in 4W Bluetooth speaker
Price: ₹79,990
Rating: 3.5/5
Projectors have conventionally been used in offices and educational institutions for large meetings and lectures. But in recent times, the Covid-19 pandemic has blurred the lines between work and home. It has fundamentally changed the way we work and study. It has also changed how we keep ourselves entertained (barring staring at the sky and dreaming). So, in order to cater to the demands posed by this change, BenQ recently launched a new portable projector in India.
The BenQ GS2 portable projector in India at a price of ₹79,990. Interested buyers can purchase it from Amazon India at the best buy price of ₹59,990.
Now that might seem like a lot of money, but for a projector it's not. The BenQ GS2 portable projector not only does the work of a conventional projector -- you know, streaming all your boring presentations and notes -- but it also streams your favourite TV shows and movies. And the best thing, okay, one of the best things about it is that you don't even have to plug it in all the time.
The list doesn't end there. We'll get into the details in the review below...
Design
First things first: It's cute!
The BenQ GS2 portable projector features a cutesy design that reminds you of the first-generation iMac computer. It is petite and compact. It measures 13.9x14.4x13.9cm and weighs just 1.6Kgs, which makes it easy to carry around whether you are indoors or outdoors. It comes in a single creamish-colour variant that easily blends in your home decor and if you're outside, it makes it easy to spot.
As far as the controls are concerned, you can use the GS2 projector in three ways. The first way is using the Home Control app, wherein you can use your smartphone to play around with its features. The second way is using the controls on top of the projector. There is a circular OK button in the middle for confirming your selection. On its rim are buttons to move the selection up/down and right/left. On top of this OK button is a sensor that takes commands from connecting devices and the physical remote control, three LED buttons to indicate the charging status and a power button. Below the OK button, there are three buttons, one takes you back, the other takes you home and the third one opens the main menu.
The third way to operate this device is using a physical remote control that offers the same control as the projector. It has three additional buttons that allow you to increase or decrease the volume and auto-focus the image on the screen. The remote control is sleek and easy to use.
Aside from the controls, the GS2 portable projector has a bunch of ports that give users the flexibility to connect the projector via a host of different means. It has a wireless dongle slot, an audio output port, an HDMI port, a USB Type-C port and a USB Type-A port. At the back, it has speakers and a magnetic charging port. On the front, you get a bunch of sensors and of course, the projector lens. All in all, it's a compact package that you can easily carry around in a special bag that you get with the package, all of which as I mentioned before make it easy for you to carry it around without any second thoughts.
Performance
Now the important bit: How well it works.
The BenQ GS2 projector offers HD quality images with built-in speakers. You can connect it wirelessly to your Android or iOS smartphone or your PC. Alternatively, you can also plug in your pen drive or your external hard drive to stream content via this projector.
During my time with this projector, I used it for streaming a variety of content (other than work). I watched Wonder Woman 1984 on YouTube, binged on shows like Legacies on Amazon Prime Video and I went on a memory tour of my photos from the past. I also streamed the Kissing Booth series (you can judge me) from Netflix. More recently, I used it to stream my wedding photographs and videos. Admittedly, I was pleasantly surprised by the image quality offered by this projector. The images were crisp and clear, so were the colours. What I liked about this projector was that it was quick to refocus images and videos based on its placement and that the content maintained its clarity no matter where you put it.
As far as the sound is concerned, it was loud and clear to be heard in a quiet room. While streaming my wedding photos and videos in a bigger room, I connected it with my speakers using the audio port and that worked well as well. All in all, it did its job quite well. I didn't face any difficulties while using it whatsoever.
That said, there are some bits that I like more than others. BenQ is pegging the GS2 projector as a device for your homes. Naturally, having simple streaming capabilities isn't enough. You need more if you want to integrate a device that has up until now been used in offices and colleagues in homes as an infotainment device. For this, BenQ has included Aptoide TV apps on the GS2 portable projector. You get YouTube, Disney+ Hotstar and Amazon Prime Video on the projector with the option to add more, which include Netflix, Twitch, Vimeo, Kodi, and Dailymotion. I streamed content from YouTube, Disney+ Hotstar, Amazon Prime Video and Netflix, and my experience was mostly smooth.
The only part where I faced issues was while logging in to various platforms. The process is tedious owing to the fact that you have to tap to scroll and add characters on the screen. Sadly, it's the way these remotes work that isn't in sync with the way streaming platforms work anymore. BenQ tells us that it is trying to simplify this process by adding support for voice commands in future iterations of its portable projectors. We don't know when such a feature will arrive. And As far as the GS2 projector is concerned, we'll have to manage with the existing setup only.
Another thing that I liked about this projector is the presence of parental controls. I don't have any kids in my house but a lot of Indian households do. Since BenQ is selling GS2 as an alternate screen in-house for education and entertainment, it is imperative that it puts some checks and balances in place to ensure that kids don't visit sites that they aren't supposed to. Hence, the parental controls. With this parents can closely monitor and control what their kids stream.
ALSO READ: BenQ GS2 portable projector: In Pics
The third thing that I liked about this device is its battery. BenQ says that the GS2 offers up to three hours of runtime on battery. And true to its words, the projector did stay put without any juice for about three hours. You can easily stream a movie in that time and if you (and we all) get lucky someday, you can even take it on a trip to the woods. Till that happens, you can take a trip down memory lane or transform your room's ceiling into a scene from space. Or you can just stream your favorite shows without all the messy wires around.
One thing that I didn't like about this projector is its physical remote. And I am not talking about the limitations of the existing setup that I mentioned above. I am talking about the basic functionality. During my time with this projector, I faced consistent issues while using the remote. My alternative to using it was using the controller app or the physical controls on the projector. Other than that, everything was mostly a smooth sail.
Conclusion
Now the million-dollar question: Should you buy this projector or not? Yes, if you are ok spending this kind of money.
The GS2 portable projector offers ample connectivity options with support for OTT platforms. It offers great image quality and it has been designed keeping in mind the needs of parents. Bonus: it has a decent battery life too. That said, for a device costing almost 80 grand, having a simple remote without the voice-control functionality -- something that is fairly standard these days -- for me is a bit incomplete, especially since it is designed to be used in homes as a home edutainment device. But if you can ignore that, GS2 is totally worth a shot.