Apple's A14 Bionic processor detailed, may power iPhone 12 models
In A14 Bionic, a lot of focus has been given to the Neural Engine as well that was introduced with iPhone X.
Updated on 13 Oct 2020, 01:03 PM IST
in mobile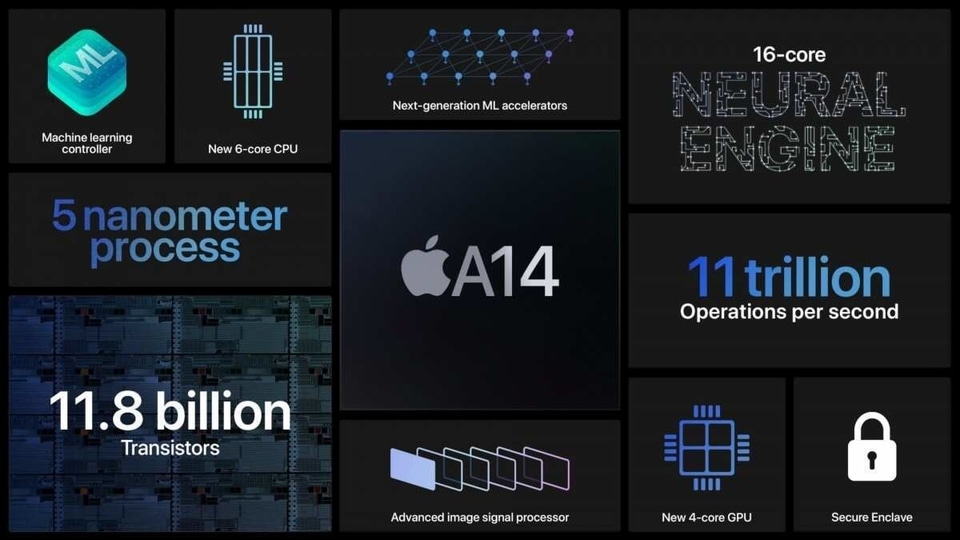 Although Apple has not yet confirmed anything about what's coming at its 'Hi, Speed' virtual event, rumours and leaks have pointed out towards the arrival of Apple iPhone 12. Even the spec are not rumoured about the new iPhones except for one – Apple A14 Bionic. It is almost likely that the firm will use this chipset to power new iPhones. It has already debuted in the recent iPad Air 2020 and has now been detailed by Tim Millet, Apple's VP of platform architecture, and Tom Boger, senior director of Mac and iPad product marketing.
Talking to Engadget, the executives revealed that the six-core CPU processor is made using 5nm process – something that you won't find in any chip under Qualcomm's portfolio right now. While it means Apple could include increase the transistor count for a faster and efficient CPU, it also gave it the flexibility to make more subtle improvements to the experience. Also, Apple was able to allot more transistors to components other than CPU and GPU.
Also read: Apple HomePod Mini launch expected besides iPhone 12 series: Here's the rumoured price, features
"One of the ways chip architects think about features is not necessarily directly mapping [transistors] to a user feature in the product so much as enabling the underlying technology, like software in the graphics stack to be able to leverage a new capability in the GPU," Millet said. "That will inevitably come as a visual feature in a game, or in a snappy transition in the user interface."
In A14 Bionic, a lot of focus has been given to the Neural Engine as well that was introduced with iPhone X. It usually takes care of Face recognition, voice recognition for Siri and augmented reality. At the time of introduction back in 2017, it could perform 600 billion operations per second. But with increased dedicated power for Neural Engine, it now tops at 11 trillion operations per second. Last year's A13 was at 6 trillion.
Also read: Apple iPhone 12 or 12 Mini: Price, specs, design, features and other rumours till date
A14's Neural Engine alone has 16 cores – double of what was there last year.
"We saw the opportunity to do things that would have been impossible to do with a conventional CPU instruction set," Millet added. "You could in theory do many of the things the Neural Engine does on a GPU, but you can't do it inside of a tight, thermally constrained enclosure."
But making things more powerful was not the only solution. The company apparently chose to go with energy 'efficiency' as well so it maintains the performance for a longer time.
Also read: Apple iPhone 12 launch: What to expect, how to watch livestream
Although Apple has not confirmed if A14 Bionic will come to iPhones, the report does state that the firm did not make the chipset for just one product. "We spend a lot of time working with the product teams and software teams, and the architecture group really does sit in the center of that," said Millet.