Amazon Echo Show review: The best of Alexa with HD screen
Amazon Echo Show sells in India for ₹22,999. One of the first speakers with a screen, Amazon Echo Show offers reliable Alexa digital assistant. Find out more about the device in our detailed review.
Updated on 28 Apr 2019, 05:10 PM IST
in news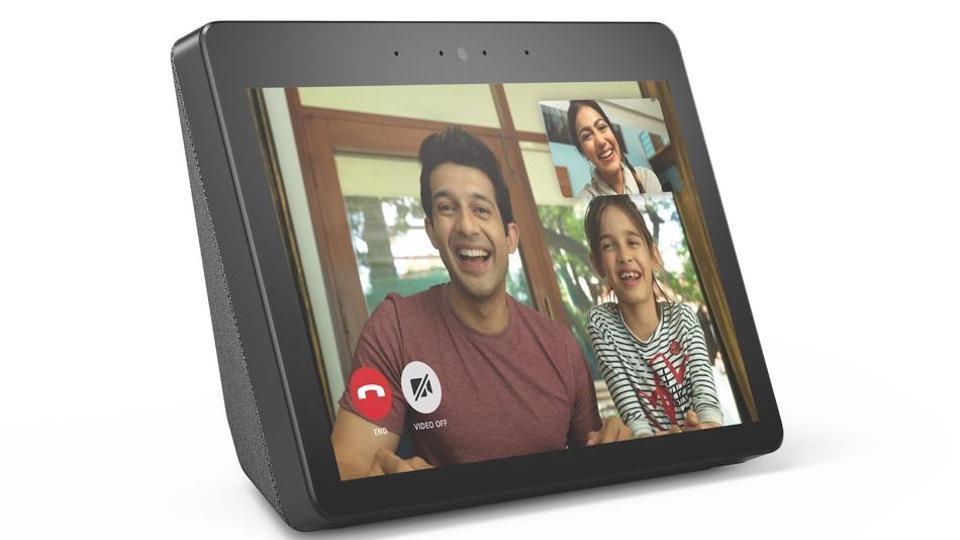 Brand: Amazon
Product: Amazon Echo Show
Key specs: 5MP front camera, Dolby sound processing, 10-inch HD display, smart home hub, Bluetooth
Price: ₹22,999
Rating: 3.5/5
Smart home speakers are becoming increasingly popular around the world. Thanks to a growing ecosystem of connected devices, people are getting used to controlling electronic items around with voice commands. And then the popular use cases are listening to music, news and placing orders. The next-generation of smart home speakers features a screen to make the experience more interactive.
The latest to join this new segment of smart speakers is Echo Show. Amazon's new smart home speaker comes with a 10-inch HD display and is available in India for ₹22,999. The latest Alexa-powered smart home speaker is the most premium one from Amazon so far. While the fundamentals of Amazon Echo Show are the same as Echo Spot but the two differ in terms of size and use cases in some situations. For instance, Echo Show delivers a full-screen experience whereas Echo Spot had a circular display. The smaller Echo Spot didn't offer a rich visual experience while Echo Show gives a full-size tablet-like experience.
Design
Amazon Echo Show looks like a large tablet. The thick form factor also reminds you of a car display monitors. The front is dominated by the display while the speakers are placed on the back. The screen is tilted on a thicker base - Surface device on a hinge. The side panels are plastic. At the top you have the necessary buttons such as mic on/off and volume. Since it needs to be always powered on, it's not really portable. But it's light enough to be moved from one location in your house to another.
Display and audio
The smart speaker comes with a 10.-inch 1280 x 800 with 720p HD display resolution. As you might have guessed it by now, the screen quality doesn't feel premium. The display, however, manages to optimise whatever content it's playing. Touch responses on the display are quite fast. Echo Show comes with a range of features for screen. For instance, you can control brightness, device settings, and even notifications. For more interactive sessions, you can use browsers to play videos or surf the internet.
ALSO READ: Amazon Echo Spot review: A premium accessory for smart homes
As far as the audio quality goes, Amazon Echo Show isn't the best speaker out there but with added Alexa digital assistant, it's decent enough. It's loud and clear enough. The device relies on dual 2-inch drivers with a passive bass radiator. If you plan to listen to music a lot on Echo Show, you may want to make changes to the equaliser to personalisation. By default, it's slightly bass-biased. For other voice-based tasks, Echo Show does a good job.
Experience
Having lived with a range of Echo speakers, Echo Show wasn't difficult to getting used to. The built-in hub allows you to pair it with other devices as well. Placing the Echo Show in your house can be tricky as you would want it closer to the sight to glance at the latest news or real-time updates coming on screen. The screen on a smart home speaker makes a big difference. From playing latest trailers to video songs, Echo Show can be quite useful. Good thing is you still get to control things with voice commands. As far Alexa goes, Amazon's Echo Show has become a lot better. It understands Indian accents and select Hindi command words very well. Alexa is quite fast and delivers relevant information. The content catalogue has also improved since the launch of first Echo speaker in India.
ALSO READ: Amazon Echo Input review: It's a Chromecast for speakers that you must have
Verdict
Smart home speakers are still a novelty than necessity. It does make a good addition to users who own smarter appliances and don't mind giving voice commands to control them. For casual users, Amazon Echo Show delivers decent audio quality as well. At ₹22,999, it does seem a bit expensive. If you are looking for a smart home speaker with a screen, Amazon Echo Show is worth considering. But if you don't care about a screen, Echo Plus is our top recommendation.