WhatsApp new archive feature: How to remove the new 'Archived' section in your chat list
New WhatsApp chat archive feature may not be the favourite of all users. If you are one of them, here's how you can turn off 'Archived' section on the app.
Updated on 20 Jul 2021, 07:29 AM IST
in how to
While WhatsApp offers several useful features to users on the platform, the company is working on two major improvements – true multi-device support and a new archive for chats. We have covered WhatsApp's upcoming multi-device feature in great detail, which will allow users to use up to three additional devices independently of their smartphone. Meanwhile, the company's new Archive feature has been in testing for several months now, and it was previously reported that WhatsApp had begun rolling out the feature to beta testers on Android in May and on iOS in June.
What is the Archived chat box on WhatsApp?
WhatsApp users who have received the new Archive feature will see a new location in the app located above where archived chats are stored. Unlike older versions of WhatsApp where users had to scroll down to reach the archive, it now stays at the top of the chat. This is because with the new feature, chats remain archived even if a new message is received. This means that chats you have archived will stay out of view until you are ready to view them.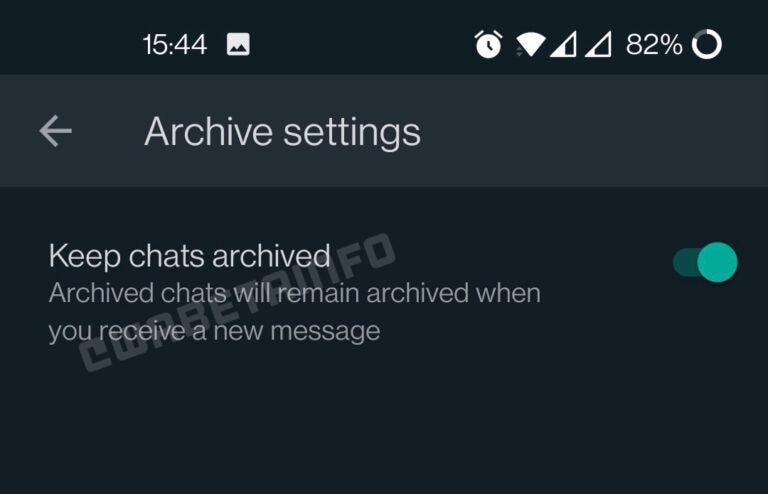 How to disable the new Archive feature on WhatsApp
However, not all users prefer this new Archive feature floating over their regular chat list, and thankfully, there is a way to turn it off. Here's how users can shut off the new WhatsApp chat archive feature:
Step 1) Check if the new Archive feature has been enabled for you on WhatsApp. If you see an Archive section at the top of your chat list, you can proceed to the next step.
Step 2) Go to WhatsApp Settings and tap on Chats.
Step 3) You should be able to see a setting called Keep chats archived. Toggle it off and go back to the chat app.
Step 4) If you want to revert these settings, you can head back to the Chat section of the WhatsApp settings to re-enable the feature.