Youngest astronomer ever, Nicole Oliviera, discovers 7 asteroids! You just won't believe how old this girl is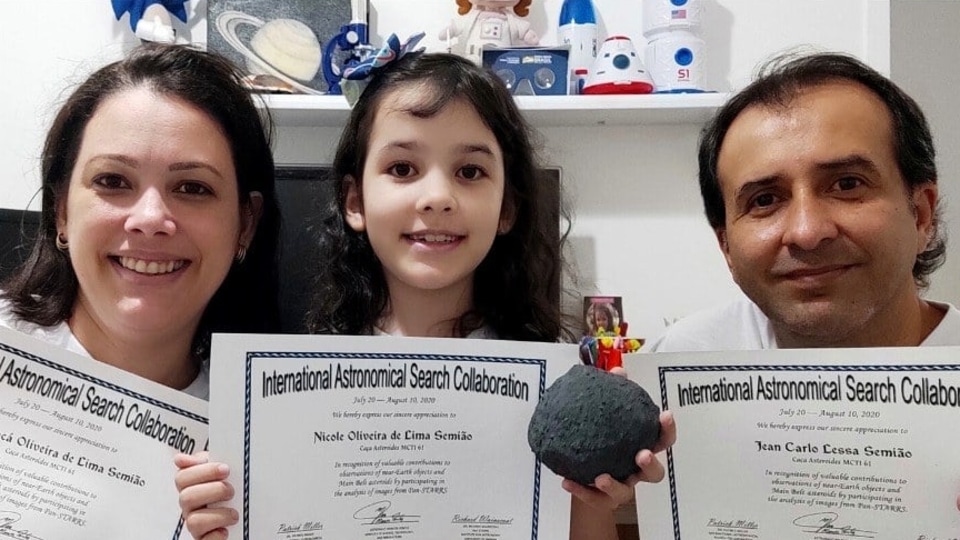 This girl, named Nicole Oliviera, has discovered as many as 7 asteroids and has become the youngest astronomer ever.
It is a big development whenever new asteroids are discovered. They become instant eye-ball grabbers and the person who finds them becomes a celebrity of sorts. Usually, you expect that person to be a grizzled old Einstein-like scientist in a long white coat with thick glasses. On the whole, finding even 1 asteroid can be an achievement. However, here is a case of a girl helping find not 1 or even 2, but as many as seven asteroids! And no, she does not wear a long white coat. How old is this little girl? Just 7 years old! Yes, you read that right! Her name is Nicole Oliviera from Brazil and she has become the youngest astronomer ever to discover an asteroid.
Far away from school and home life that most children are generally focused on, this young girl has managed to find as many as 7 asteroids after participating in an event organised by the International Astronomical Search Collaboration, of which Nasa is a member, called 'Asteroid Hunt'. During this programme, Nicole helped in discovering the asteroids and for her effort, she received a certificate of appreciation.
What is an asteroid?
According to Nasa, "Asteroids are rocky fragments left over from the formation of the solar system about 4.6 billion years ago. Most asteroids orbit the sun in a belt between Mars and Jupiter."
On Facebook, the International Astronomical Search Collaboration posted this message, "Here is Nicole Oliveira de Lima Semião and her parents , Zilma Janacá Oliveira de Lima Semião and Jean Carlo Lessa Semião, from Fortaleza, Brazil. They participated in the IASC asteroid search campaign sponsored by the Ministry of Science, Technology, & Innovations (Brasilia, DF)."
Nicole can be seen holding a model of the asteroid Bennu. IASC also said, "She made many preliminary observations of asteroids in her searches."
Her love for astronomy has even got Nicole to give lectures in schools. Brazil's Ministry of Science, Technology, and Innovation too gave her an opportunity to speak at the first-ever International Seminar on Astronomy and Aeronautics that it had organised.
If you want to see her in action, then Nicole also has a YouTube channel where she speaks on astronomy. Not just Nicole, viewers can also watch other eminent personalities in this field speak there.