Samsung The Serif review: Redesign your house to fit this TV
Samsung wants The Serif to be on a floor stand, or on a table because we are at a point in our lives where we do design and re-decorate rooms to fit our devices and gadgets. For example, you pick a wall for the TV and then you pick the placement for your sofa or the La-Z-Boy. In that case, is it so hard to understand why a design-first smart TV exists?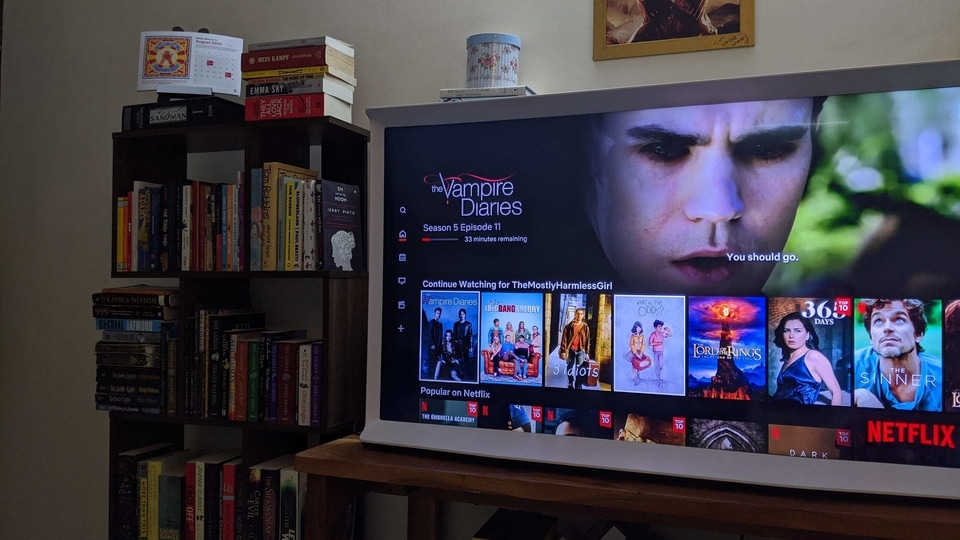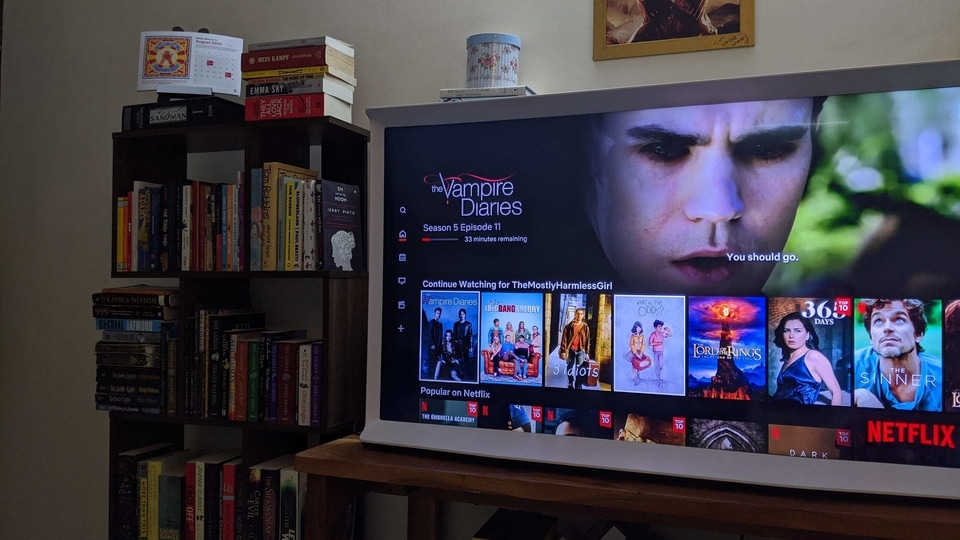 Brand: Samsung
Product: Samsung The Serif
Key specifications: Quantum Processor 4K, Quantum HDR, 100% Color Volume with Quantum Dot, 40W sound output, Serif Design, Tizen OS.
Price: ₹83,900 (43-inch version)
Rating: 4/5
There are two things people keep in mind when they think of buying a TV nowadays. One, does it fit my wall and two, does it fit my budget. Samsung has decided to take one of those concerns off your list.
The Samsung The Serif is not going to go up on your wall, instead, it is meant to sit in your living room, or your bedroom. The whole point of The Serif is its design. The solid thick white borders, the 'I' shape when you see it from the side, the covered back panel that can be customised - it's all very neat and precisely done.
The Serif comes with detachable floor stands so you can place it as you wish, picking a colour panel for the back that suits your room. There is no option to wall-mount this TV, which is something I wished was possible. And I will tell you why soon.
The review unit I received was the smallest of the three sizes The Serif comes in - 43-inches (you can buy it in 49 inches and 55 inches, the prices obviously vary) - and I put it up on a table.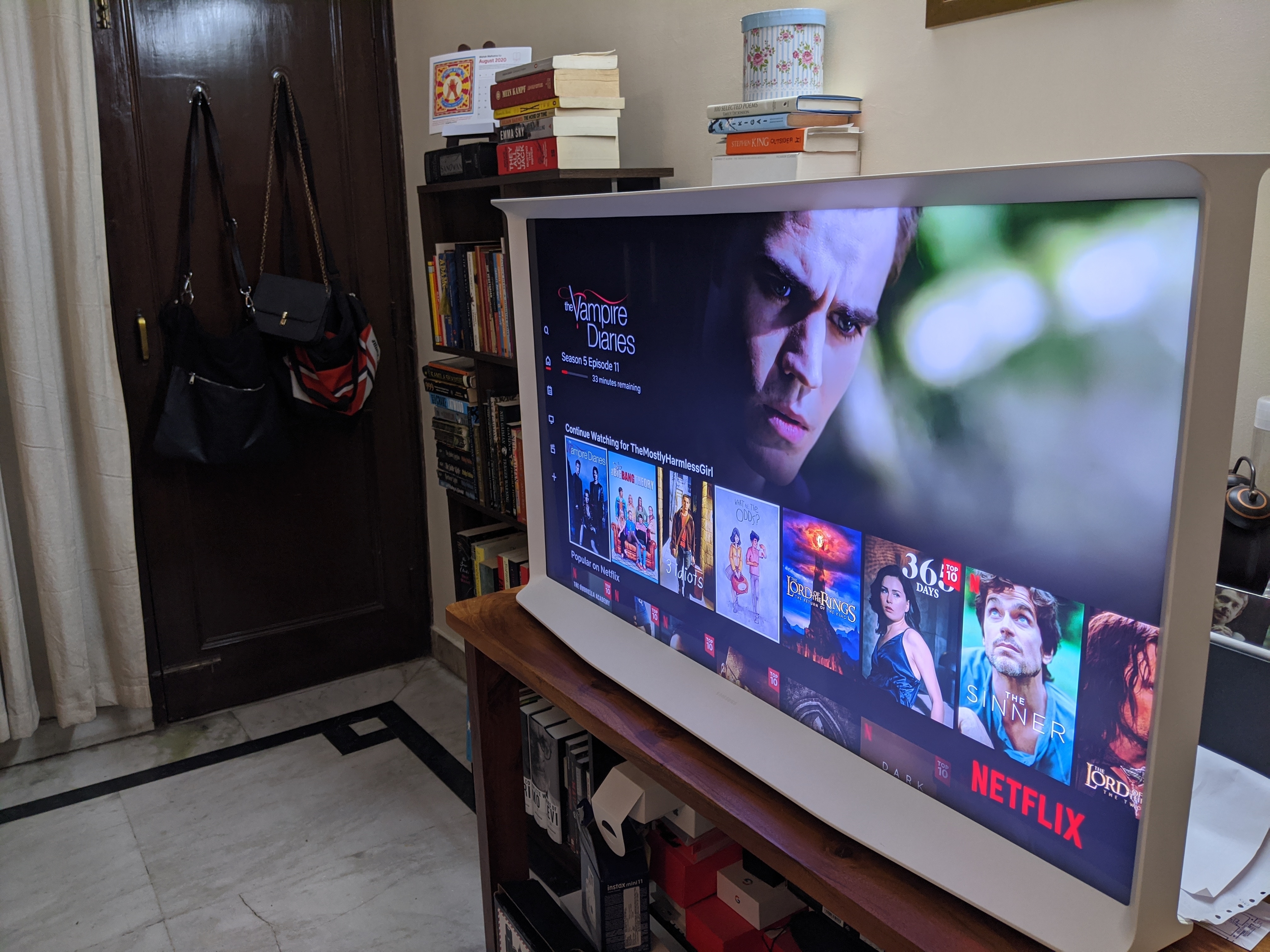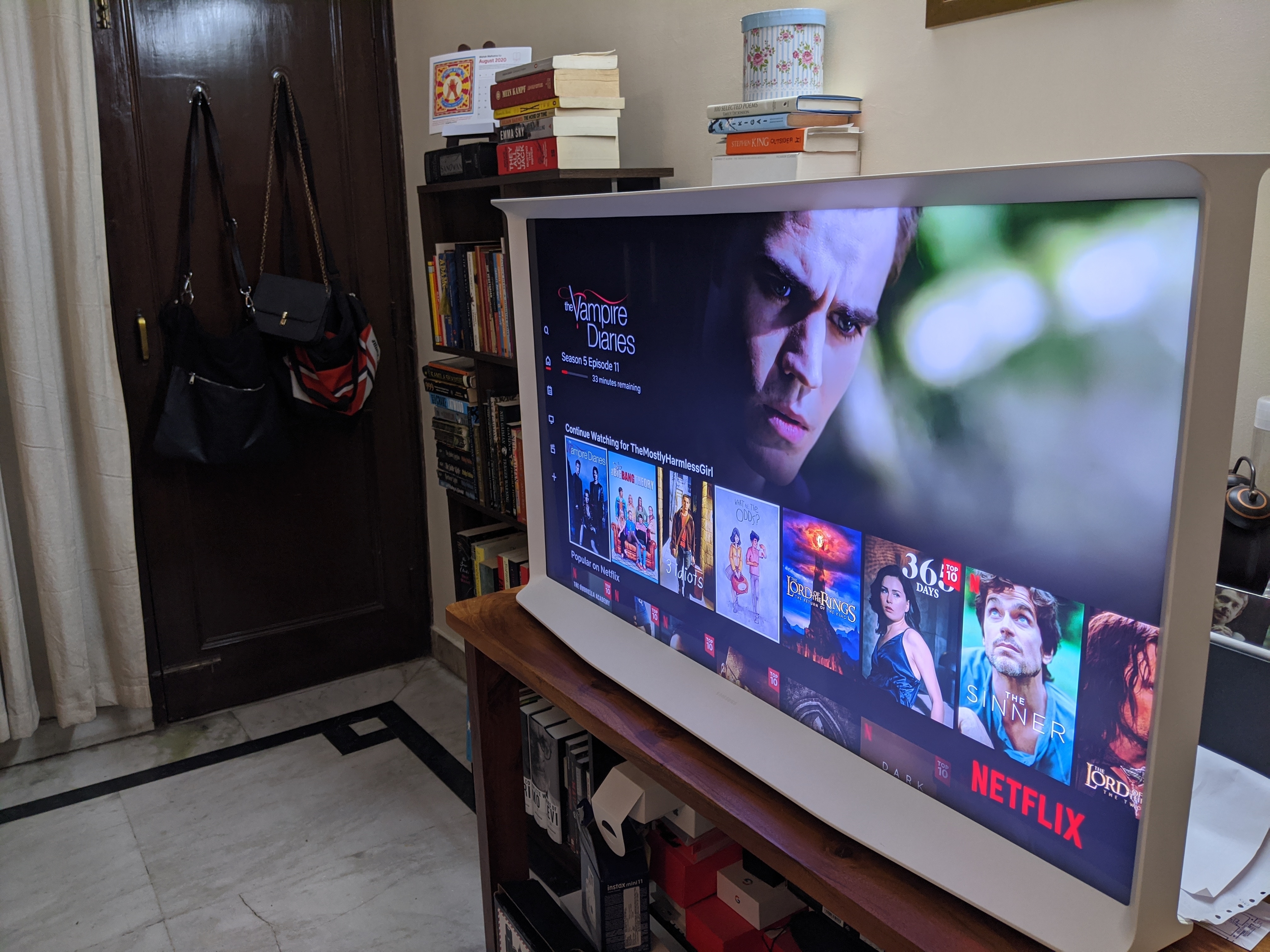 Truth be told, irrespective of the decor in a room, a TV placed with stands on the floor gets no points from me. It just does not make sense. Sure, you can put it on a table - but then, why buy the Serif? The whole point of the TV IS its "unique" design and the whole deal of being placed on the floor.
However, this is where I must point out that most of our houses are not designed to fit in the likes of The Serif yet and that is not to say that it will never fit in. This is a lifestyle product, it's design-first and you could even call is aspirational given its ₹80,000 plus price tag. The Serif is a smart TV you'd want at home but you'll also want to make your home look nicer to fit this in.
It's a few steps into the future and a future that looks great. I found it hard to visualise The Serif on the floor since the 'decor' in my room did not work well with it - which is my problem.
But, like I said, I can think of a room which could fit The Serif, seamlessly, but a room that requires massive redesigning. And I don't see a problem in that, given I can afford it all.
The TV itself has a lot going for it. The thick white frame is a little jarring to begin with, but you will frankly only notice it when the TV is off. While you are watching content on it, you genuinely will stop noticing eventually. The Serif just manages to make a case for itself even when it is not perched on the stylised stands.
Samsung gets its panels right and The Serifs come with HDR 10+ playback and 4K upscaling to make whatever you are watching look great. There were no pixelated colour blotches that I have seen on other TVs. The colours were nicely warm with the picture settings set to Standard, and not as over-saturated as many other smart TVs. Options like the Movie Mode and a FilmMaker mode drive colours towards warmer tones.
A logic most companies making smartphones and smart TVs tend to follow is - over-saturate the colours on the screen and make everything look brighter than natural. Warm colours work better for most users.
Wrong.
They work simply because most eyes are just used to the warmth thanks to all the other devices we use.
Cooler palettes are a blessing to the eyes, believe me, turn off that vibrant mode from your screen settings right now, you can thank me later.
You can control The Serif with the Samsung SmartThings app on your smartphone, there is also an NFC option where you can just place your smartphone on top of the TV and your content gets mirrored, and a Tap View that works exactly as the name suggests - this is like transferring the music playback from your iPhone to the HomePod by just taking the smartphone near the speaker. There is AirPlay 2 support and support for three voice assistants - Bixby, Alexa and Google Assistant.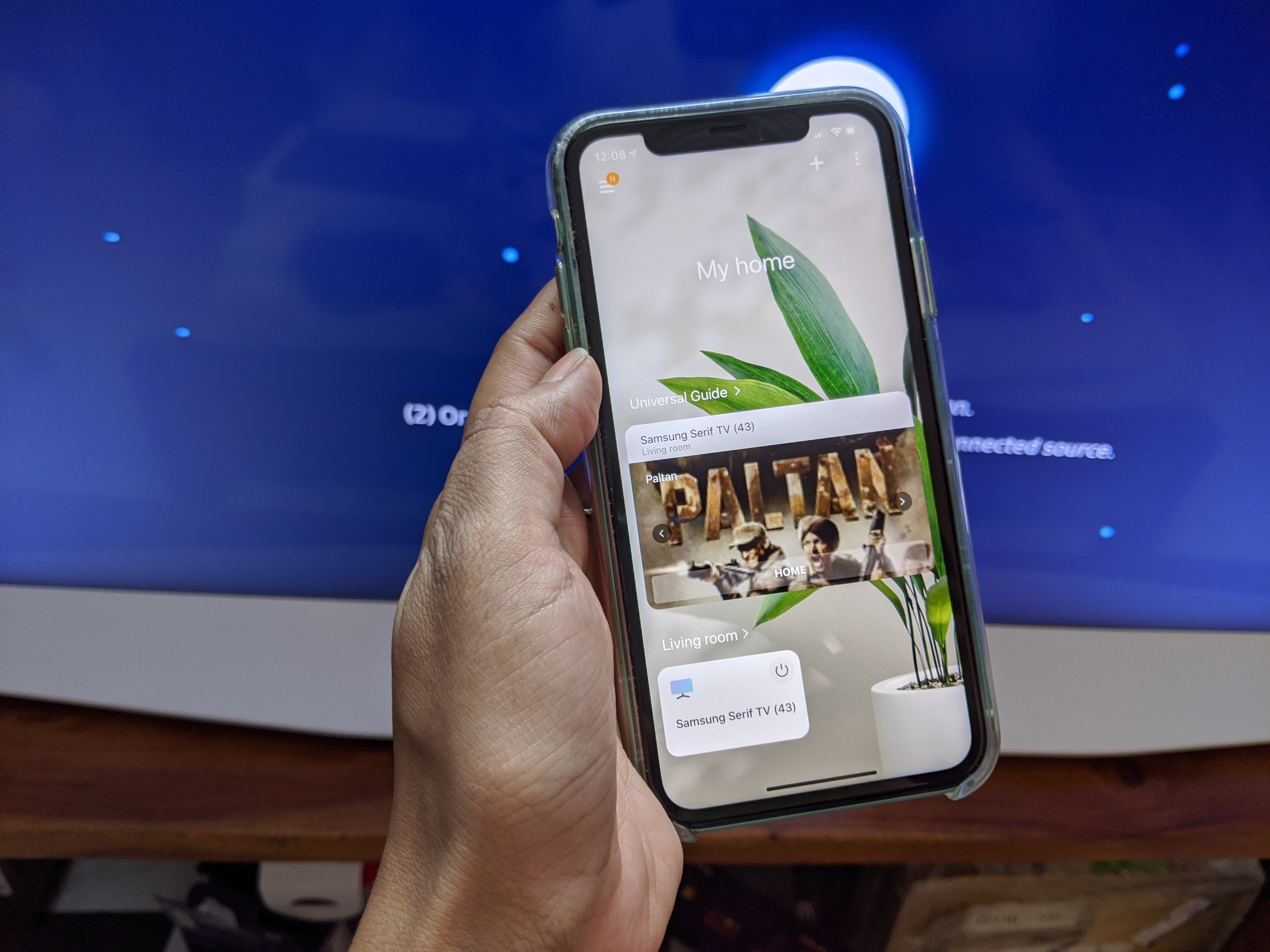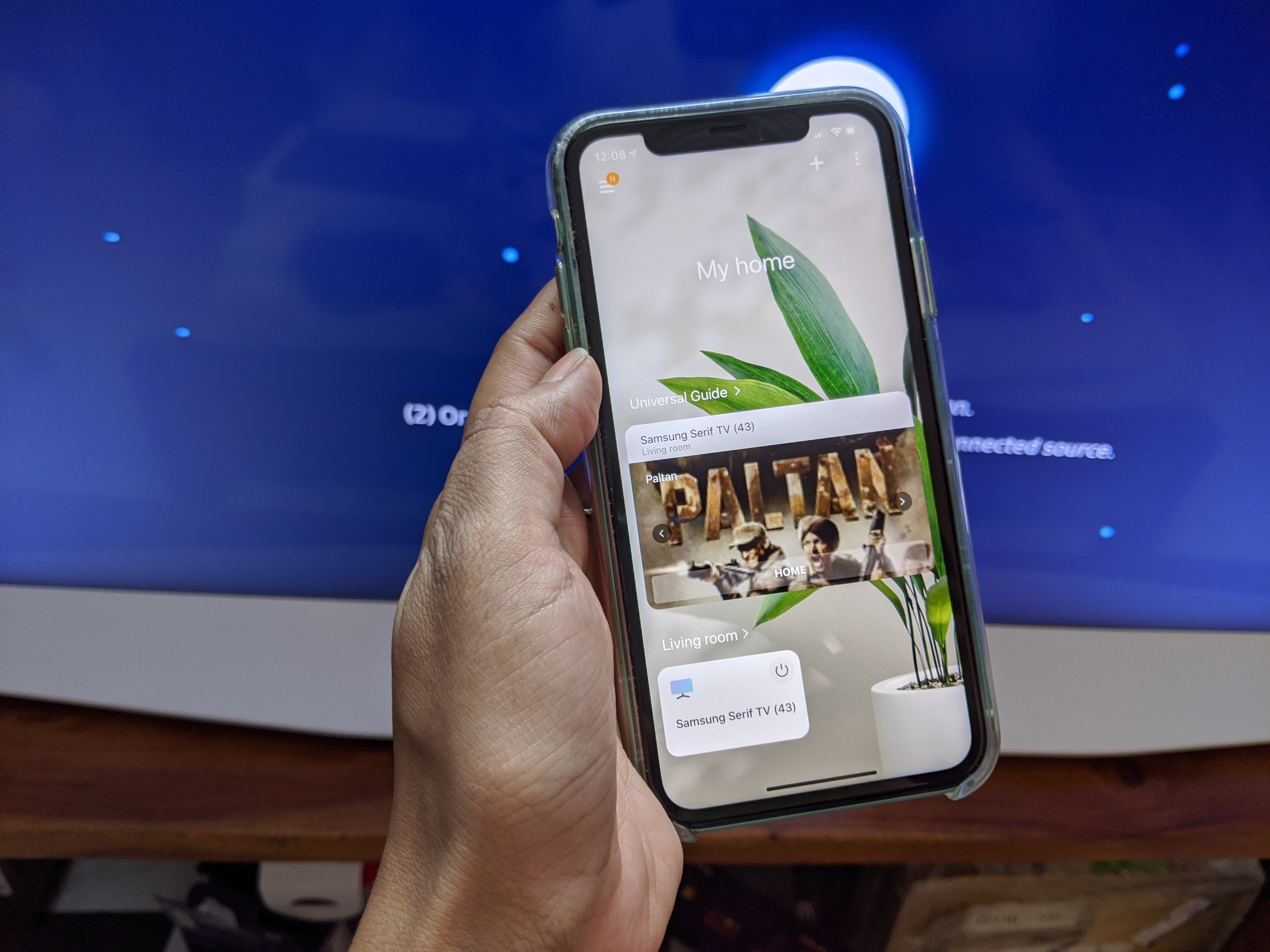 The super-sleek remote will definitely catch your eye and has all the basic buttons including hotkeys for Netflix, Zee5 and Prime Video. And a shortcut to the Ambient Mode.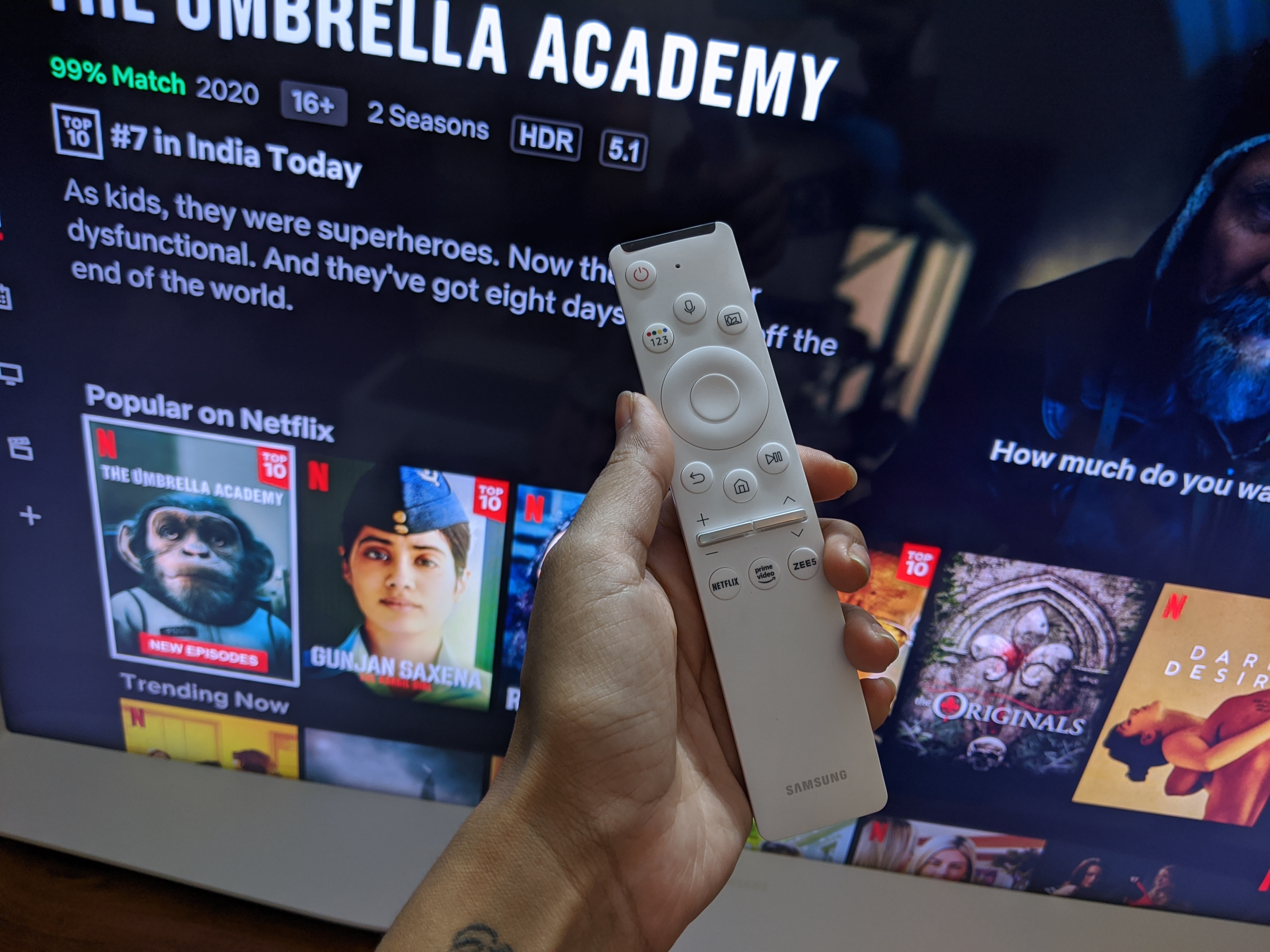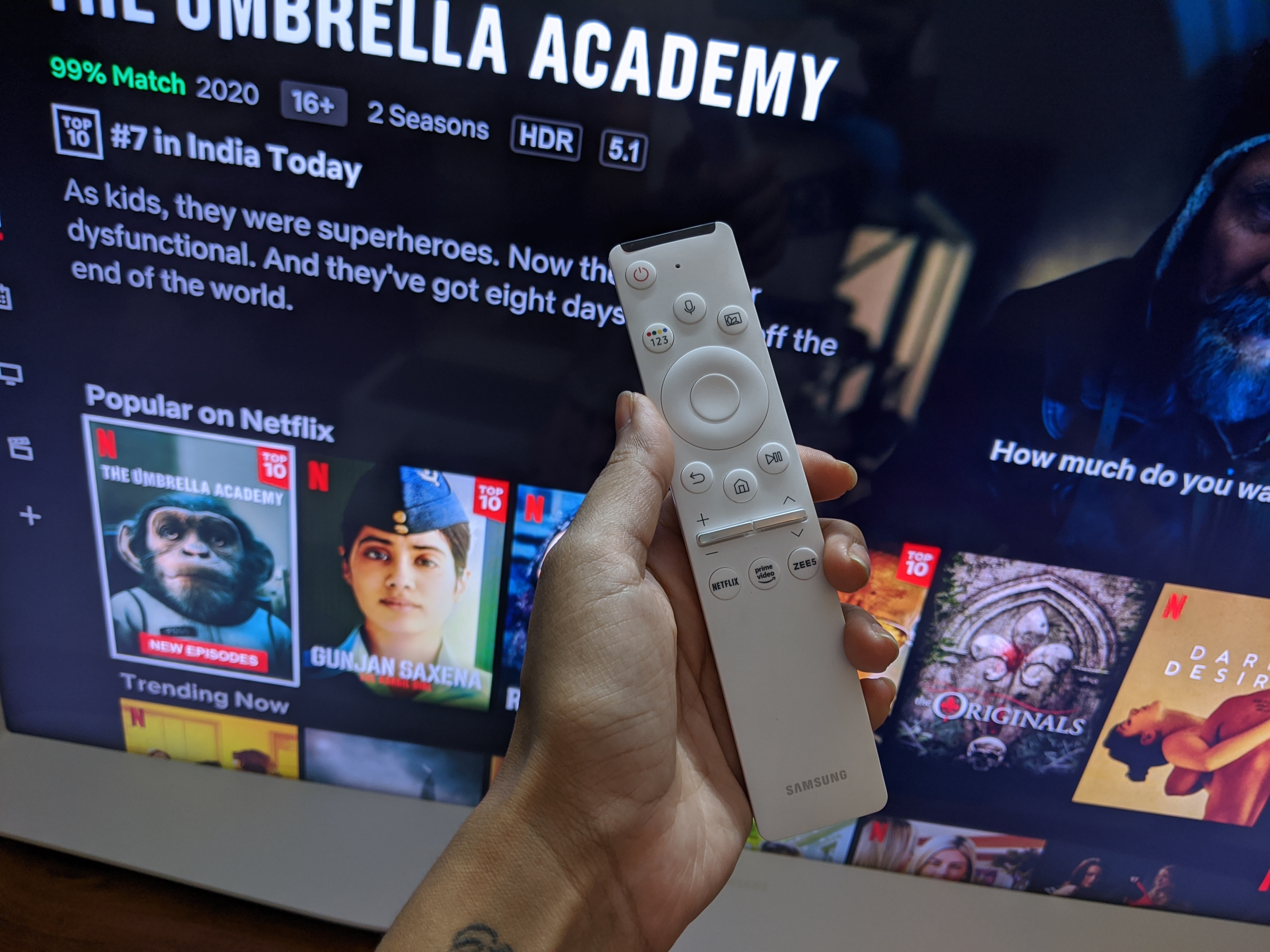 The Serif runs on Tizen (Samsung's own operating system that also runs on its smartwatches) and you don't need a Fire Stick or a Chromecast for this. There are also a whole bunch of ports on the back for anything you might need to connect, including sound bars. The volume on The Serif is loud enough though, I have not had to raise it beyond 40 even when the doors to my room were open and there was basic ambient noise outside.
The back panel covers all the wires up neatly, but imagine this, a TV placed on a stand with a wire or two running out of it (though Samsung has devised ways to make these wires as discreet as possible). The best option here is to place The Serif as close to a wall as one can. In a house with kids and pets, or even a room that may at some point of time be full of people - I'd be very worried about a smart TV I've just paid ₹80,000 and more for.
THAT is what worries me and convinces me that it is perhaps better on the wall or on a table that's backed to the wall. And also because in my head it just looks better.
This is what brings me back to the Ambient Mode and why I think this TV needs to be on a wall. The Ambient Mode on The Serif is where you can use the TV screen as a photo frame to display artwork and pictures. This is not the same thing as your Android TVs going on the standby mode where it just shows you a bunch of landscapes or naturescapes.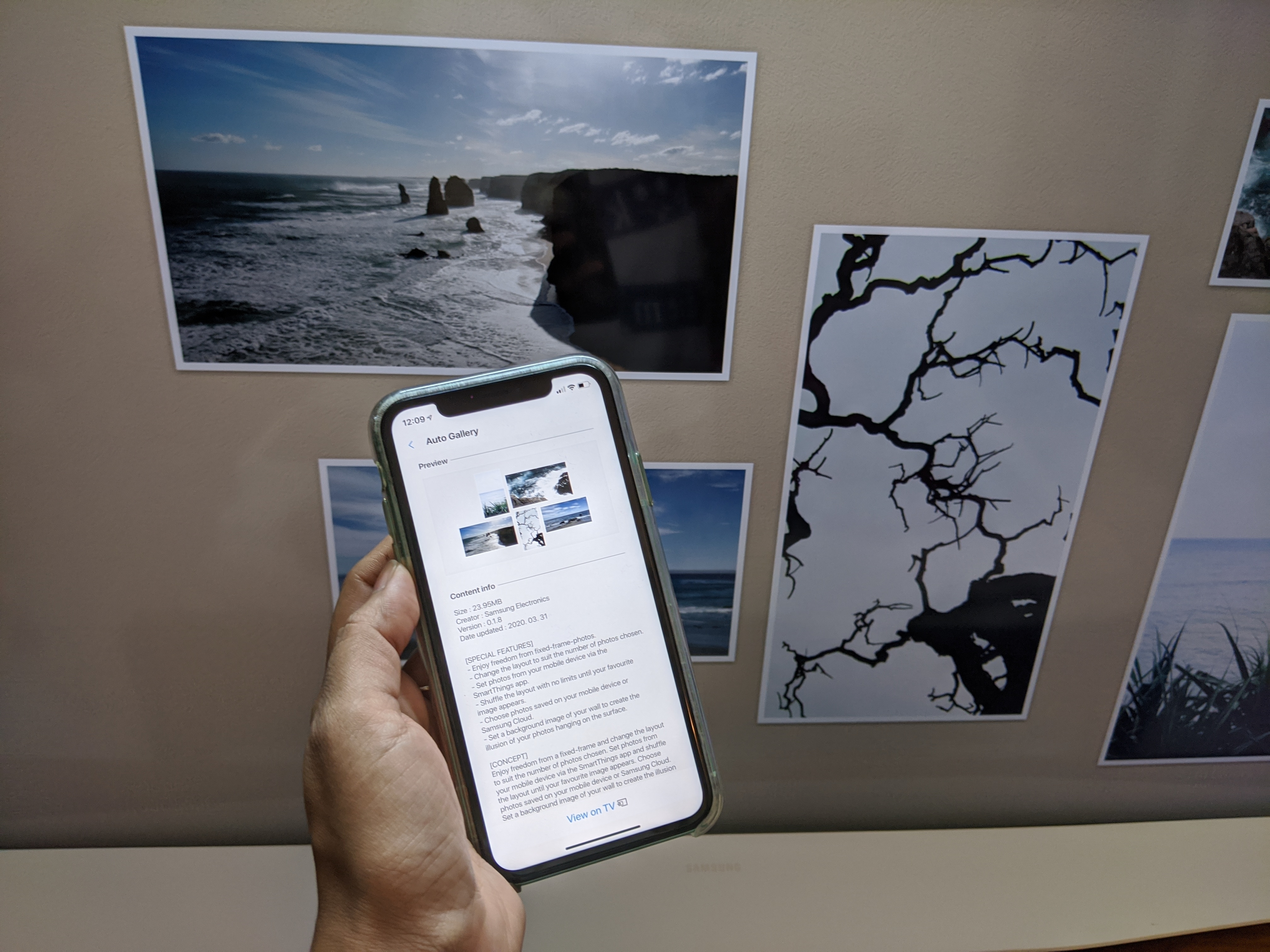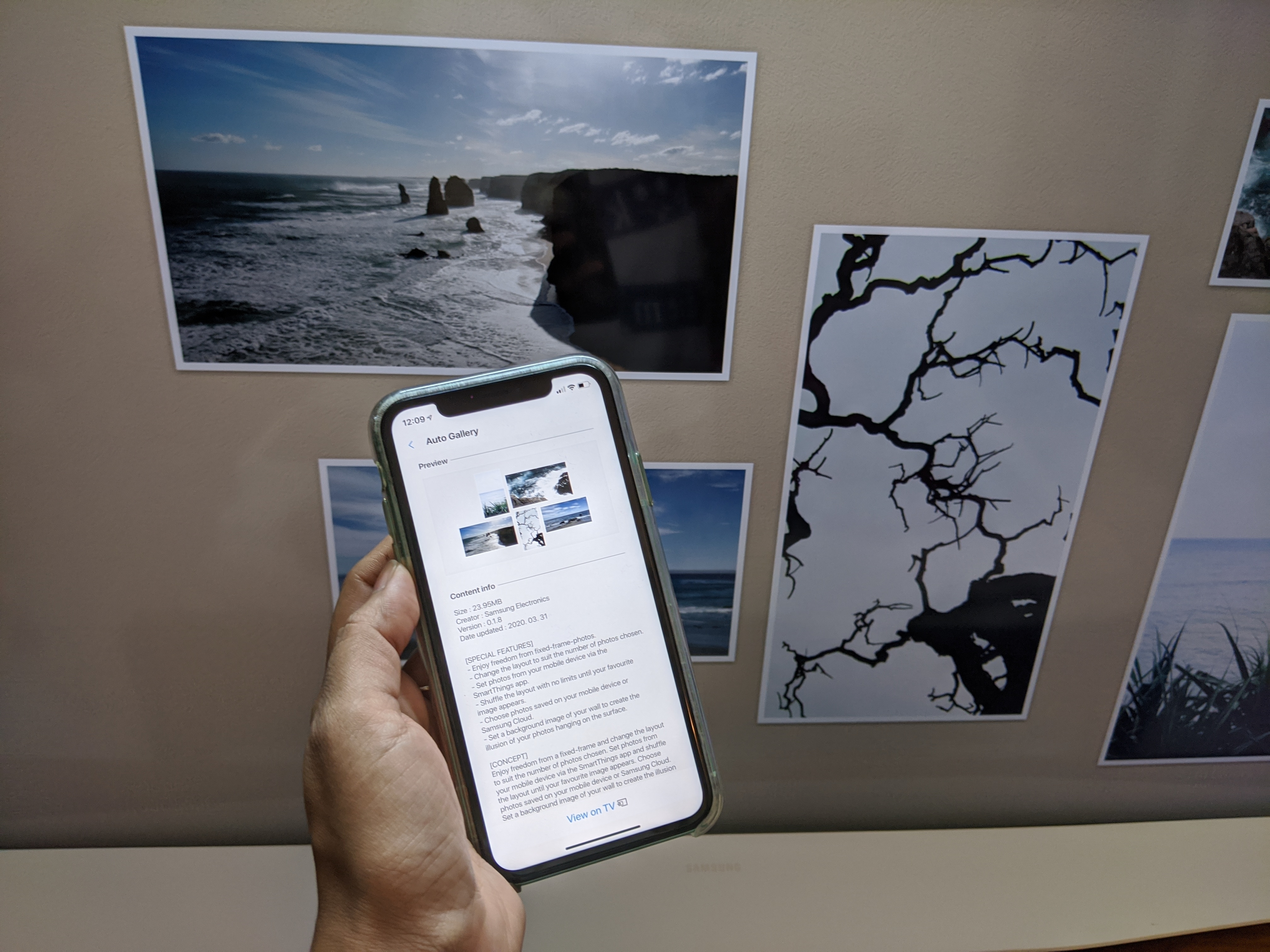 Here you can pick your artwork, dynamic or still, and have it on display when the TV is not in use. Most of Samsung's smart TVs/screens come with this mode, including the gigantic The Wall. The whole concept behind this is to make the TV itself blend into the room, like a painting on the wall or the wall itself - instead of letting a black panel stand out like a sore thumb.
The Serif with its all-encompassing thick white frame looks perfect for those pictures and makes a stronger case for why it should be on the wall.
But Samsung wants The Serif to be on a floor stand, or on a table because we are at a point in our lives where we do design and re-decorate rooms to fit our devices and gadgets. For example, you pick a wall for the TV and then you pick the placement for your sofa or the La-Z-Boy. In that case, is it so hard to understand why a design-first smart TV exists?
Perhaps not, we just need to upgrade our houses for that.
Now, that final question, does it fit your budget?
The Serif by no means is a budget offering. It's not meant to be. But if you are looking for a great smart TV that's super hassle-free as long as you know exactly where you want to place it - it's all good.
Also, giving credit where it's due - the design is VERY unique, this smart TV is a conversation starter and if I could have it my way I would glue it to my wall and be done with it.
I have never been disappointed by Samsung TVs and The Serif carries on that legacy. If you have ₹80,000 and more and want a TV which looks very different from all the others out there - this is it.
Follow HT Tech for the latest tech news and reviews , also keep up with us on Twitter, Facebook, and Instagram. For our latest videos, subscribe to our YouTube channel.
First Published Date:
18 Aug, 02:58 PM IST
71597740150440
NEXT ARTICLE BEGINS