Asus Zenbook Pro Duo mini review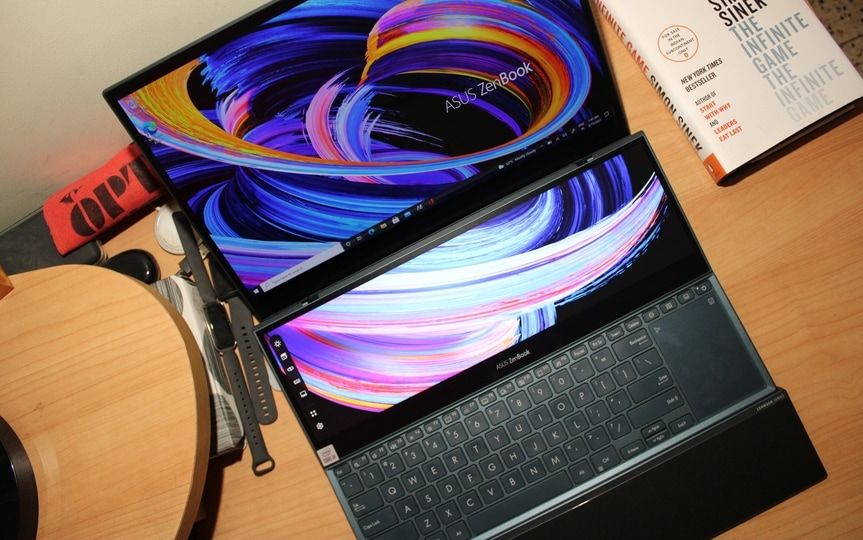 We got the Asus Zenbook Pro Duo with 10th-gen Intel Core i9-10980HK CPU, 32GB of RAM, a 1TB solid-state drive (SSD), and more. It is just shy of the ₹3 lakh mark but should you care?
Asus Zenbook Pro Duo was named as the CES 2021 Innovation Awards Honoree. The laptop comes with two displays, and packs a punch to run intensive tasks and high-end games. The Asus Zenbook Pro Duo UX582 comes as a successor to UX581 that positioned a second large display underneath the primary panel -- the idea gave birth to two screens on Pro laptops. We got the Zenbook Pro Duo with 10th-gen Intel Core i9-10980HK CPU, 32GB of RAM, a 1TB solid-state drive (SSD), and more. It is just shy of the ₹3 lakh mark but should you care?
From the outside, the Asus Zenbook Pro Duo looks like a chunky 15-inch laptop. It has a straightforward design from the outside with the usual Asus concentric swirl on the lid. You get angled edges for aesthetic and functional purposes. Moreover, the rear edge houses the new ErgoLift AAS (Active Aerodynamic System) hinge. It props the lower chassis up for better airflow and more comfortable typing. If you look closely, you will notice aggressive venting along the sides, which make it resemble a gaming laptop. It has a greenish-blue colour finish.
Open the lid, and you will notice the Asus Zenbook Pro Duo standing out of the usual laptop designs. The main display is a 15.6-inch 4K (3840 x 2160) OLED panel and there is a second OLED screen at 3840 x 1100. The former is a 440-nit panel that covers 100 percent of the DCI-P3 gamut, as per the company. This OLED display is one of the most vibrant ones you can find on the market right now. The second screen, which lies on top of the keyboard, is an LCD screen that comes with a matte finish to avoid reflecting overhead lights into your eyes.
On top of the display, you get a 720p camera, which is OK for attending Zoom meetings and the usual calls. Asus doesn't offer a physical shutter for the camera but you can disable it with a keyboard shortcut. It also helps in Windows Hello authentication that comes in handy, especially when you consider the absence of a fingerprint scanner.
The Asus Zenbook Pro Duo runs Windows 10 with ScreenPad Plus (Asus's name for the lower screen) at the bottom. It's like a second monitor that's always there on the laptop. You can drag windows back and forth, adjust the display scaling, and more. My office work includes keeping track of the analytics alongside managing stuff on WhatsApp. I set up both Chrome tabs side by side with Google analytics and WhatsApp at the bottom so I could glance over as and when needed. It didn't disappoint.
The ScreenPad Plus software allows you to open up a bunch of new use cases as well. You can set up a panel of touch controls in certain Adobe apps, such as Photoshop. It allows you to use presets to arrange apps in a tiled layout across the two screens. You can use the second screen as a trackpad. But my favourite of all, as I explained above, is quickly flicking windows between the two screens. There is a learning curve at the beginning for sure.
However, the presence of a second screen creates an unusual design for the keyboard and trackpad. The former is pushed to the bottom, while the trackpad sits at the right hand side of the keyboard. As for quality, the keyboard provides a satisfying tactile feedback -- while putting your hands in an uncomfortable position. The trackpad is smooth too. It can also transform into a number pad by long-pressing a button in its top-right corner. Furthermore, you get Harman Kardon-branded speakers that are loud and offer clear audio experience.
The Asus Zenbook Pro Duo has some desktop-level specifications with 10th-gen Intel Core i9-10980HK CPU, 32GB of RAM, a 1TB solid-state drive (SSD), and Nvidia GeForce RTX 3070 GPU. The company seems to have paid attention to the thermals as it provides proper airflow with two fans with 97 blades and six heat pipes. There's also a G-sensor that notes when the display is closed at less than an 80-degree angle. You can switch between standard and performance modes.
The Asus Zenbook Pro Duo is a speedy laptop. However, the CPU struggles to maintain full speed and the fans fire up on the simplest of tasks. However, it can run through CPU-intensive tasks. If you are someone who uses Adobe's suite of apps, you'll be delighted with the performance. On the other hand, I had a mixed experience with gaming. You get Nvidia Studio drivers that are meant to ensure consistent and reliable performance in creative apps rather than hardcore gaming -- so the performance is understandable. It is serviceable with modern titles like Assassin's Creed Valhalla at 1080p or even 1440p.
All of that said, the Asus Zenbook Pro Duo can't be kept away from the power source for long -- even if you are just browsing through Chrome. It packs a 92Whr battery, which can last up to two hours with your browsing on Chrome. You will be required to plug it in within an hour if you have multiple apps open. The laptop has a horrible battery life. You will almost always need to be connected to a power source.
To conclude, the Asus Zenbook Pro Duo is a great laptop if you are a creator who uses Adobe suite of apps and stands to benefit from the second screen. You get a fantastic display, a powerful pair of CPU and GPU, plenty of RAM and storage. However, you must note that the Zenbook Pro Duo is quite heavy and has a short battery life.