Mukesh Ambani shares 4 big milestones as India marks 25 years of mobile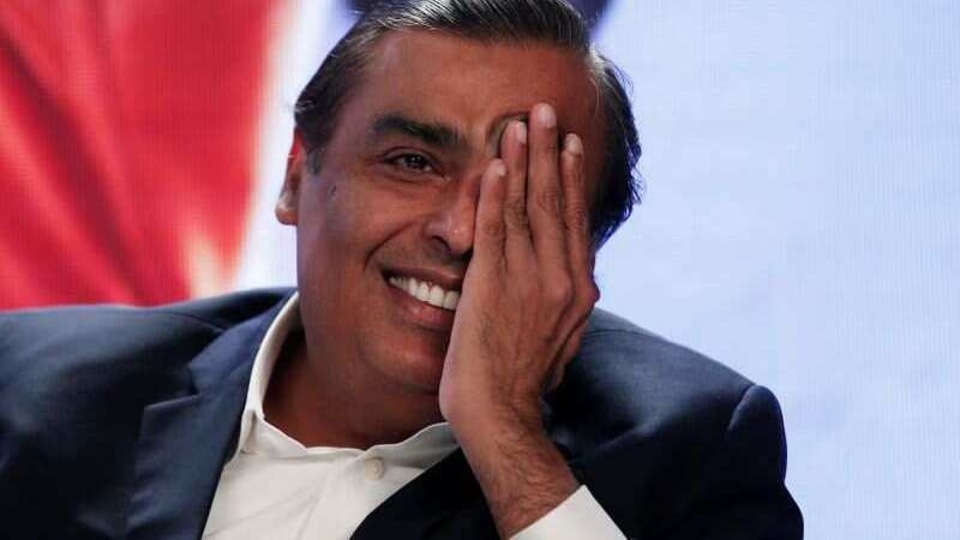 During his address, Reliance Industries Chairman Mukesh Ambani highlighted four important milestones in the journey of Indian mobile telephony.
Reliance Industries Limited chairman Mukesh Ambani shared a special message on Thursday as India celebrated its 25th anniversary of mobile telephony. At the webinar, which saw many dignitaries and industry experts such as Sunil Bharti Mittal, Chairman Bharti Enterprises, Lt Gen Dr SP Kocchar, DG COAI and Dr RS Sharma, Chairman TRAI, in attendance Ambani congratulated everyone on the silvery jubilee of mobility in India.
During his address, he also highlighted four important milestones in the journey of Indian mobile telephony.
"There are rare moments in history when fiction becomes facts, constraints make way for freedom and necessity becomes the proverbial mother of invention. The birth of fixed-line telephony was one of them. However, it provided only partial freedom. It did not completely remove the constraint of distance. People needed to communicate from anywhere to anywhere 24x7. It was both their need and their dream," RIL chairman said during his address.
So, here the top five things he said about the journey of India's mobile telephony so far and about the future of telecommunications in India: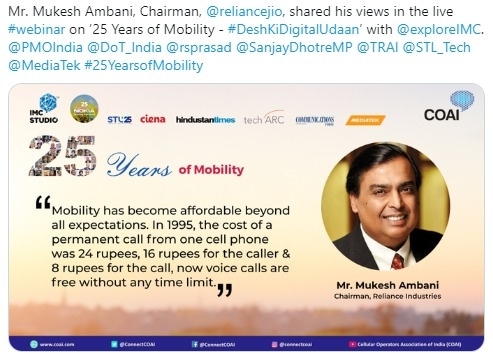 -- Ambani said that affordability has been one of the major achievements of the Indian mobile telephony. "First mobility has become affordable beyond all expectations. In 1995, the cost of a per-minute call from one cell phone was 24 rupees. 16 rupees for the caller and eight rupees for the called. Now, voice calls are free, without any time limit," he said.
ALSO READ: 25 years of Mobility in India: The first mobile phone call was made on this day
-- He also said affordability also paved the way for ceasing a rich man's monopoly over it. "Second, because mobility became affordable it also became democratic it ceased to be a rich man's monopoly, long ago. Indeed, no other technological tool in human history has erased the rich, poor, divide the way mobile telephony has."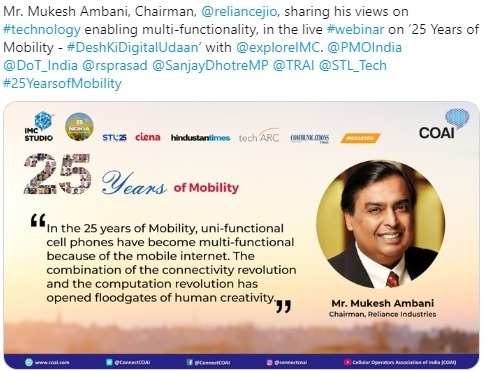 -- In addition to this, the RIL chairman also talked about the multifunctional aspect of mobile internet. "Third, from uni-functional, cell phones have become multifunctional because of the mobile internet. The combination of the connectivity revolution and the computation revolution has opened the floodgates of human creativity," he added.
-- Highlighting the fourth important development in the field of Indian mobile telephony, Ambani said that mobile telephony was empowering lives of people at large. "Fourth, and most important with data becoming both abundant and affordable, mobile telephony has become a catalyst for enrichment, and empowerment of common Indians in ways that was unthinkable 25 years ago," he said.
ALSO READ: COAI 25 Years of Mobility in India - Desh Ki Digital Udaan webinar: Here's what PM Modi said
-- Lastly, the RIL Chairman talked about the future of telecommunication services in India. "This is also an occasion for us to look at the obstacles that have prevented Indian consumers and Indian society from fully benefiting from the digital revolution. Here I specifically referred to the fact that India still has 300 million mobile subscribers trapped in the 2G era," he said adding, "I think necessary policy steps should be taken with utmost urgency to make 2G a part of history."