SBI YONO ITR Filing Online: SBI makes it easy; here is how to do it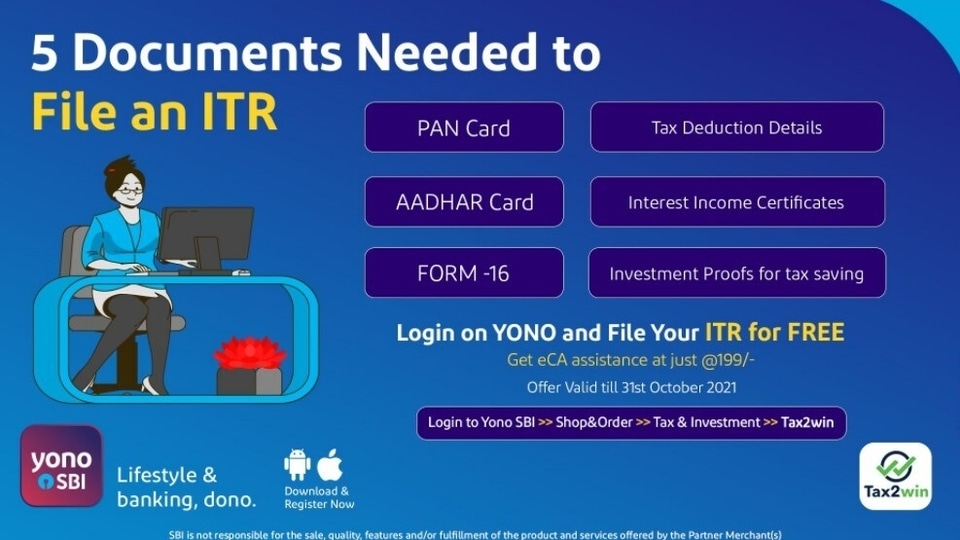 File Income Tax Returns (ITR) with Tax2Win on SBI YONO: For taxpayers, SBI Yono has made ITR filing online extremely easy. Just check out how to and the benefits available.
Income tax return filling online is the best methods available to taxpayers to do this important chore. Now, SBI Yono has made ITR filing online very easy with its app. The State Bank of India's SBI Yono app provides a great way to ensure taxpayers get to do this task with the least bother and what is more, they can do so for free. SBI Yono has also listed the various benefits available to taxpayers. SBI is the largest public sector lender in India.
SBI YONO app allows Income Tax Returns (ITR) to be filed with Tax2Win feature and the State Bank of India has revealed exactly how to go about the process to file ITR online. SBI took to Twitter and posted this tweet: "Do you want to file an ITR? You can do it FREE with Tax2win on YONO. All you need is 5 documents. Download now: sbiyono.sbi."
However, before taxpayers can do their ITR filing online through the SBI Yono app's Tax2Win feature, they will first have to download the app from Google Play Store or Apple App Store. SBI Yono app is available both for Android an iOS users.
SBI tweet also reveals that there are certain documents that taxpayers need to file ITR online.
Documents needed for ITR filing online via SBI Yono app's Tax2Win feature:
1. PAN card
2. Aadhaar card
3. Form-16
4. Tax deduction details
5. Interest income certificates
6. Investment proofs for tax saving
Once taxpayers have all the documents, they should go to the SBI Yono app and attempt to file their income tax returns.
In case the taxpayers find the process too confusing or are afraid of making a mistake, then SBI has your back - they can get eCA assistance that will cost them just ₹199. However, they will have to hurry as the offer is valid till October 31, 2021.
SBI has lists 4 benefits of filing income tax returns early
1. Lowest price for early birds
2. Early filing, early refunds
3. Avoid last minute hassle
4. Get enough time to rectify errors