Tinder introduces Passions: What is it and how do you use it?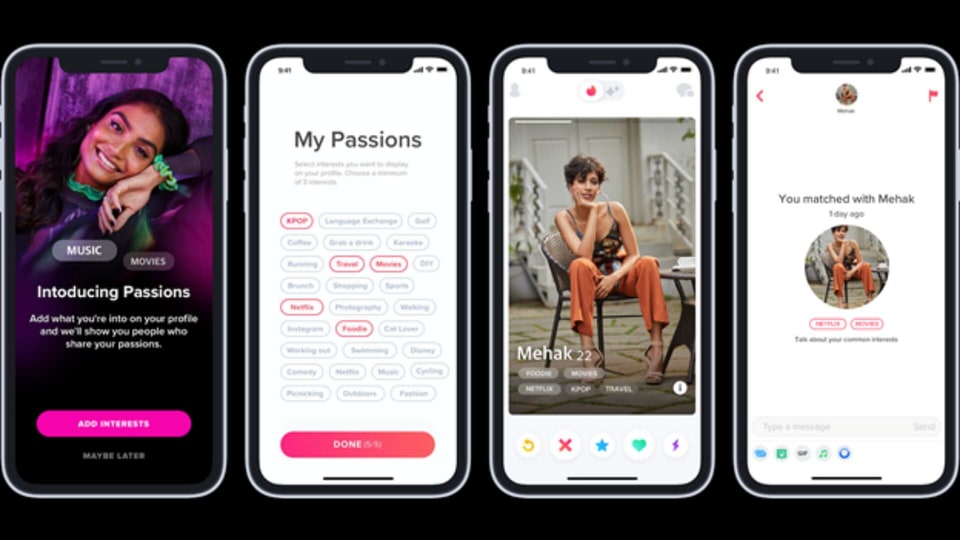 You can pick a maximum of five Passions and a minumum of three to express yourself better on Tinder.
Tinder has introduced a new way to express yourself on the dating app. It's called 'Passions'. This feature can be added by editing your profile and helps users share more about themselves. You are allowed to pick a maximum of five Passions and a minimum of three Passions that get added to your profile.
Tinder is offering you a wide range of choices like KPop, working out, travel, Netflix etc. When you match with a person on Tinder, you will be able to see which Passions of yours are in common.
How do you get it?
- Open Tinder and click on your profile icon.
- Tap on the pencil icon by your profile photo.
- Scroll down the list and click on 'Passions'.
- You can select a maximum of 5 and a minimum of 3 Passions. You have to pick at least 3.
- Tap on "Done" once you are through and you are good to go.
At first glance, Passions appear to be like hobbies/interests that can be added to your profile so your profile has some more information besides the questions you have answered.
Since the Tinder profile itself does not showcase a lot of information besides name, age and distance - a feature like Passions is an interesting addition to the what users can add and see on their profiles and on the profiles of others.
"With Passions, we're excited to give our members an easy way to connect with their potential matches by highlighting their interests. We hope that these will lead to more connections and spark conversations during a time when many of us are craving a change in routine and someone new to talk to," said a Tinder spokesperson.
This feature is available from today itself, so head over to the app and get choosing.