Tinder launches its interactive in-app event 'Swipe Night' in India
Tinder's Swipe Night will be available in India starting September 12 with three episodes each week.
07 Sep 2020, 09:00 AM IST
in news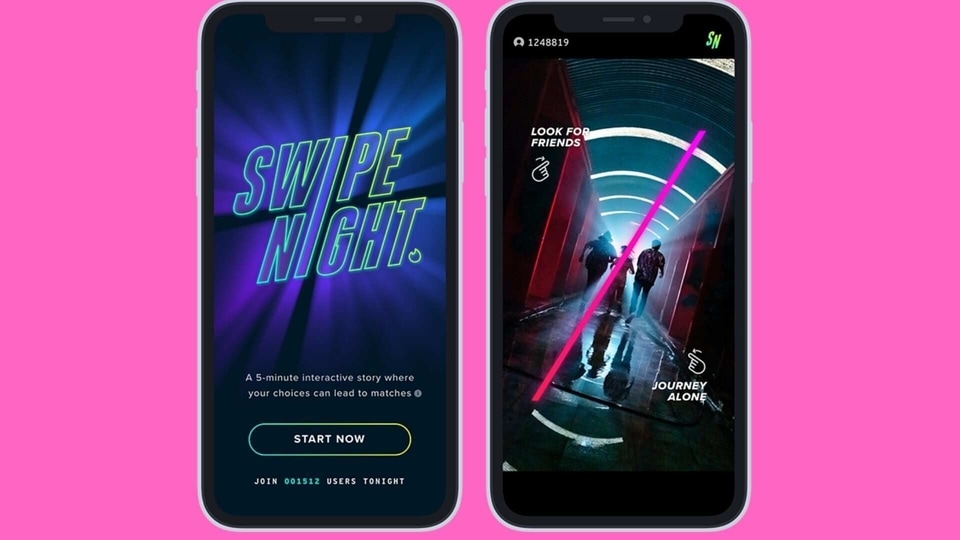 Tinder has finally launched its interactive event 'Swipe Night' in India. Swipe Night debuted in the US last year, and it was scheduled to launch in India earlier this year in March. Tinder however delayed it due to the pandemic. Tinder users in India can now experience Swipe Night starting September 12.
For those unaware, Swipe Night is an interactive event/game/video series that can be experienced in the Tinder app itself. It's a story-based event where users have to select one out of two options and the story will go forward based on their decision. It's slightly similar to those Episodes and Choices games but on Tinder, Swipe Night is shot like an actual movie. Also, based on the user's choices they'll get to match with people who have also selected the same answers.
The plot for Swipe Night has an "end of the world" theme. Tinder users are the protagonists and it starts with going to a party with friends and finding out later that an asteroid is hitting Earth. For each decision, users have only seconds to choose. For Swipe Night's production Tinder roped in Drake's go-to music video director Karena Evans. The show was written by Nicole Delaney (Big Mouth, Netflix) and Brandon Zuck (Five Points, Facebook Watch).
With the launch of Swipe Night in the US, Tinder said that it received a very positive response. "The response was incredible – both to the innovation and the content itself. Our members made millions of choices and engagement levels remained high every week. Most importantly, Swipe Night delivered on its promise of unlocking more matches and helping to start more conversations. Total matches increased 26% and messages increased 12%, compared to a typical Sunday night in the US," Tinder said in a statement.
Swipe Night's content is focused on the Gen-Z crowd (18-24) which is Tinder's largest user group. The decision to choose an end of the world plot was based on something Tinder users actually talk about. "On Tinder, people tend to ask "if you have one hour left, how would you spend it?" We took something that was already happening on Tinder to break the ice - we took that as a kernel and ran with it. Having a high stakes story, felt like a strong forcing mechanism to make your choices or decisions really count," Tinder said.
For now Swipe Night has only three episodes and these were filmed last year before the pandemic. Tinder plans to bring in more content in the coming months. Swipe Night is debuting in India with three episodes starting at 10 AM on September 12. The episode will be available until midnight Sunday. The second and third Swipe Night episodes will air on September 19 and 26 respectively.