Fujifilm Instax Mini 11 review: A cute little memory machine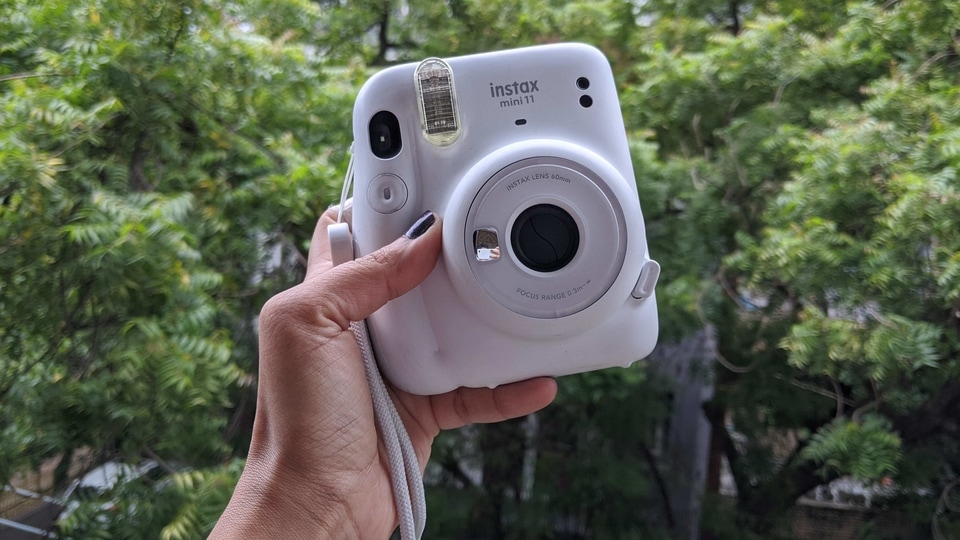 The Fujifilm Instax Mini 11 is handy, it's compact and cute and the perfect prop for those brunches. It looks pretty, fits right in and gives you keepsakes.
Brand: Fujifilm
Product: Fujifilm Instax Mini 11
Key specs: Automatic Exposure, Selfie Mode, programmed electronic shutter, slow synchro for low light, Real image finder, 0.37×, with target spot.
Price: ₹5,999
Rating: 3.5/5
I read a quote someone shared as an Instagram story which really stayed with me - " If you want to learn what someone fears losing, watch what they photograph".
This quote makes sense for the hundreds of sepia images fading away in old photo albums, it makes sense for those coloured prints shoved into envelopes that were printed out but not sorted through. For pictures in photo frames and wallets and lockets and those folded in with handwritten letters.
And it also makes sense for the 50 selfies, 20 shots of the sunset, 10 of cloudy skies and the rest of friends, pets, family, nooks and corner of cities, new walls and old tales. Old memories, ephemeral beauty, end of days, happy weather and lifelines - we fear losing it all.
There is no longer any limit to how many photos your smartphone camera will allow you to take, but when you take these new memories and try to give them instant physical form - at a time, 10 is the limit. At least for the Instax Mini 11.
And that's precisely why it becomes harder to figure out what you want to click and save. And since a set of two film packs will set you back by ₹999, you need to pick and choose your shots all the more.
Over my time with the Instax Mini 11, I had planned to make a memory montage with these polaroid shots. The more I thought about it, the more complicated it felt. I had 20 shots, and with the pandemic running amok, there was no way I could get to even half of those 20 things that mattered to me.
So I settled on two hazy selfies, a couple of shots at a birthday party, an out-of-focus picture of my new tattoo and a few with friends and my most favourite one - cloudy skies.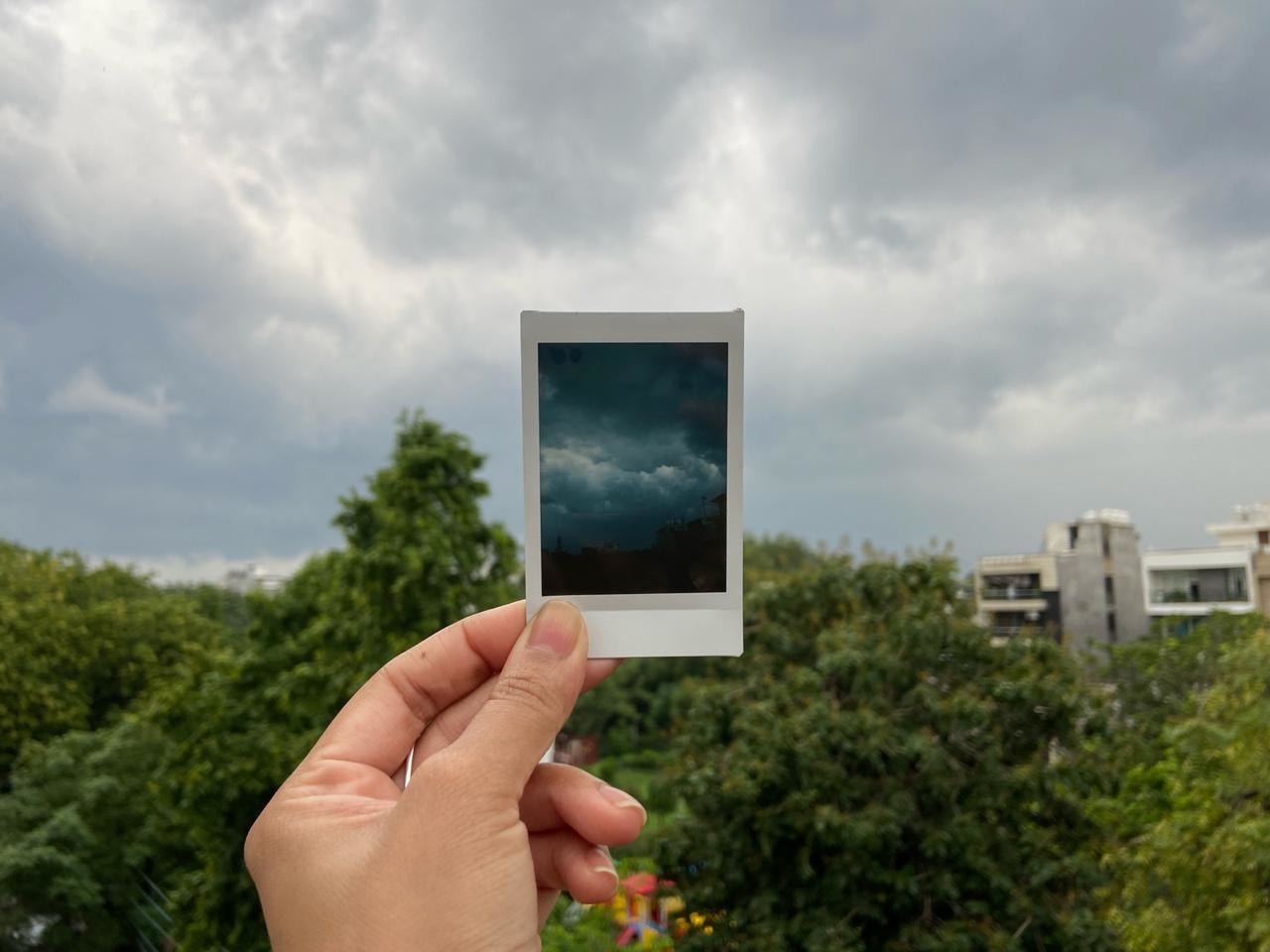 One might ask - what's the point of an instant camera when I can get my smartphone shots printed in polaroid style? The main point here is nostalgia. The happiness of a physical photo that you can pin up on your moodboard, slip into your smartphone case or into your diary pages almost 'instantly' (do people still write in their diaries?) and in a look and feel of an old happy photograph. There is a sense of unbridled joy in knowing that a few years down the line when the colours will seem more muted, you will have something to hold in your hands and not just look at through a screen.
Nostalgia tech is big and strikes a chord, understandably, with those born in the early 90s and before that. For those born after that, nostalgia tech is retro and cool without the memories. Particularly the instant cameras.
And you cannot blame anyone for the lack of memories to be fair, nostalgia tech now is sleek, user-friendly and so easy to obtain - the super-compact Instax Mini 11 is just for ₹5,999.
It comes with an 'Automatic Exposure' feature that is supposed to sense the level of ambient light when you try to take a picture and optimise the shutter speed and flash output for the best results. In my use, even with pretty good light, the photos looked muted - like someone has pulled a layer of pale grey/blue muslin over them - particularly when the ambient light was yellow. In white light, the results were significantly clearer.
Photos in natural light were again, muted, but charming in their black-blue tones because they reminded me of fading black and white photos.
Also, you need to learn to gauge your distance to get clear shots, there is no way to control focus on the lens unless you do it strictly manually like move closer or further back from what you want to shoot till it's in focus.
I particularly had a problem with selfies, even though the Instax Mini 11 comes with a dedicated 'selfie mode' that pulls out the front-edge of the lens. This can be used for close-up photos too. It worked well with close-up shots but trying to figure out a frame for selfies didn't go too well. The camera has a little reflective square right next to the lens and you are supposed to use that as a pointer for selfies - it's pretty much a hit and miss and you will perhaps get it right with practice. But when every shot costs you 50 bucks, how much are you going to practice?
For best results - avoid selfies. And a picture takes about 90 seconds to develop and it's best you keep it somewhere dark while it is.
You cannot use this camera without its flash, there is no option to turn it off. But you can't control shutter speed either, so the flash is required in most conditions. The flash in tandem with ambient white-light is not a bad combination, in yellow and low-light it's only as good as a little wisp of a flare that lights up just a puddle.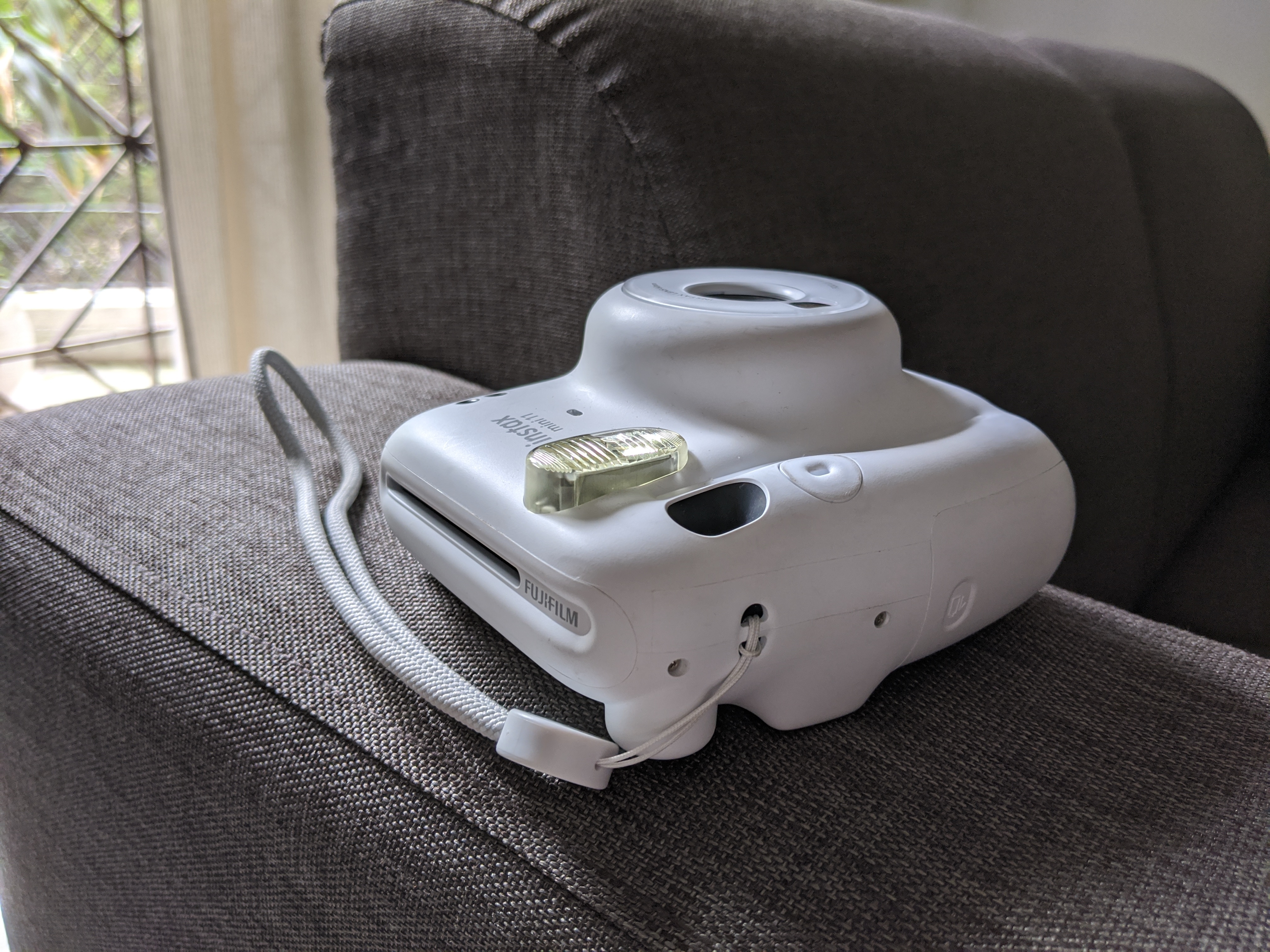 Given how powerful smartphone cameras have become now, this seems like a letdown. But then, you aren't spending ₹5,999 for a good camera, you are spending it for nostalgia and polaroid prints that look cute stuck on your fridge.
The Instax Mini 11 is super handy, it's compact and cute and the perfect prop for those brunches. It looks pretty, fits right in and gives you keepsakes. And the best part, perhaps, is that no one expects polaroid prints to be exceptional. You can use an instant photo printer for results like that.
Polaroids are supposed to be dark in the corners, a little soft and lit up with a flash of a bulb, like it used to happen in those old photobooths. Instax Mini 11 does that well. Do not expect smartphone-level shots.
Jazzing up this instant camera are two shutter buttons, one of which looks like a little gem. This is Fujifilm's way of letting you customise your camera. To be honest, they aren't much of an addition and they barely stay on, which is very annoying because they leave a ring of leftover glue when they come off and that starts collecting lint and dust, effectively ruining the pale colour of an otherwise very aesthetically-made instant camera.
Serious photography enthusiasts will find heaps to complain about here, but even they can't deny the charm of a good polaroid. The Instax Mini 11 is for birthday parties, first dates, picnics in the park, sleepovers, Sunday brunches with friends, random road trips… it's for moments we are afraid of losing and want to pin them up with their slightly muted shades on the pages of our lives. Especially now.