Asus ROG Zephyrus Duo 15 review: Doubling down on productivity
We used the ROG Zephyrus Duo 15 (4K screen variant) for a couple of weeks, playing games, running benchmarks, editing photos and what not. And we can surely say that you do get an edge with this one only if you're ready to pay a good sum.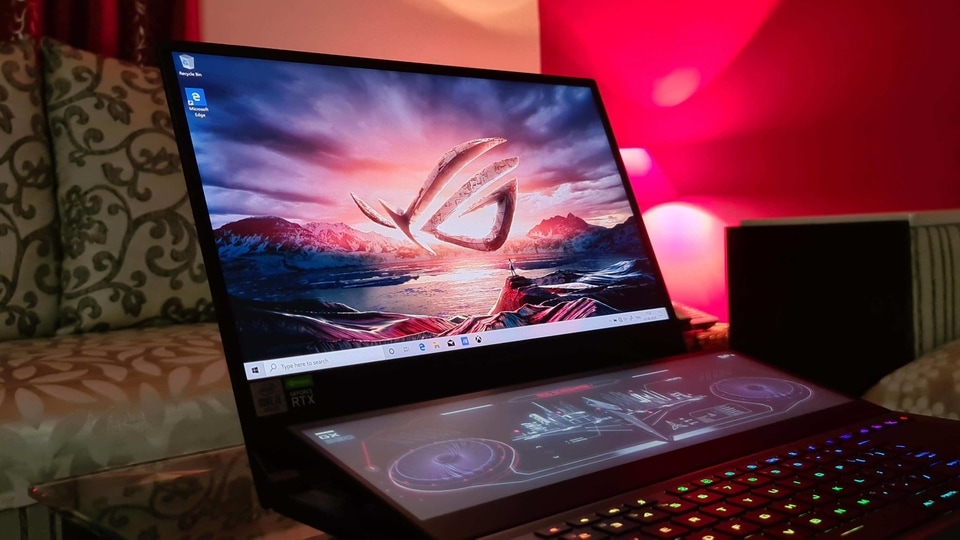 Brand: Asus
Product name: ROG Zephyrus Duo 15
Key specs: Intel 10th-gen processor, 4K resolution ScreenPad+ display and Nvidia GeForce RTX 2080 Super.
Price: ₹2,79,990 (base variant)
Rating: 3/5
Asus has always been among the first in line to bring new tech and design to laptops that are actually useful and not just for show. We saw the ScreenPad, natural ergonomic design that lifts-up the keyboard when you open the lid and more over the years. However, ScreenPad+ has been one of the most radical technologies that have ever been incorporated in a laptop and Asus is milking that as much as it can. Previously the tech used to be limited to ZenBook laptops. Now, it has reached Zephyrus machines. And it does make sense given the line up is touted for gaming and creators. So there's no harm in including it. The latest to feature this is ROG Zephyrus Duo 15.
Just launched in India, the laptop is targeted for serious gamers and creators. And the ₹3,49,990 price tag of this machine (FHD, 300Hz variant) re-confirms its niche corner in the market. We used the ROG Zephyrus Duo 15 (4K resolution variant) for a couple of weeks, playing games, running benchmarks, editing photos and what not just to see how well it handles the task and how useful the second screen is. Here's our review.
Note: Asus ROG Zephyrus Duo 15 (4K screen variant) is not available in India yet. However, the FHD version with 300Hz refresh rate is available at ₹3,49,990. Performance-wise the laptops are almost the same since they use the same processor, RAM capacities, storage drives and other features.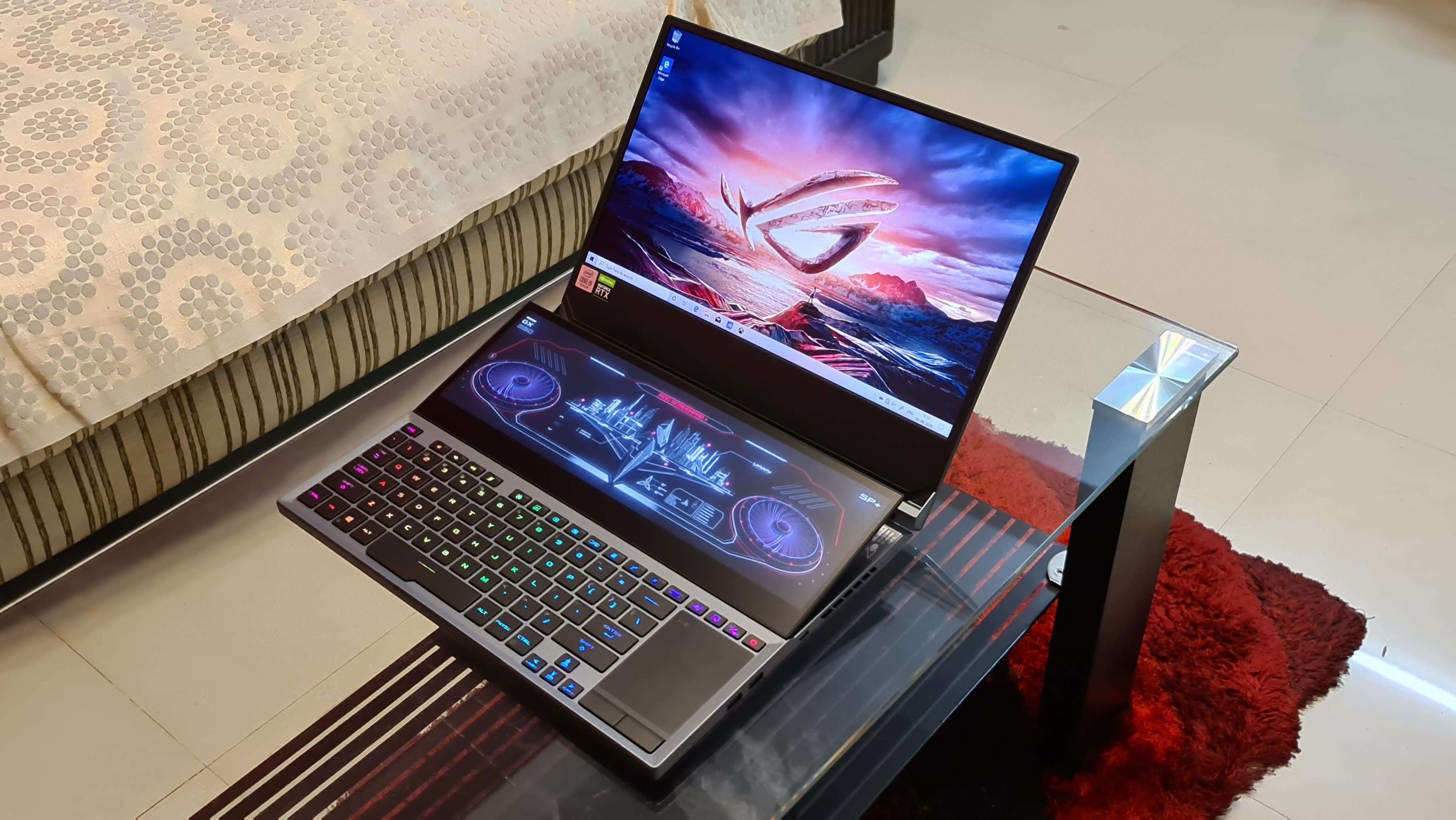 Design and displays
A glance at the Zephyrus Duo 15 and 'beast' is the word that you think of. The keyboard, sophistication of ScreenPad+ and the main display, all of them can make you feel like your current Windows laptop is almost useless. And there's nothing subtle here. Usually, we talk about the screen and the design separately in our reviews. Here it's not possible because both are closely knit. And the thread that keeps it holding is the ScreenPad+ or the secondary screen.
We've used the first-gen Zenbook Duo and ZenBook Pro Duo, and without wasting much time we can say that ScreenPad+ performs the same way in the Zephyrus Duo 15. From touch response to the overall screen quality and the clean look underneath, the implementation is commendable. The screen, which has a 32:10 aspect ratio, lifts up to 13-degrees naturally and effortlessly when you open the main screen lid. We didn't have to apply an extra force to open the screen, which pushes the ScreenPad+ slightly up towards you. And it's ok. You won't see much difference in colour tones when looking at it from an angle or directly from the top.
Although the tech behind it is pretty impressive, the sophistication ends right there. As Asus showed us during the demo, this screen can alone handle over 1.5 or 2 kgs of weight and can resist accidental bumps. Now that comes as good news as you won't have to think twice before swiping and pinching on it or be extra careful while doing so. The matte coating is there, which means less reflections. Creators and gamers would love that. At any given point we didn't feel that the ScreenPad+ was being a hindrance while working. But yes, it might take some time to get used to watching a screen below the main display, something many haven't done before.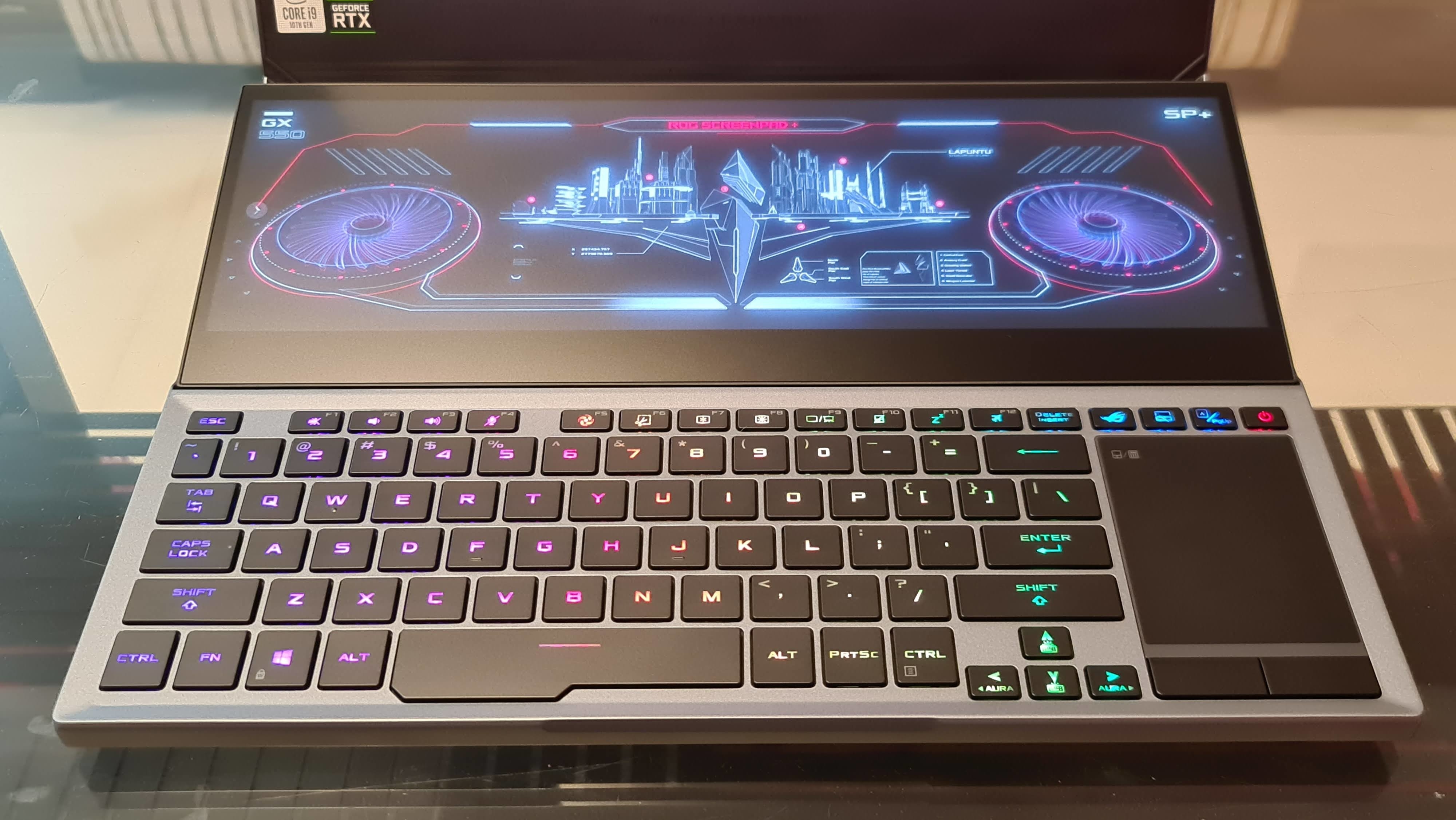 As for the usage, the interface is really simple. It just acts as a secondary screen. There's a permanent button on the left side to access the panel. It lets you access apps, Quick Key and more alongside some app shortcuts for My Asus, Microsoft Edge, Settings and Armoury Crate. Brightness settings, keyboard lock, app navigator, quick switching between screens, all are present there as well. That's really nifty and might be of major help to video editors or heavy multi-taskers who always need more than one screen to monitor data. Moreover, it's a 14.1-inch, 4K resolution screen so the content is as crisp as it can be.
Also read: Asus forays into commercial PC market in India with Expert series laptops, desktops and AIOs
A downside is that not all the apps are optimised for it and that opening browser tabs or anything else for that matter leaves you with massive space on either side considering the aspect ratio. However, when it works, it works really well. Even while gaming it proves to be a helpful piece of hardware. But do not expect it to be of the same quality as the main screen.
The main 15.6-inch display has a non-glare coating and comes in UHD or FHD resolution panels. Although we were using the UHD screen variant, we will suggest gamers to stick with the FHD option as it additionally gives you a 300Hz refresh rate. In UHD you get 100% Adobe RGB colour while the FHD version supports 100% sRGB. Both are Pantone Validated and support G-SYNC. We don't have any complaints from the screen though as the colours reproduced were saturated and good to look at. The screen is also good for streaming videos.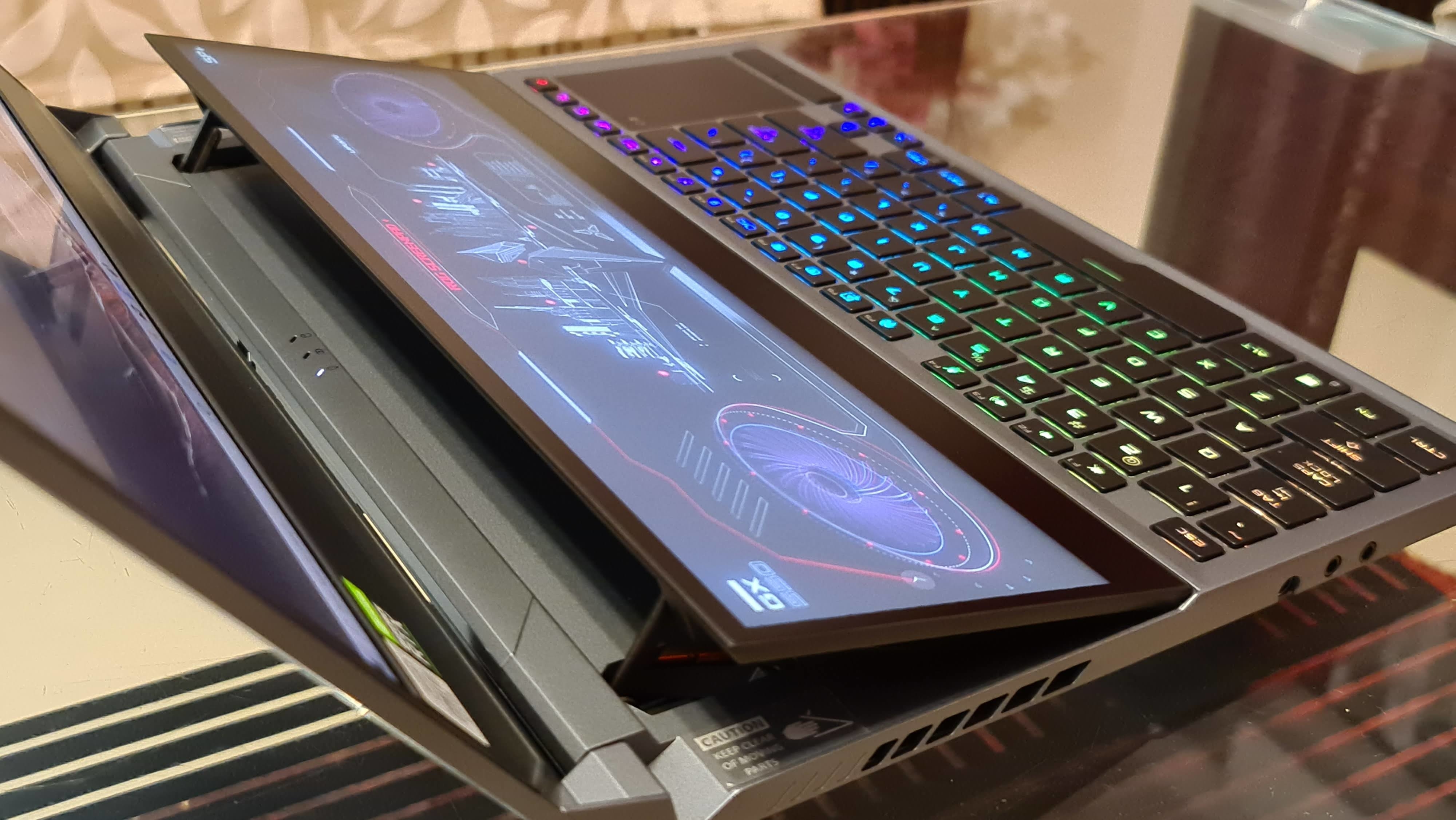 And you get all the basic ports as well including USB 3.2 Gen 2 Type C with DisplayPort 1.4, Thunderbolt 3 and Power Delivery, 2 x USB 3.2 Gen 1 Type-A, USB 3.2 Gen 2 Type-A, HDMI 2.0b, 3.5mm Microphone-in jack, 3.5mm Microphone-in/headphone-out jack and RJ45. So you are not left with anything since most basic ones are covered here.
Since the ScreenPad+ exists, Asus has naturally pushed the keyboard down til the edge of the chassis. Now, this makes it really difficult to type as there's literally no space to rest your hands upon. However, you get separate palm support. While it solves the purpose, it means you can't afford to move the laptop around a lot since you have to adjust the palm rest as well. That said, the typing experience is good and the key travel time seems natural. The RGB backlit keys are well spaced and the touchpad works just fine. In a typical Asus style, it also works as a numeric pad.
As for the rest, the laptop despite having two screens was sleeker than we thought and paves way for more portability. The generous use of metal does give it a 'premium' shine while making it durable. However, since a small area under the screenPad+ stays open, it might attract some dust over time, something that might be hard to clean.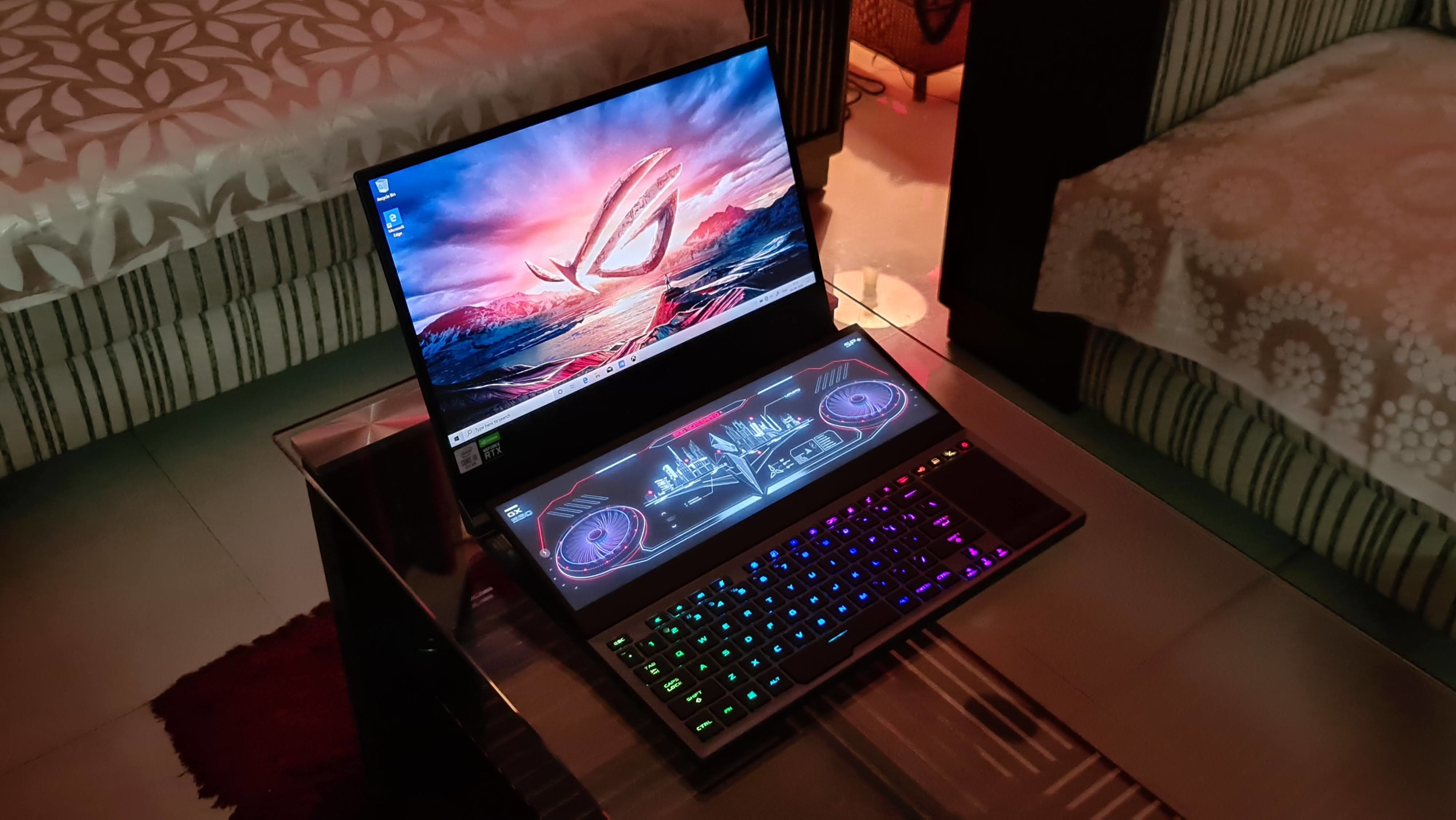 Performance
The Asus Zephyrus Duo 15 unit we received for review came with 10th-gen Intel Core i9 (10980HK) CPU with 32GB RAM, Intel UHD graphics and Nvidia GeForce RTX 2080 Super with Max-Q GPU. But in case you feel that a heavy-duty laptop needs more power to get the best of what is possible, you can, in fact, overclock the processor as well. For a general user who has some 30-40 tabs open at any given time during work, some of which include YouTube, Netflix and social media websites, the laptop can easily get the work done. We even had some 10 odd tabs open on a separate Chrome browser, which took the second screen and the machine handled everything well enough.
But that's not what the laptop is for. Since it is built for gaming purposes and for creators, the person buying this will probably be someone working on graphics, animations, video editing and of course, gaming. Our standard Flight Simulator and Assassin's Screen Odyssey gaming for two hours did result in some frame drops and the heat levels did rise quite a bit. And that might be one of the only and the biggest flaws here.
Asus says it uses liquid metal to cool down the Zephyrus Duo 15. And this comes in addition to the vents on the side and the design that lifts the secondary screen up so the dissipation can take place easily. But, as it turned out, on regular use, we could feel it getting a bit warm and thought of using the infrared temperature gun - which showed a maximum of 42 C degrees. And after running PC Mark, 3D Mark, GeekBench and Cinebench one after another, we got above 45 degrees. It stayed the same while playing AC Odyssey. Now, that's not what a creator or a gamer would want from a powerful laptop that also claims to go big on handling thermals.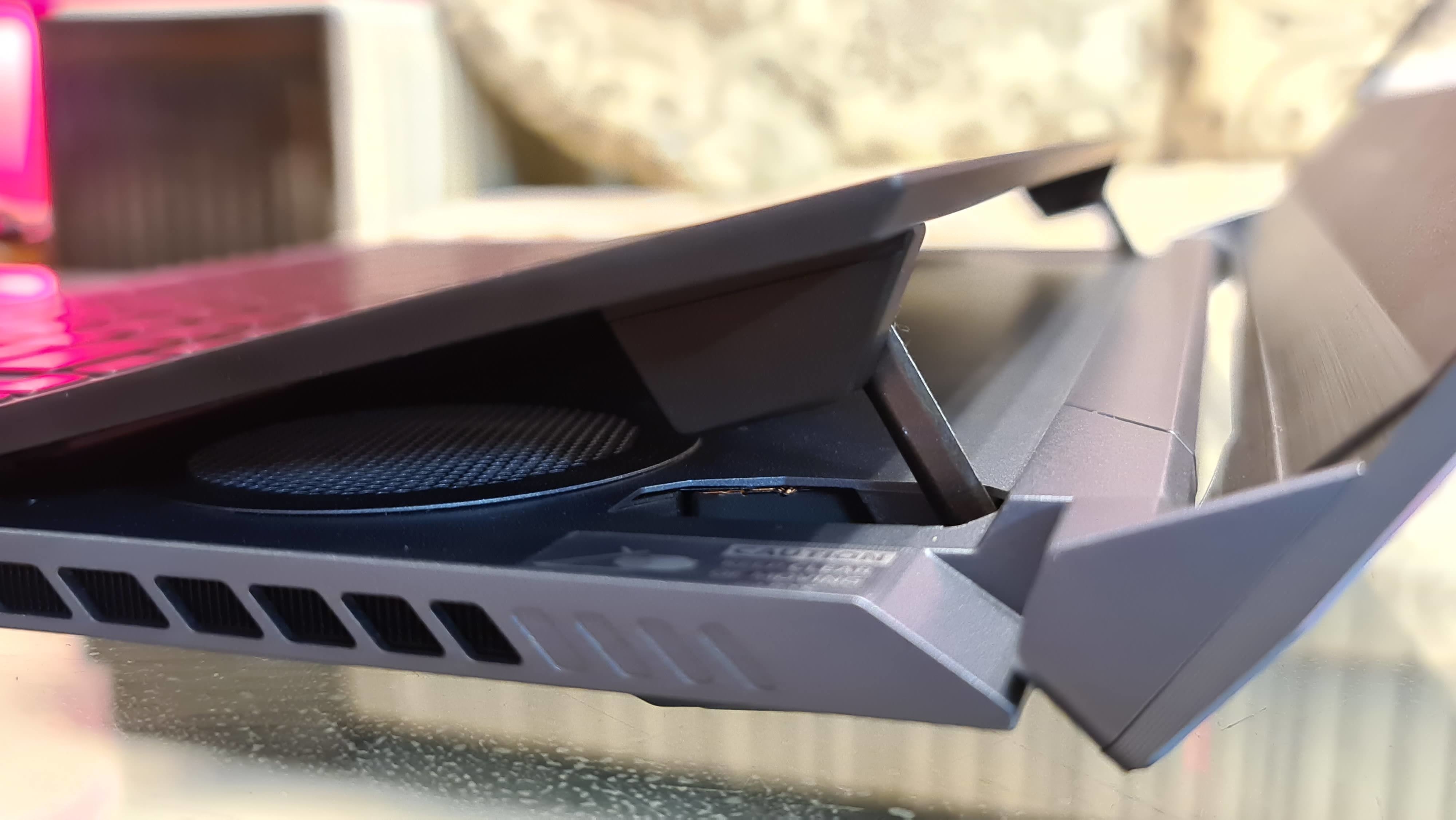 What makes it worse is that the heat extends to the keyboard and does make the lower half of the ScreenPad+ hot. And ScreenPad+ is a touch-sensitive screen as well. This is all despite the inclusion of Asus' patented Active Aerodynamic System (AAS), 4 heatsinks and 252 individual heatsink fins. So, Asus might want to see through it.
As for the benchmark stats, we got 1269 and 8237 for single-core and multi-core performance on GeekBench, while Cinebench gave us 4178 points. On PC Mark 10 the laptop achieved a 5408 average score with Essentials, Productivity and Digital Content Creation sections witnessing 9501, 8287 and 5451 scores. On 3D Mark, the Zephyrus Duo 15 scored 8602 on an average with 8673 and 8221 on graphics and CPU respectively.
Audio performance is pretty impressive and that's because the Zephyrus Duo 15 uses 2 x 4W speakers with Smart AMP technology. Streaming videos and playing games with stereo performance just adds to the immersive-ness.
Battery, as usual, has never been the best in gaming laptops and Zephyrus Duo 15 is even more powerful with dual screens. So don't keep your hopes high on this one. Our unit ran for around 3 hours on battery before it drained. And that's understood given its power and the purpose. All those chipsets, screens and RGB lights need some serious power to run on. In Zephyrus Duo 15 you get 91.4Whr battery, which in itself is a lot. The highest capacity available to the masses right now is 100Whr.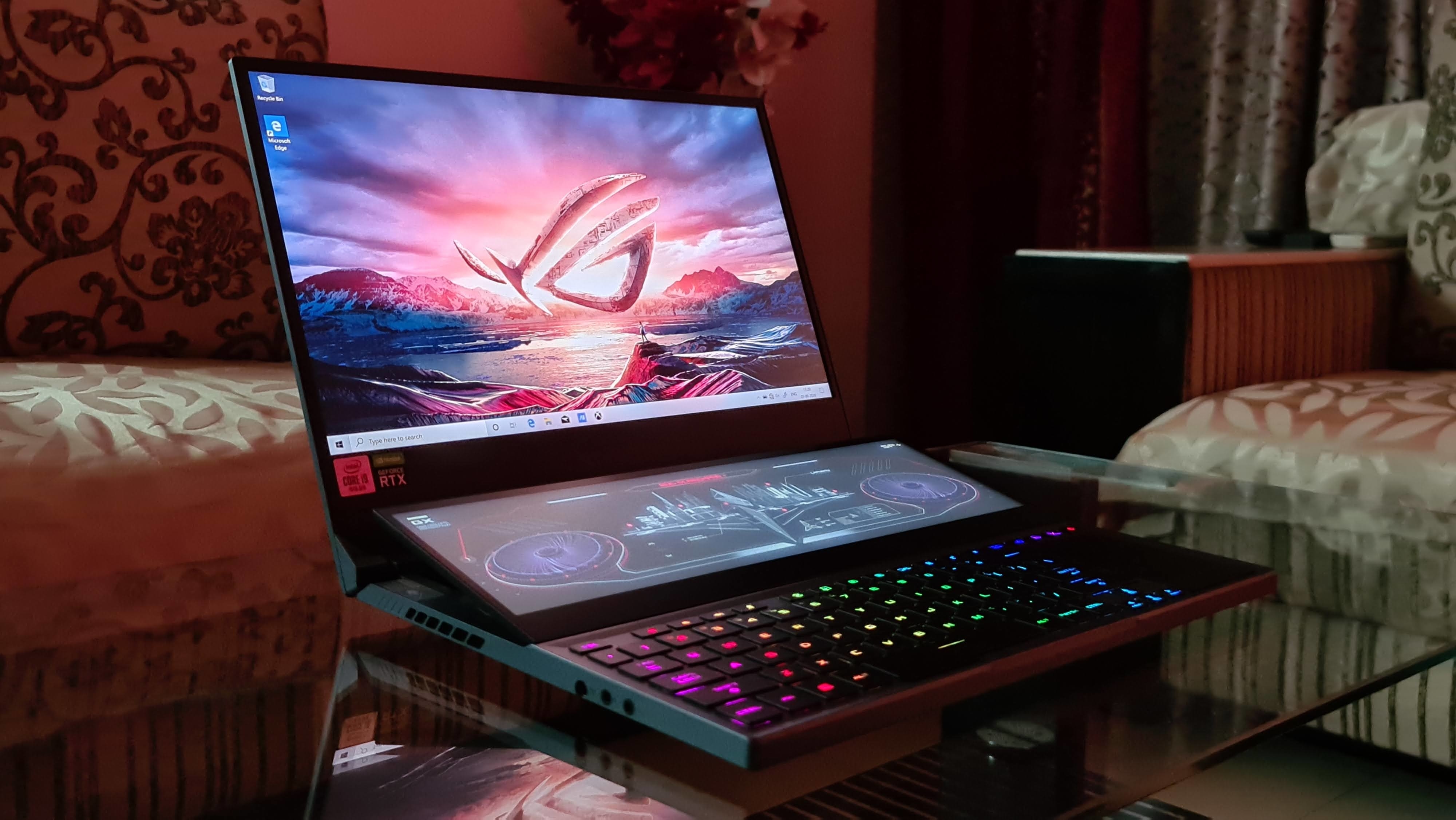 Verdict
As gimmicky as it may look, the ROG Zephyrus Duo 15 has one of the most unique designs, that suits both creators and gamers. The sole idea of having a laptop with two screens up-front and implementing it so that it stays relevant and actually helps users is not easy and is commendable on its own.
So thumbs up to Asus for introducing this a couple of years ago and polishing the feature year after year. Yes, the product has a niche crowd but once you get used to the secondary screen (ScreenPad Plus), there's no going back. Performance-wise, the machine is a beast. Even the audio output is good. The only pinch users might be getting with this one is the slight discomfort in typing since there's no area to rest your hands. You do get support but we wish it was magnetic so it stayed in a fixed position with the keyboard.
Also, since it has two 4K screens, due to which it costs $3,699.99 even creators and gamers might think twice. So we still recommend you to go for the FHD screen model with 300Hz refresh rate, which is priced at ₹3,49,990.
However, it's a fact that you can still get an equally (or more) powerful machine at the same price with better battery life. It will still get the job done. But then for editing apps and more, the second screen does give you the productivity edge.