Apple Watch Series 3 LTE now available in India: Top deals from Airtel, Reliance Jio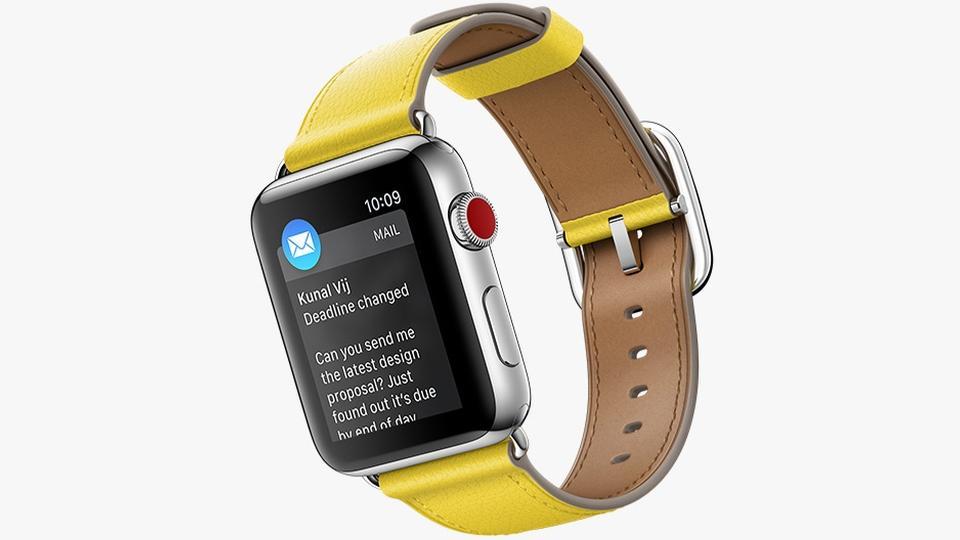 Apple Watch Series 3 with GPS and cellular support has launched in India. Check out its specifications, features and top deals from Airtel and Reliance Jio.
Apple's Watch Series 3 LTE (GPS + Cellular) went on sale in India on Friday. Available at a starting price of ₹39, 080, the new Apple smartwatch features cellular connectivity which allows users to use Apple Watch as a standalone device. The smartwatch is capable of making voice calls, sending text messages and even streaming music, without requiring iPhone to be in the proximity. The Apple Watch Series 3 LTE also comes with Siri integration and standalone notifications support.
Apple Watch Series 3 LTE Cellular: How does it work in India?
The smartwatch comes with an e-SIM that mirrors the phone number you use on your iPhone. Apple Watch uses antenna designs for LTE connectivity. Both Airtel and Reliance Jio have launched special cellular services to facilitate the connectivity on Apple Watch. The two operators are offering the Apple Watch cellular service at no additional cost. In other countries, Apple Watch LTE comes with additional cellular subscriptions priced around $10 (roughly ₹670).
Apple Watch Series 3 LTE Cellular: Price in India
The smartwatch is available in India for ₹39,080 for the 38mm variant. The 42mm variant is priced at ₹41,120. The Apple Watch Series 3 LTE Nike+ with cellular and GPS is available for ₹39,130 and ₹41,120 for the 38mm and 42mm variants respectively. The Apple Watch Edition with GPS and Cellular with ceramic case is priced at ₹118,030 for the base variant. The 42mm model of the premium edition is priced at ₹122,090.
Apple Watch Series 3 LTE Cellular: Specifications
Announced globally in September last year, Apple Watch Series 3 is a big upgrade over its predecessor. The smartwatch runs on an improved dual-core processor which Apple claims to be 70% more efficient than its predecessor. An additional W2 processor helps deliver faster Bluetooth and wireless connectivity on Apple Watch Series 3 LTE.
On the software front, Apple Watch Series 3 LTE runs on the company's WatchOS 4. The operating system brings native support for important applications such as Apple Music and Siri. It is also water-resistant with a rating of 50 metres under the ISO standard 22810:2010."This means it may be used for shallow-water activities like swimming in a pool or ocean. However, Apple Watch Series 3 should not be used for scuba diving, waterskiing or other activities involving high-velocity water or submersion below shallow depth," the company explains on its website.
Apple Watch Series 3 LTE Cellular: How to connect to your phone
iPhones compatible with the Apple Watch Series 3 include iPhone SE, 6/6 Plus, 6s/6s Plus, 7/7 Plus, 8/8 Plus and iPhone X. The phones will need to be upgraded to iOS version 11.3 or above.
To connect your iPhone to Apple Watch Series 3 LTE, update iPhone to iOS 11.3 and watchOS 4.3, then tap Settings on iPhone > General > About and follow the prompt to update to the latest carrier settings.
Apple Watch Series 3 LTE Cellular: Deals from Airtel and Reliance Jio
Reliance Jio
The Apple Watch Series 3 (GPS + Cellular) is available online via Jio's official website and offline through Reliance Digital and Jio stores. Jio has announced that it will give Apple Watch LTER customers access to priority delivery and installation of the product at home by experts. Jio is offering 24x7 platinum care centre access to help users who face any issues with the device. Apple Watch LTE is compatible with all Jio phone numbers with any data plan.
Airtel
Airtel is offering the phone online through its official e-store. The operator is offering a cashback of ₹5,000 to ICICI credit card users. To get started with Apple Watch, Airtel customers will need to have My Plan or Infinity postpaid plan. Airtel's cellular service for Apple Watch Series 3 is not available in UP West, Himachal Pradesh, North East (excluding Assam) and Jammu & Kashmir.