High quality meets high-tech with latest Vertu handset
The Vertu Signature Touch is the first luxury handset that's as premium on the inside as it is on the outside.
The Vertu Signature Touch is the first luxury handset that's as premium on the inside as it is on the outside.
The problem with a lot of luxury smartphones is that while their chassis and shells are sculpted form the most exotic premium materials, their innards have been seriously overlooked. They use an old version of Android for example, or have insufficient RAM to cope with running Candy Crush Saga and Twitter simultaneously.
And while the latest Vertu will win praise for its attention to detail (after all, its hand-formed titanium shell is enclosed in sapphire glass and finished in calfskin), where it deserves plaudits is on its choice of processor -- a 2.3GHz quad-core Qualcomm chip -- and its operating system, as it will arrive later this month running the latest version of Android, 4.4 KitKat.


These sorts of things may sound trivial, but for the sort of money premium phones cost, they had better be able to compete with the best that Samsung or LG has to offer internally as well as externally.
Vertu has left no stone unturned in its quest to offer something special. The 4.7-inch display offers above Retina resolution of 473dpi, and then there's the sound.
HTC phones used to boast Beats by Dr Dre; the Vertu Signature Touch offers a sonic experience tuned by Bang and Olufsen and Dolby. It also supports NFC and wireless charging and the final high-quality touch is a Hasselblad-certified camera lens for the best possible snapshots.
Available in a choice of calf- or alligator-skin finishes, like all Vertu handsets, the Signature Touch's killer app is its concierge service which will give users access to help and assistance, premium experiences and a host of other special features at the touch of a button, 24/7.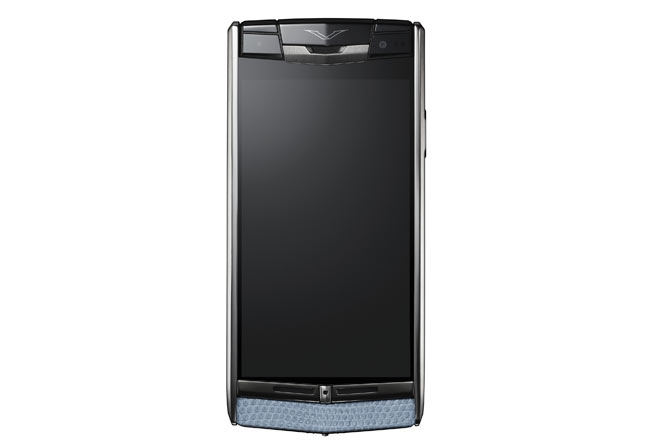 And, aware that the type of person that would be most attracted to a phone that has more in common with a Breitling wristwatch or Rolex than a Galaxy S5, would also be the type of person with homes around the globe, the phone offers global wi-fi access through a partnership with iPass.
When asked about how much the phone will cost, Vertu says that the handset's price will be on application, but expect it to cost around €10,000 when it goes on sale later this month.