Xiaomi's new turbo charging tech can charge your phone to 100% in just 17 minutes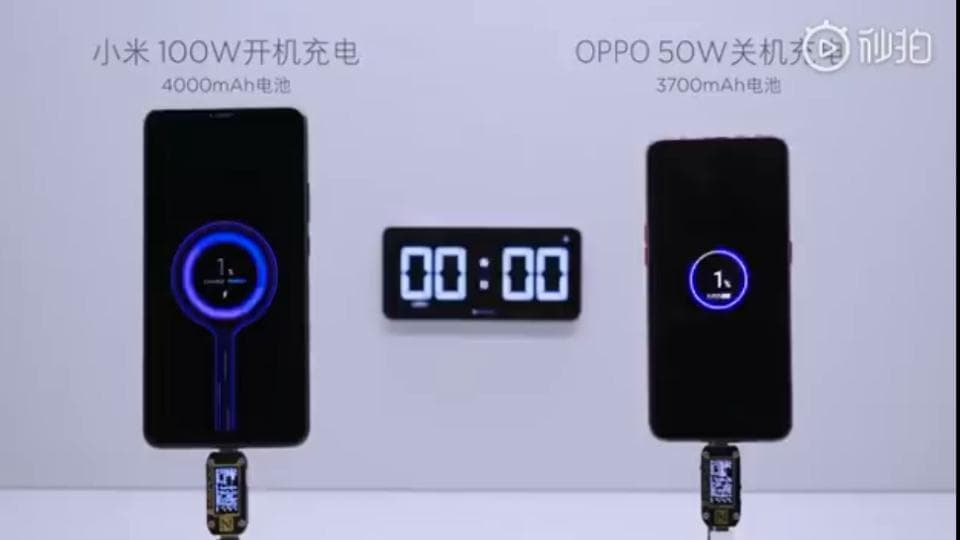 Xiaomi demonstrated its latest fast charging technology which charges a 4,000mAh battery packed phone from 0-100% in just 17 minutes.
Xiaomi was one of the first companies to introduce massive batteries in budget smartphones. The Chinese company is now moving on to something bigger with its 100W "Super Charge Turbo" technology.
As crazy as that may sound, Xiaomi's fast charging technology can fully charge a 4,000mAh battery in 17 minutes only. This would be the 'fastest' fast charging technology ever introduced for smartphones. It would also beat Oppo's 50W Super VOOC technology which gives 50% juice in 15 minutes. Xiaomi demonstrated its latest tech in a video shared on Weibo by Redmi's General Manager, Lu Weibing.
Xiaomi tests its Super Turbo Charge against Oppo's SuperVOOC charge. The smartphone with 4,000mAh battery charged from 0 to 100% within just 17 minutes. In comparison, the Oppo smartphone with a 3,700mAh battery reached 65% with SuperVOOC charge. Xiaomis fast charging technology is a clear winner here and with impressive results.
OnePlus also offers fast charging technology with Warp Charge 30 introduced on the OnePlus 6T McLaren edition and claimed to charge up the smartphone to 50% in 20 minutes.
Xiaomi is yet to share official details on its Super Charge Turbo technology. The company is expected to announce the new technology at an event today, GSMArena reported. There's no word either on when this fast charging technology will come to Xiaomi smartphones. At present, Xiaomi phones use Qualcomm's Quick Charge for fast charging.