Among Us update: From new map, colours and hide and seek mode, here is everything that's coming to the game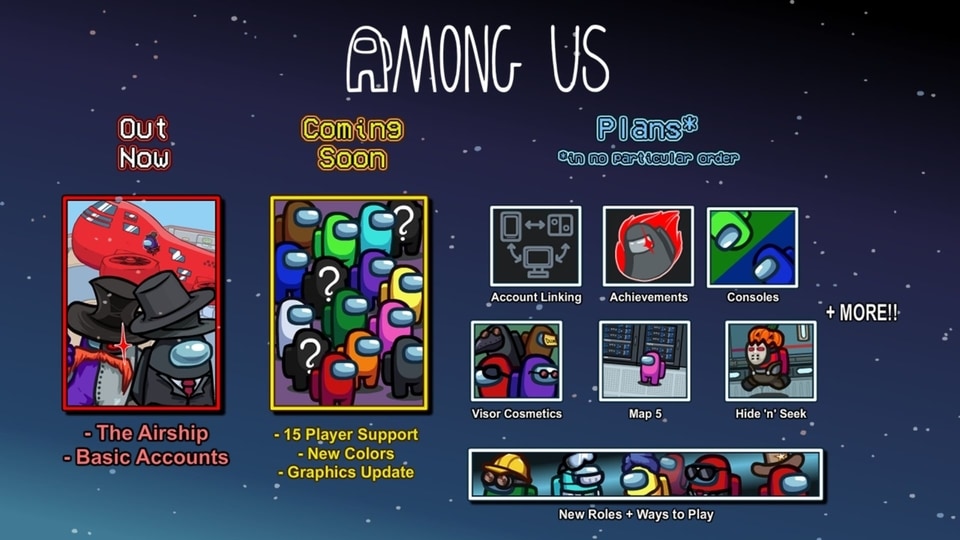 Among Us will soon receive support for 15 players, new colours, a new map, and lots more. Here's everything you need to know.
More action, more people, more thrills and spills, and yes, carnage too, is coming gamers' way via an Among Us update. Indeed, Innersloth has big plans for Among Us players. This comes closely in the wake of a recent update during which it launched The Airship map (April, 2021). It was not just the biggest update in years, it was also the biggest map in this game so far. But the developers have more exciting features planned for Among Us players, including yet another map. Innersloth has been teasing upcoming features, and it recently revealed everything new that it's working on to be included in Among Us at the Summer Games Fest.
The next major Among Us update will bring 15 player support to the game. At present, there can be a maximum of 10 players per game. This will be increased to 15 which also means new colours - Tan, Maroon, Gray, Rose, Banana, Coral. This update will also bring a slight graphics update, mobile controller support, and more. Innersloth however, did not reveal when this update will roll out even though it did say that more details will be revealed soon.
Following this Among Us update, Innersloth has a few other things planned for the game that will most likely take a bit more time to update. A new map for Among Us has been confirmed but there are no details on this yet. This will be the fifth map in Among Us after The Skeld, MIRA HQ, Polus and The Airship. It will most likely be a few months till the next map is released as The Airship also took a lot of time to be launched after it was announced.
Innersloth is also working on achievements in Among Us. It gave an example of imposters making five kills to unlock an achievement. There are also new roles like sheriff and scientist coming to Among Us. Innersloth also confirmed it's bringing Hide and Seek mode. This is already an unofficial mode in Among Us where the imposter is revealed in the beginning and players have to finish the tasks before getting killed but cannot report dead bodies. Among Us will also get new visor cosmetics along with new colours and skins.
There's also a mention of taking naps at some point but we really don't know what that actually represents. But we do know that there is a lot planned for Among Us fans, which could make the game more fun than it already is.