Apple iPhone X best selling smartphone globally: Strategy Analytics
Strategy Analytics names Apple iPhone X the world's best-selling smartphone model in Q1, 2018.
06 May 2018, 11:49 AM IST
in news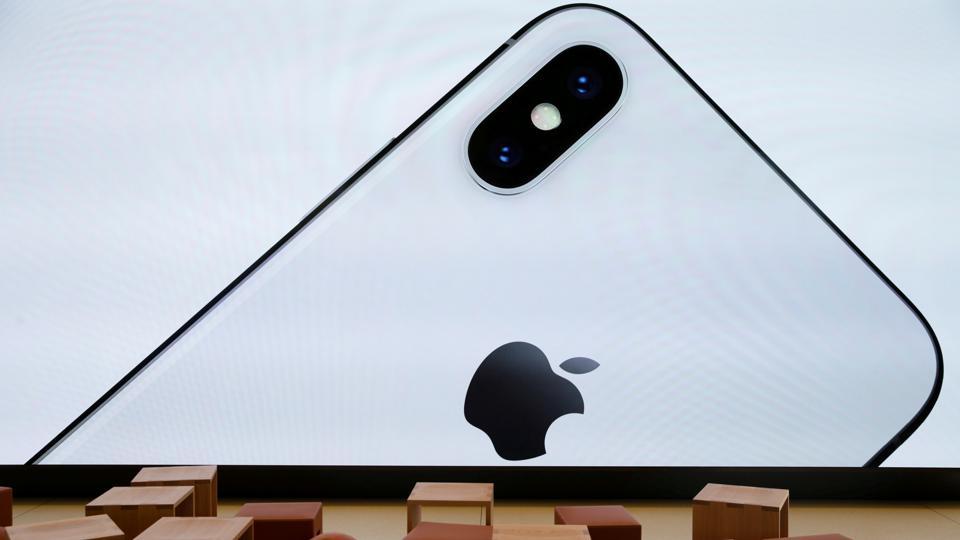 Contrary to analyst predictions, Apple's big bet on its iPhone X smartphone has paid off. The smartphone, which marks the 10th anniversary of the iPhone, has now been named the most selling smartphone in the first quarter of 2018. According to market research firm Strategy Analytics, Apple's iPhone X captured 5% of the global market in Q1 of 2018 with shipments of 16 million units.
The report further says Apple shipped almost 50 million iPhone X units since its launch in November 2017. While iPhone X held the top position, Apple's other phones iPhone 8, iPhone 8 Plus and even older iPhone 7 Plus grabbed the top four positions. Rival Samsung's flagship smartphone Galaxy S9 Plus stood at the sixth position. The only Android smartphone to make it to the top five was Xiaomi's Redmi 5A.
"We estimate the Apple iPhone X shipped 16.0 million units and captured 5 percent marketshare worldwide in Q1 2018. For the second quarter running, the iPhone X remains the world's most popular smartphone model overall, due to a blend of good design, sophisticated camera, extensive apps, and widespread retail presence for the device," wrote Juha Winter, Senior Analyst at Strategy Analytics in a post.
"Apple has now shifted almost 50 million iPhone X units worldwide since its commercial launch in November 2017. The Apple iPhone 8 and iPhone 8 Plus shipped 12.5 and 8.3 million units respectively for second and third place. The previous-generation iPhone 7 shipped a respectable 5.6 million units for fourth place. When combined, Apple today accounts for four of the world's six most popular smartphone models," the post added.
Apple iPhone X: Not a flop
Apple fans and the industry pundits alike have been divided over the prospects of iPhone X. The polarising smartphone marked a stark departure from the company's approach to the design and overall user experience. The phone featured a cut-out display that received a mixed reaction from fans. Later, a number of Android players followed suit to launch phones with a notch display.
For the last few months, there has been growing concern over the fate of the smartphone. Earlier this month, Ming-Chi Kuo, analyst with KGI Securities, claimed Apple was planning to kill its iPhone X soon. Another analyst, Neil Campling at Mirabaud Securities, said the supplier TMSC's revised full-year revenue target citing "smartphone weakness" indicates that the iPhone X will die soon. Older reports claimed that Apple had slashed production of the iPhone X by half.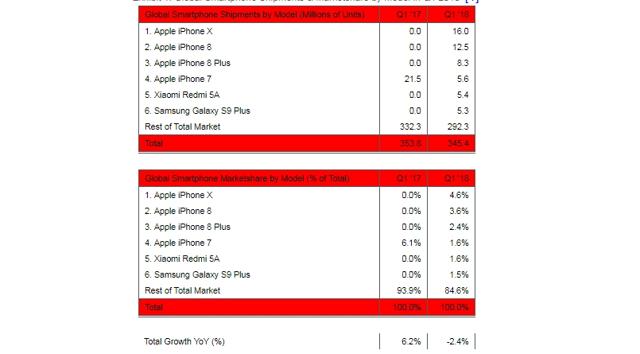 Analysts' concerns have come despite Apple claiming that iPhone X sales have been better than the company's expectations. In February this year, Apple reported a $20 billion profit in the quarter that ended on December 30, 2017.
"We're thrilled to report the biggest quarter in Apple's history, with broad-based growth that included the highest revenue ever from a new iPhone lineup. iPhone X surpassed our expectations and has been our top-selling iPhone every week since it shipped in November," said Apple CEO Tim Cook.
Earlier this week, Apple announced its financial results for the second fiscal quarter ended March 31, 2018. Tim Cook said the iPhone X has continued to do well for the company.
"We're thrilled to report our best March quarter ever, with strong revenue growth in iPhone, Services and Wearables," said Tim Cook. "Customers chose iPhone X more than any other iPhone each week in the March quarter, just as they did following its launch in the December quarter. We also grew revenue in all of our geographic segments, with over 20% growth in Greater China and Japan."
Xiaomi surprise
The only Android device in the top-five list is Xiaomi's Redmi 5A, a budget smartphone that sells in India for ₹5,999. Xiaomi enjoys a big pie of the smartphone market share in India. The company dominates the budget smartphone market with a wide range of high-specced value-for-money phones under its Redmi-series.
According to a March report by Counterpoint Research, Xiaomi became the number one brand in India, surpassing Samsung. The company had 25% of the market share whereas Samsung had 23%.
Strategy Analytics, in its report, notes that Xiaomi is selling high volumes through online channels in key partnerships with e-commerce companies like JD and Flipkart.
"We estimate that Xiaomi Redmi 5A shipped 5.4 million units for fifth place and 2 percent marketshare worldwide in Q1-2018. Xiaomi has become wildly popular across India and China," wrote Linda Sui, director at Strategy Analytics.
Android: Samsung off to a good start
The latest report also sheds light on the performance of Apple's biggest rival, Samsung. Strategy Analytics believes the late shipping of flagship Galaxy S9+ models was the reason for its lower ranking.
Woody Oh, director at Strategy Analytics, said, "We estimate Samsung Galaxy S9 Plus shipped 5.3 million units for sixth place and 2 percent marketshare worldwide in Q1 2018. Samsung's new flagships, Galaxy S9 and S9 Plus, only started shipping toward the end of the first quarter, but shipments are already off to a very good start.
"The S9 Plus delivers an attractive, bezel-less, curved-screen design, a rich portfolio of software apps, and best-in-class retail distribution across dozens of countries. We expect the S9 Plus to become the best-selling Android smartphone globally in the second quarter of 2018."