How to create and share Facebook Reels
Facebook's short form videos feature is now called "Reels" and it's available in India. Here's how you can create and share Reels on Facebook.
Updated on 09 Mar 2021, 05:40 PM IST
in news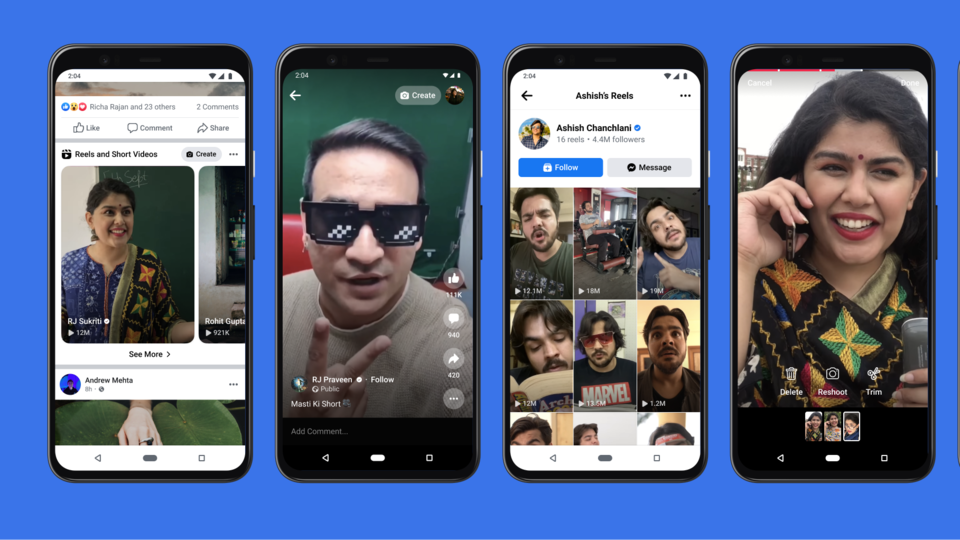 Facebook today announced the official launch of 'Reels' in India. Facebook started testing its TikTok-style short form videos in India last year. It is now calling it 'Reels' similar to Instagram Reels wherein users can create and share short videos on the News Feed.
This feature is currently being tested only in India. Facebook Reels has a dedicated tab on the News Feed where users can watch short videos. Facebook Reels is similar to Instagram Reels but both features work separately. Facebook users can create Reels following these steps -
Tap on the Reels option on top of your Facebook News Feed.
Facebook's camera app will open through which you can record videos, or upload video clips from your phone.
On the right side you'll see a set of options to add music, adjust the speed, add effects and timer.
Once you're done making your Reel you can share it on your News Feed. you can share it with just your friends, make it public, or a custom audience.
Similar to Instagram Reels, here too you can choose a song from Facebook's music library or upload an original audio. Facebook also has a big library of AR effects that can be added to your Reels. You can also set a timer and countdown to shoot hands-free, and speed up or slow down a certain section of the video or audio.
ALSO READ: 5 tips to keep your Facebook profile safe
Facebook currently lets users share Reels only on the News Feed, and not on Instagram. It is testing the ability for select Instagram creators to share their Reels as recommended videos on Facebook. This is a small part of cross-posting that Facebook is allowing for a limited group of users. There's no word on when Facebook will expand this to more users.