Performance check: How the Intel Core i7-1185G7 chipset performs on the Evo-certified Dell XPS 13 (9310)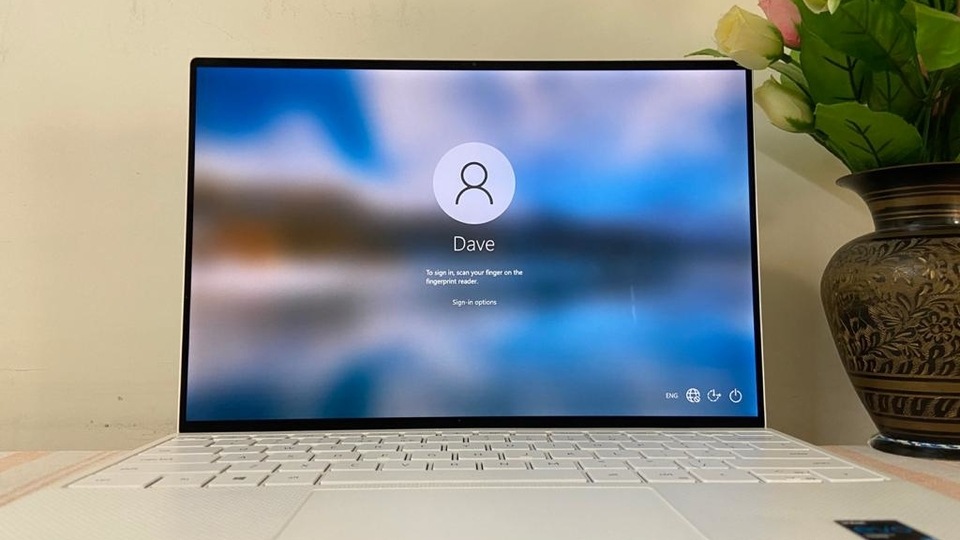 Back in May, we took the Dell XPS 13 (9310) 4K OLED ultrabook for a spin. Here's a closer look at the performance of the Intel Core i7-1185G7 chipset that powers the device and how it compares to the competition.
Last year, Intel released its 11th-Gen Tiger Lake Series processors that currently feature in high-end laptops in the country from several OEMs. The company faces stiff competition from AMD and their 7nm Ryzen chipsets, but Intel has claimed its new SuperFin design on its Evo-certified 11th Gen Intel Core processors gives it an edge over its predecessors including the 10th Gen Core i7-1065G7 processor that was launched in 2019.
Back in May, we reviewed the Dell XPS 13 (9310) laptop that comes with an EVO badge and is powered by the Intel Core i7-1185G7 chipset (you can read our review here). We decided to take a closer look at the processor on the device and see how it performed with one of Intel's best Evo-certified processors on board, and here are our thoughts.
Hardware features
We took the 11th Gen Intel Core i7-1185G7 chipset on board the Dell XPS 13 for a spin. The CPU powers most of the device's special features, including the Wi-Fi 6 support, built-in Iris Xe graphics, and even Thunderbolt 4. The processor features four powerful cores with base speeds of 3.0GHz, but you can max out at 4.8GHz for single-core and 4.3GHz for all cores.
The device we tested had 16GB of RAM and was updated to the latest build of the Windows 10 Pro edition. Battery life on the 4K OLED display averaged around 5 hours during our testing, which is about the same we noted when we first reviewed the device earlier this year. We also performed an OS 'reset' before we ran our tests on the device, and here's what we found out after we took the device for another spin.
CPU and graphics performance and benchmarks
While Intel is still using the 10nm node for the new i7-1185G7 processor and 7nm chipsets are still a while away, the company says that the SuperFin design on the 11th Gen chipsets means it's faster than its predecessor, the Intel Core i7-1065G7. It should even give its AMD Ryzen 7 counterpart a run for its money in single-core tests.
The XPS 13 (9310) running the i7-1185G7 processor scored 1485 points for single-core on Geekbench in our tests, which is a lot ahead of the 1029 score by the Ryzen 7 4800U powering the Lenovo Yoga Slim 82A2 on Geekbench Browser. Meanwhile, the processor scored 5338 points for multi-core performance in our tests falls behind the Ryzen 7 4800U average score of around 5902 on Geekbench Browser.
We also tested the Intel Core i7-1185G7 processor using Novabench and it attained a score of 2109 points, with a CPU score of 1239. The older Intel Core i7-1065G7 has a lower score of 1970, and a CPU score of 1188, which shows that the new i7-1185G7 chipset has made substantial gains over its predecessor. Meanwhile, the Ryzen 7 4800U has a CPU score of 2098 and an overall score of 2972 on Novabench.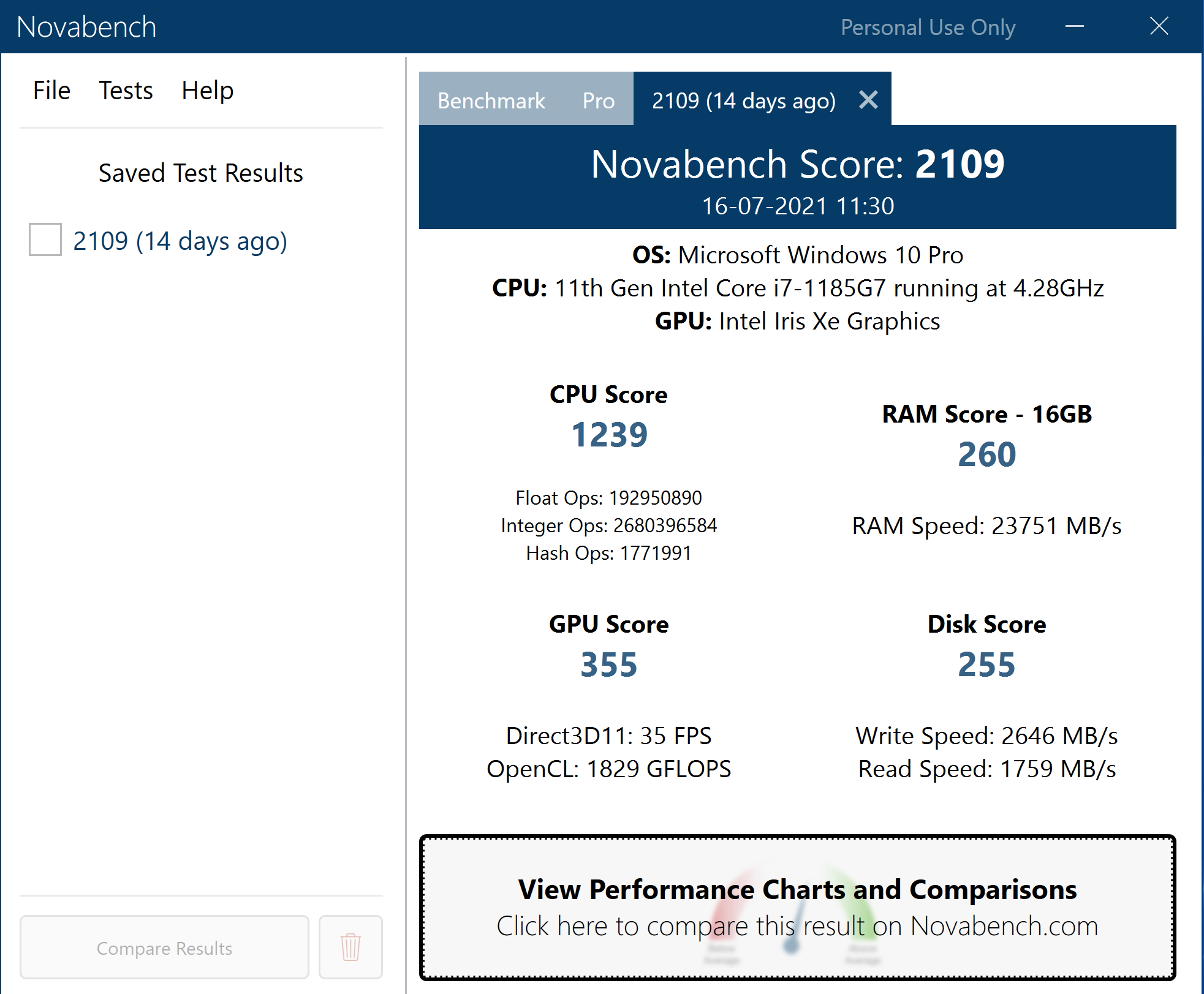 The Intel Iris Graphics were up to scratch and performed better than we expected. The Dell XPS 13 (9310) we tested is obviously not a gaming laptop, but it handled titles like Fortnite and Apex Legends well. When it comes to synthetic benchmarks, the improvements on the i7-1185G7 over its predecessors are evident. During our benchmarks of the i7-1185G7 on board the Dell XPS 13 (9310), the Iris Xe graphics scored 18811 points (OpenCL) on Geekbench. On Novabench, the device could manage a stable 35 FPS while running a Direct3D11 sample at 720p, matching the 35 FPS of the Ryzen 7 4800U recorded on Novabench's database.
Benchmarks versus real-world performance
Benchmarks only tell half the story, however, and real-world stability and reliability matter at the end of the day. From our tests with the Dell XPS 13 (9310) it is clear that the i7-1185G7 chipset can handle anything one can throw at it from simple tasks like editing multiple documents on Libreoffice and watching 4K content, to editing and exporting videos shot in 4K resolution on an iPhone 11 using Shotcut.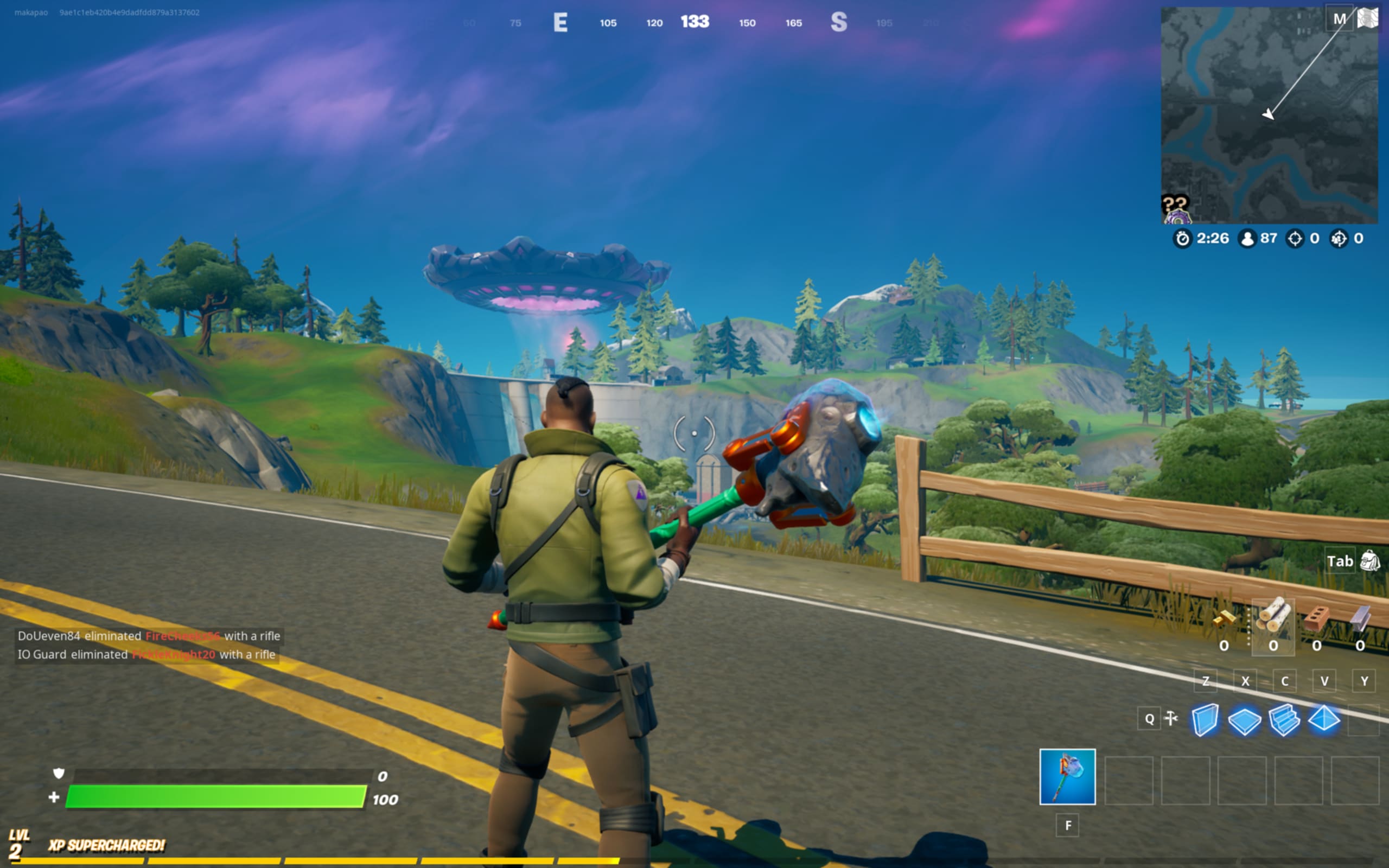 Browsing the web is an absolute breeze, whether you're on Microsoft Edge or on Google Chrome. If you usually have more than 50 tabs open at a time, the chipset has no issues handling the workload. While the Dell XPS 13 (9310) we tested isn't a gaming laptop, it also handled a few popular titles with no issues. Meanwhile, network connectivity was stable and reliable, without any hiccups – which is good news if you take a lot of Google Meet, Zoom and Microsoft Teams calls during the day.
What we think
Most of the smarts on the Dell XPS 13 (9310) which is Evo certified processor are powered by the Intel Core i7-1185G7 chipset, including the Thunderbolt 4 support. In terms of performance, the processor clearly and evenly beats its Ice Lake predecessor, thanks to Intel's SuperFin technology, based on Notebookcheck's benchmark numbers. This is likely the best laptop mobile processor you can buy (from Intel) right now, at the time of publishing this article.
Coming to the competition, while the numbers are in favour of the i7-1185G7 where single-core performance is concerned, that isn't the case for multi-core performance – the older AMD Ryzen 7 4800U performs better in multi-core benchmarks, as it sports double the cores. However, when it comes to graphics performance the i7-1185G7 is far better. It's also worth keeping in mind that this is a chipset that was released in late 2020 so, Intel's recently released Intel Core i7-11390H and i7-1195G7 processors will offer higher turbo boost frequencies of up to 5 GHz, along with a max dynamic frequency of 1.40 GHz (up from 1.35 GHz on the i7-1185G7) on the graphics front.
Should you buy a device with the Intel Core i7-1185G7 processor? These can be very expensive considering the specs, so if you have the budget for it, yes. It's a fantastic processor and can handle almost any task you throw at it. However, if you already have a laptop with an older Ice Lake processor, it should still perform well for at least another year before you'll feel the need to upgrade. If you have an i7-1165G7 with Xe graphics, you should probably stick with it if you don't perform graphics-intensive tasks and don't need the GPU improvements.
That being said, the i7-1185G7 offers advantages for those looking for an enterprise-friendly device not found on these processors, such as vPro eligibility (which includes the company's Intel Stable Image Platform Program), Intel Trusted Execution Technology, as well as Intel Total Memory Encryption. These make the i7-1185G7 a compelling choice for a device in the enterprise sector like the Dell XPS 13 (9310) that we tried, as well as on other devices like the Dell Latitude 14 and Latitude 15 series and the Lenovo Yoga 9i laptop that also feature this processor.