Apple is reminding developers to update their apps since AppTrackingTransparency tool will roll out soon
Apple has been reminding developers to prepare for the roll out of iOS 14.5 and the AppTrackingTransparency tool.
06 Apr 2021, 05:50 PM IST
in news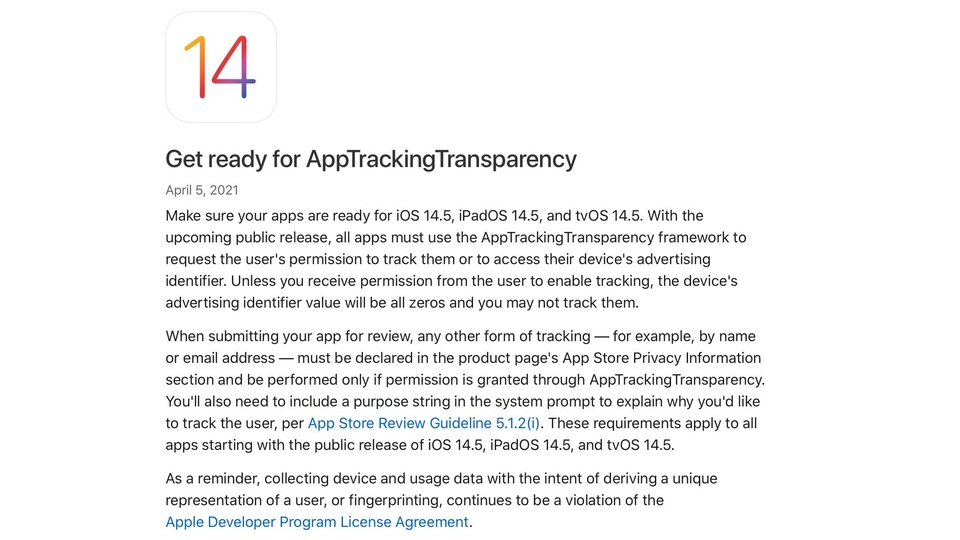 Apple has started reminding developers to update all their apps with the new AppTrackingTransparency framework before iOS 14.5 rolls out. AppTrackingTransparency (ATT), if you didn't know, is the new tool Apple is rolling out that is going to protect users' data and prevent unwanted apps from tracking them on other apps and websites unless permitted to do so by the user.
Apple CEO Tim Cook mentioned during his recent interview with Kara Swisher (that we've already written about) that ATT rollout is still "several weeks" away. So while developers have a decent amount of time to incorporate ATT into their apps and submit the new versions, Apple is making sure they are aware that this needs to be done.
The latest update on the Apple developer website mentions that unless apps/developers receive permission from the user to enable tracking, "the device's advertising identifier value will be all zeroes" and they cannot track the user.
Apple also needs all developers to declare any other form of tracking their app might include/need when they resubmit the app. These other kinds of tracking that the app might need to function also need to be linked to ATT and should only be enabled when the user enables tracking for that app - it cannot be default or mandatory.
Also Read: Tim Cook finally reveals iOS 14.5 update will arrive this month
Developers must also include a "purpose string" that is going to appear in the standard system prompt that explains to users why the app wants/needs to track them. Apple has reiterated that collecting device and usage data that creates an identity of the user is a violation of the developer program's license agreement.
Developers will need to keep all of these points mentioned above in mind since all apps are going to have to follow suit once iOS 14.5, iPadOS 14.5, and tvOS14.5 rolls out.
It is not clear exactly when iOS 14.5 is actually going to drop for everyone but it has been in beta for a while now.
According to reports though, it is possible that iOS 14.5 and iPadOS 14.5 are linked to new hardware that has not been revealed yet.