Baahubali 2 tops Google trend in India in 2017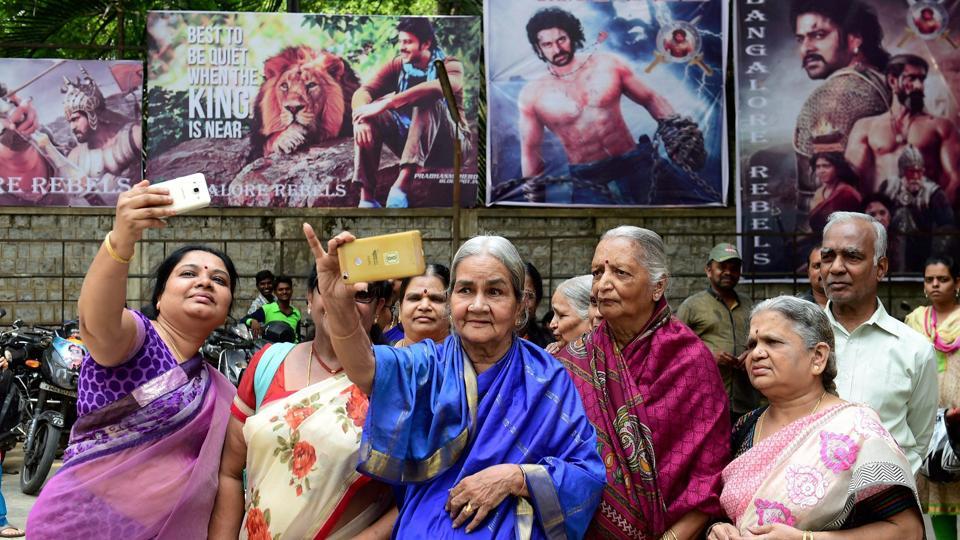 From Bahubali 2 to Champions Trophy, the top ten trending queries Indians searched Google for in 2017.
What does a cricket-mad nation obsessed with movies search for on Google? You don't have to search far for that: it is Bollywood and cricket, says Google's 2017 Year in Search report for India.
Every year, the search engine brings out its 'Year in Search' report to give a glimpse of the news, events and trends that dominated discourse.
It seems that the country couldn't get the 'Why did Katappa kill Baahubali' question out of its collective head because Baahubali 2, the sequel to the blockbuster, was the most searched query of this year. Seven movies featured among the Top 10 Trending queries for 2017, while the other three spots were filled by cricket-related queries.
Here's a quick look at the top 10 trending queries from India:
1) Baahubali 2: The follow-up to 2015's super hit was one of the year's most awaited films. The original epic drama became India's highest-grossing film, earning over ₹ 650 crore worldwide. Ticket prices for Baahubali 2 were hiked up and extra shows arranged in Andhra Pradesh and Tamil Nadu to keep up with the demand. Baahubali fever gripped the country, as jewellery, clothes and even burgers inspired by the film became hot property. Filmmaker Ram Gopal Verma said anyone who didn't like Bahubali 2 needed "psychiatric help" -- which was going a bit too far -- but read our review to know if the movie lived up to its hype.
2) Indian Premier League: Launched in 2007, the IPL quickly became an important fixture in the cricketing calendar. The Mumbai Indians, captained by Rohit Sharma, won the title this year after a fierce contest with Rising Pune Supergiants.
In its tenth year, there was talk of IPL losing its sheen, but its appearance on the number 2 spot says that it is still able to hold audience interest. Take a look at our cool interactive that charts ten years of IPL's tangled history.
3) Live Cricket Score: Do you even need to ask? At one time, it was radio. Then came the television. Now, every single time India plays a cricket match, a horde of cricket-crazy Indians turn to Google for the latest scores and updates.
4) Dangal: The Aamir Khan-starrer Dangal, based on the struggles of boxers Geeta and Babita Phogat, knocked its competition out of the ring. The movie received critical acclaim as well as box-office success. The film became a rage in neighbouring China as well, and even earned a rare stamp of approval from Chinese president Xi Jinping, who told Prime Minister Narendra Modi that he had liked the film on his trip to India.
5) Half Girlfriend: The Shradda Kapoor-Arjun Kapoor-starrer may have fallen short of the famed ₹100 crore mark, but the film generated a great amount of interest before its release. Based on the book by Chetan Bhagat, Half Girlfriend was the story of a scion from a zamindar family falling in love with a rich, lonely girl. It was only a half success, however, as its cliched storytelling let audiences down.
6) Badrinath ki Dulhania: A romance starring Alia Bhatt and Varun Dhawan, their third outing together, had a good run at the box office, while the film's remix of 80's hit Tamma Tamma played in every club.
7) Munna Michael: A damp squib at the box office, the Tiger Shroff starrer was one of the year's big disappointments. This is the only top ten list Munna Michael will make it to as the film was universally panned.
8) Jagga Jasoos: The Anurag Basu-film was one on the audience's radar for its Ranbir-Katrina pairing as well as the director and actor pairing which delighted with Barfi. While our reviewer though the film unfolded like 'a beautiful fairytale', the musical fantasy wasn't to every one's taste.
9) Champions Trophy: Indians clutched their hearts in disappointment as arch-rivals Pakistan took the Champions Trophy home. This was by far the year's biggest, watched-with-bated-breath sporting event!
10) Raees: 'Baniye ka dimaag, miyan bhai ki daring'. This line in the trailer had made sure audiences were hooked , waiting for the Shah Rukh Khan-starrer Raees to release. The film didn't exactly bring the house down, but did find critical acclaim, especially for SRK's turn as a bootlegger, what many termed as 'India's Pablo Escobar'.