WhatsApp disappearing messages: 5 things you need to know
WhatsApp's disappearing messages feature is now available to everyone. Here are five things you need to know aboout this feature.
Updated on 19 Nov 2020, 03:12 PM IST
in news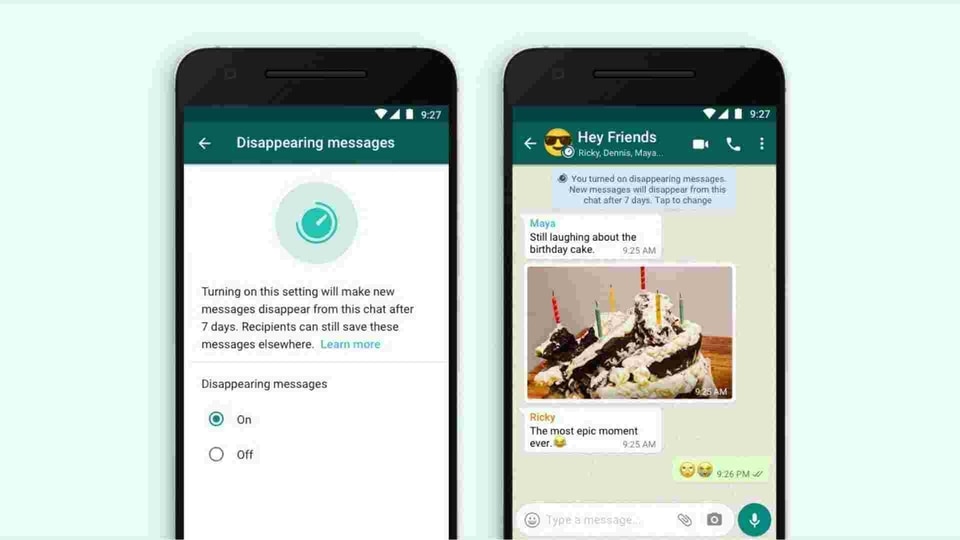 One of WhatsApp's much-awaited features is finally here for all users. Disappearing messages have been in testing for months now and WhatsApp has finally introduced the feature for users. With this feature WhatsApp users can send messages that self-destruct after seven days.
WhatsApp's disappearing messages feature can be used on Android, iOS, and on WhatsApp Web as well. Once this feature is turned on new messages sent in the chat will automatically disappear after a period of seven days. This feature is disabled by default so users have to manually turn it on to start using it. There are some important things to know about WhatsApp's disappearing messages feature.
Disappearing messages icon
WhatsApp always notifies when the disappearing messages feature has been enabled or disabled. It will also display an icon on the profile picture of the chat whenever the feature is active.
User control
Disappearing messages work on both individual and group chats. In a one-on-one chat, either user can turn on disappearing messages but the other user always has the option to turn off as well. In group chats only the admins have control over disappearing messages. The other participants cannot turn it on or off.
ALSO READ: Facebook launches 'Vanish Mode' on Messenger, coming to Instagram soon
Forwarded messages
WhatsApp lets users forward one message up to five times. The new feature doesn't work with forwarded messages. If a disappearing message has been forwarded, it will still remain in that chat even if it's not available in the original chat.
Message replies
Similarly, messages which are quoted and replied to in chats will still remain even if it disappears later. While you won't see the original message you can still see quoted text in the chat.
Unread chats
Probably the easiest way to see disappearing messages, and even deleted ones are in the notification panel. If a chat hasn't been opened and it contains disappearing messages, then the user will still be able to read the content. Once they open the chat, the message won't be available.