WhatsApp's disappearing messages now available to all users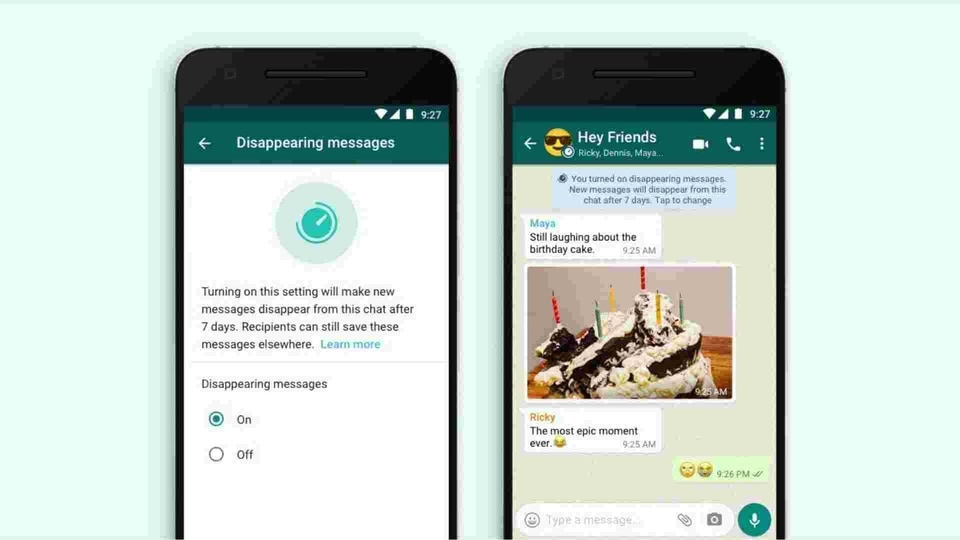 WhatsApp launched disappearing messages earlier this month, and it is now available for everyone.
WhatsApp announced the launch of disappearing messages earlier this month. This feature is now available for all WhatsApp users on Android, iOS and web as well. As the name suggests, messages will disappear from chats once the feature is enabled.
WhatsApp has chosen a time limit of seven days for messages to disappear in chats. Since the time the feature is turned on any message sent in that chat will automatically disappear after seven days. This feature can be enabled on WhatsApp's Android and iOS apps, and from WhatsApp Web as well. It works for both one-on-one chats, and group chats as well but only admins have control over this for the latter.
How to turn on disappearing messages on WhatsApp
First thing is to make sure of the latest version of the app.
Open any chat on WhatsApp, and tap on the contact info.
Scroll down to find 'Disappearing Messages'.
This feature will be disabled by default so you'll have to turn it on.
New messages sent to the chat will now disappear after seven days.
ALSO READ: Facebook launches 'Vanish Mode' on Messenger, coming to Instagram soon
WhatsApp will notify when disappearing messages have been enabled in the chat. The other participant in the chat can disable it from their end as well. There are some more limitations with disappearing messages on WhatsApp. Even though the messages disappear after seven days, it will still be visible in the notifications preview if the chat hasn't been read. Quoted messages will remain in the chat even after they've disappeared.
The same goes for forwarded messages where the text will still be visible even if it has disappeared from the original chat. WhatsApp also warns that there are other ways of keeping chats like taking screenshots. The time limit seems pretty long, and users will most likely forget that the feature is activated. WhatsApp said it chose seven days so you don't miss out on important messages.