Infinix InBook X1 (Core i5) review: Cheap laptops are getting better
Infinix InBook X1 easily comes across as our top pick in the sub-
₹
50,000 notebook category. It gets so many things right but is it the right pick?
Pros
Solid Build
Nice Display
Fast Performance
Value
Cons
Older 10th Gen Intel processor
Battery life
Uncertain aftersales support
Specifications
Processor

Intel Core i5-1035G1

OS

Windows 11

RAM

8GB LPDDR4X 3200MHz

Storage

512GB PCIe 3.0 SSD

Battery

55Wh, 65W charging

Display

14-inch FHD LCD 100% sRGB
Some of the most interesting budget smartphones in 2021 have come from Infinix. Hence, when I heard of laptops carrying the Infinix brand name, it got tech enthusiasts like me curious. It could be another cheap Windows laptop with tacky build and barely useable performance, right? Jaws dropped on the launch day when the Infinix InBook X1 laptops came out, and more so the day I unboxed one.
Dressed in a beautiful shade of Aurora Green (dark metal green), the Infinix InBook X1 is completely opposite to our expectations. It looks unlike any sub- ₹50,000 laptop, especially for one housing a Core i5 chip. It's got beefy specifications too. The RedmiBook 15 Pro from Xiaomi suddenly looks archaic in comparison.
Has Infinix pulled off a market-ruling formula for cheap Windows laptops? Or are there caveats? I swapped my work laptop with Core i5 InBook X1 for a few days to find out.
Infinix InBook X1 Design
Sub- ₹50,000 laptops are often bathed in dull grey plastics that eliminate any kind of desirability for tech – not the case with this Infinix laptop. This is an all-metal chassis that imparts the same level of desirability as a Windows laptop from Dell, HP or Lenovo costing upwards of ₹70,000. Infinix keeps the weight within 1.4 kilos despite the all metal construction. And since that wasn't enough, you get a dual-tone paintjob finish on the lid.
In the dark green shade, the InBook X1 looks fantastic, especially with its brushed metallic finish for the top half and the matte finish for the rest of the laptop. The paintjob is effective at resisting smudges and fingerprints. Open the lid and a similar coloured theme carries over to the keyboard deck, which itself has a very neat MacBook Air-inspired layout. The island-style keys are all backlit and the speakers are tucked in the hinge area.
The only eyesore here is the fat bottom display bezel which does not look like anything from a 2021 laptop. The hinge, however, is firm and holds off wobbles whilst on the lap. That said, the hinge is highly resistive; you will need to employ both of your hands to lift it up.
The fairly slim body as all the necessary I/O ports on offer. You get two USB-A 3.0 ports, a USB-A 2.0 port, two USB-C ports (with one supporting external display output and charging), an HDMI port, a microSD card slot, a 3.5mm headphone jack, a Kensington slot, and DC IN proprietary charging port. The DC IN port is surprising since you get a 65W USB-C charger in the box. There's also a physical slider key for disabling the webcam.
Infinix InBook X1 Display
You get a 14-inch IPS LCD display on this laptop with a resolution of Full HD, 100 percent sRGB colours, and rated brightness of 300 nits. These are good specifications for a display and it shows. Throughout my days, the display did not disappoint.
Everything appears bright and vibrant with good contrasts. The Full HD resolution helps and while 300 nits of brightness may not be enough outdoors, it works fine indoors. The lack of a high refresh rate is sad but for most buyers, this won't be an issue. The anti-glare coating is a blessing while using the laptop in bright ambience.
Infinix InBook X1 Performance
If you have been wondering how Infinix is able to sell a Core i5 laptop for the price of a Core i3 laptop, you should look at the spec-sheet carefully. Instead of using a current-gen 11th Gen Intel processor, Infinix is relying on 10th Gen Intel chips. That's a clever choice given that most buyers in this price segment may not require the cutting-edge performance of a 11th Gen chip. Moreover, the 10th Gen Core i5 is still capable of doing generic computing tasks and even some casual gaming.
On the Infinix InBook X1, however, you cannot game nicely. Infinix relies on integrated Intel UHD 620 graphics that struggles with heavy tasks on Photoshop and while running modern games (it couldn't load Cricket 22). However, with 8GB of LPDDR4X 3200MHz RAM and 512GB PCIe 3.0 storage, there's enough power to do regular computing effortlessly, especially with Windows 11 at the helm.
The Infinix InBook X1 held up with the workflow of a journalist, which includes 12-13 hours of MS Word, browsing with 12-13 Chrome tabs, WhatsApp in the background, and Zoom meetings. The laptop handled daily workloads without any stress. I did not witness the fans kicking up after long hours but that could be due to the 11 degrees temperature in Delhi NCR. When forced to run some games, the fan noise was well within the acceptable range.
The laptop boots up with Windows 11 at the helm and I shall give kudos to Infinix for not pre-loading bloatware, such as Free McAfee anti-malware suite, or custom Infinix apps. Windows 11 has been a breeze on this laptop so far, with all of its features working as intended. The lack of a fingerprint scanner is a bummer though.
Writers interested in the Infinix InBook X1 should be content with the keyboard. The keys don't have substantial travel and the feedback is too soft. However, the spacious layout makes for a comfy typing experience and the backlighting is a luxury that laptops in this price range seldom offer. The trackpad is large and fairly responsive too, and works great with all the Windows gestures. Watch out for the power key though; it takes a lot of pressing to light it up.
Another area where the Infinix InBook X1 shines is the audio performance. Budget laptops usually offer tinny two-speaker setups, but Infinix goes for a quad-speaker setup. The audio quality is superior to most laptops in this price range; there's a good emphasis on the mid frequencies. The bass is non-existent, but the volume levels are surprisingly loud. If you plan to watch movies on this laptop, you won't be disappointed.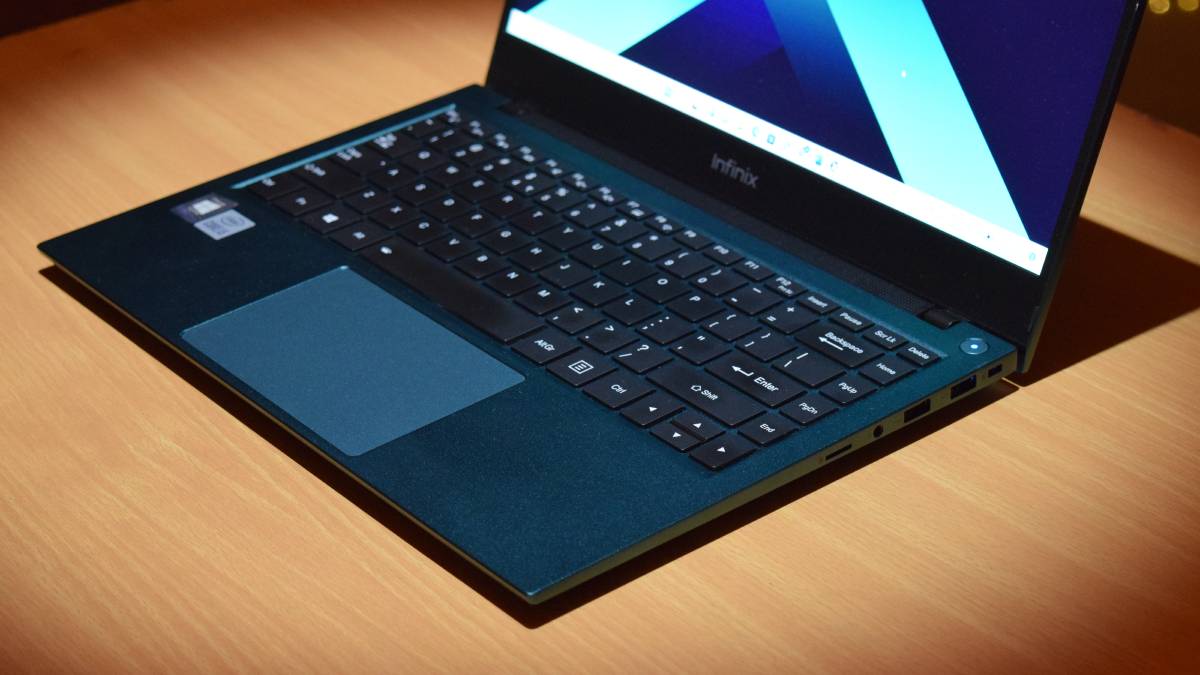 The mic reception is decent too but when it comes to the webcam performance, the Infinix InBook X1 does not do enough to change the perception. It is serviceable in good lighting during Zoom or Teams calls.
Infinix InBook X1 Battery life
With its 55Whr battery, I was able to keep the Infinix InBook X1 alive for up to 6 hours at a stretch. Note that this was with 30 percent battery life, Balanced power plan, active apps and constant Wi-Fi connection. Charging via the supplied 65W charger is fairly fast, with the laptop easily filling up to 70 percent in around an hour from a dead battery.
Verdict
The Infinix InBook X1 is a seriously impressive Windows laptop given the price tag it carries. At ₹45,999, you are getting a solidly built laptop with a very nice display, a fast 10th Gen Core i5 processor, a 512GB SSD storage, a decent quad-speaker setup, and nice battery life. There's no other laptop that matches the InBook X1 Core i5 with regards to value. If you are seeking a laptop for doing "just laptop things", this is more than enough.
It is not flawless though. Compared to the 11th Gen processors, Infinix offers the older 10th Gen Intel Core i5. The keyboard could have been better and the same holds true for the quality of the plastic keycaps. The hinge is too firm and at 1.48 kilos, it isn't exactly feather weight.
Most importantly, the price of ₹45,999 is an introductory price. If Infinix bumps the prices by as little as ₹5,000, it ventures into the territory where the RedmiBook 15 Pro from Xiaomi and other options from Dell, Lenovo, and HP are compelling alternatives. Plus, those brands deliver solid aftersales support, something where Infinix has to prove itself. And then there's the case of reliability; nobody knows how long the Infinix InBook X1 will last before throwing up tantrums.
To sum it up, the Infinix InBook X1 is a solid Windows 11 laptop to consider based on its introductory price. If you are willing to put up with the uncertainty of a new brand's after sales service and lack of any reliability records, you should definitely check this out before making a decision.
Follow HT Tech for the latest tech news and reviews , also keep up with us on Twitter, Facebook, and Instagram. For our latest videos, subscribe to our YouTube channel.
First Published Date:
25 Dec, 08:21 AM IST
71640361515231
NEXT ARTICLE BEGINS