Lenovo IdeaPad Slim 5i review: The right mix
We have been using the IdeaPad Slim 5i for a bit now. It is one of the latest in the Indian laptop market running Intel 11th-gen processor while flaunting a premium build which gives an overall solid feel.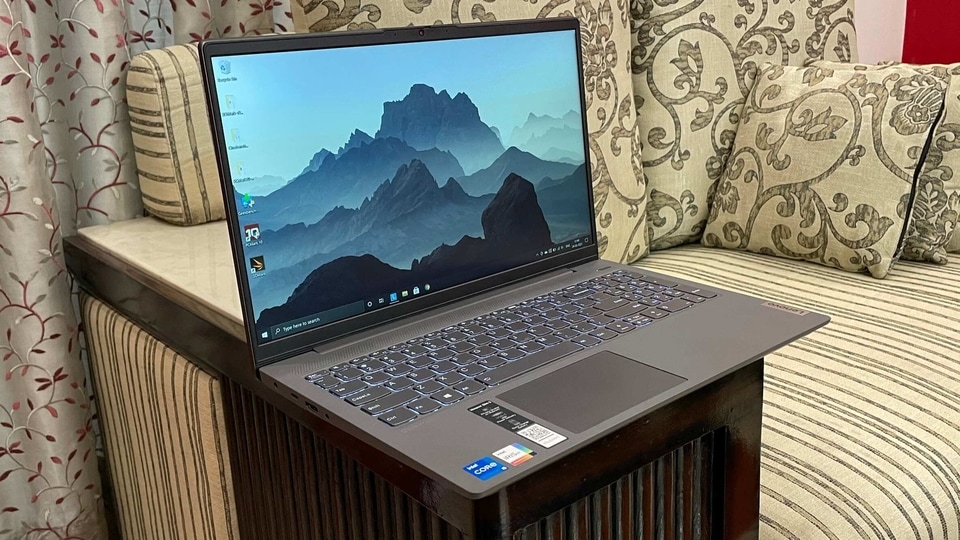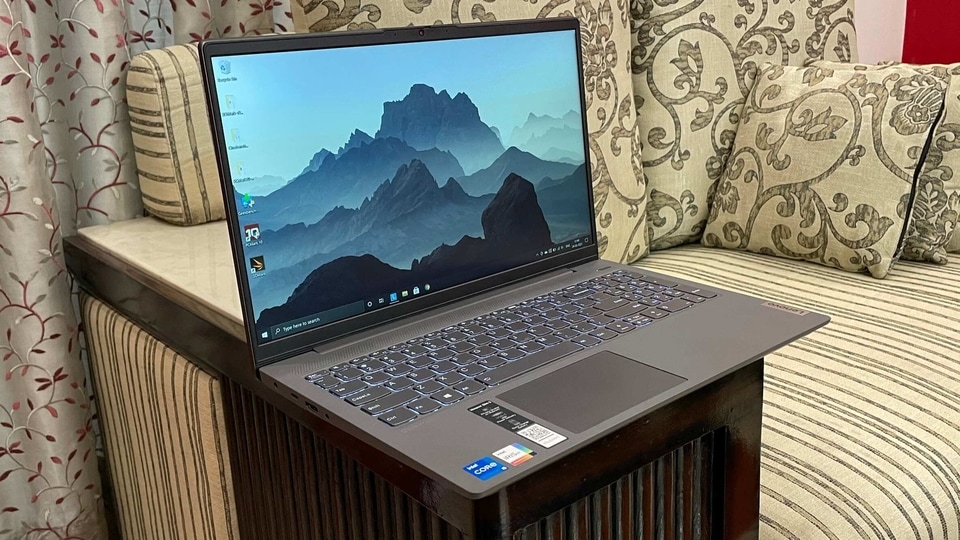 Lenovo has made some serious improvements in quality and overall offering in the mid-range laptop lineup over the years with the IdeaPad, Yoga and ThinkPad lineup. Among these, the IdeaPad lineup has carved its own popularity, being the one made specifically for the masses. And the company's IdeaPad Slim 5i treads the same path while making the series more robust.
We have been using the IdeaPad Slim 5i for a bit now. It is one of the latest in the Indian laptop market running Intel 11th-gen processor while flaunting a premium build which gives an overall solid feel. However, at the same time you have some rivals coming up with similar offerings, giving each other a run for their money. So, does Lenovo's IdeaPad Slim 5i keep the light shining? Here's what we felt.
Design and display
Like most of the other Lenovo laptops in the IdeaPad, the IdeaPad Slim 5i manages to bring the 'premium' factor with its metal build across the board. There is a monochrome colour running across the screen lid, hinge, keyboard area and the underside. This might look boring to some but on the brighter side, the device doesn't feel cheap. The build does add a bit of heft to the overall device but it's nothing that you cannot move around easily if you are carrying it in a bag.
Besides the plain look, you get a sturdy hinge that doesn't make any sounds or does not wobble the screen. That said, the bezel below the screen is slightly more than what you see on the other three sides but not enough to bother you in any way. But don't expect a feel that is as good as the Legion lineup.
The hinge gap is right where you get the exhaust with all the air being sucked in from the underside. The keyboard is spacious and the numeric keypad just adds to the usability. It might be a bit cramped if you are doing some light gaming on this, but for general typing it's fairly good. The key travel time is good as well.
You get some useful ports on this including a couple of USB-A 3.1 Gen 1 ports, USB-C Gen 1 port, HDMI 1.4b, SD card reader and a 3.5mm headphone slot, so all your basics have been covered here.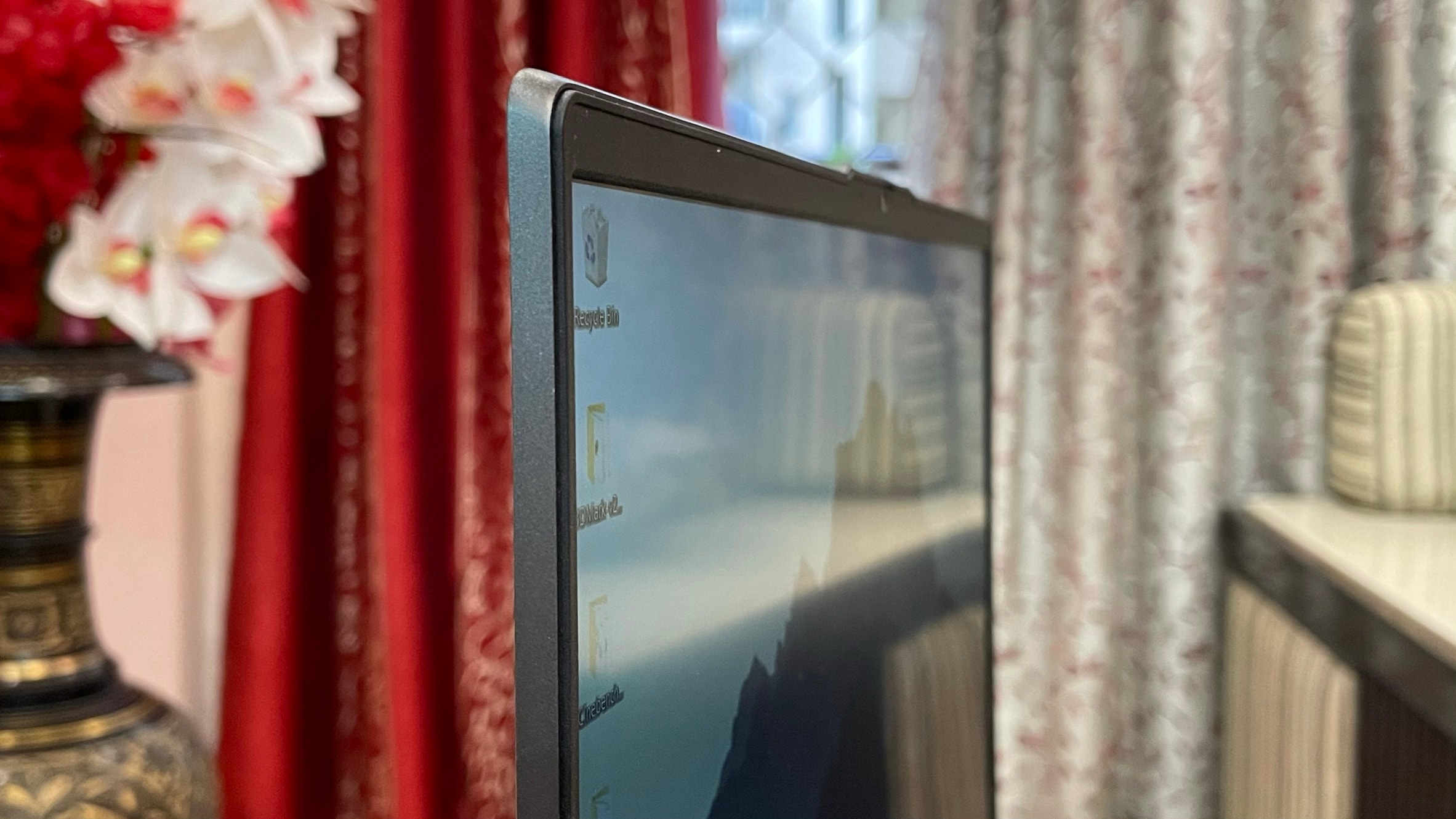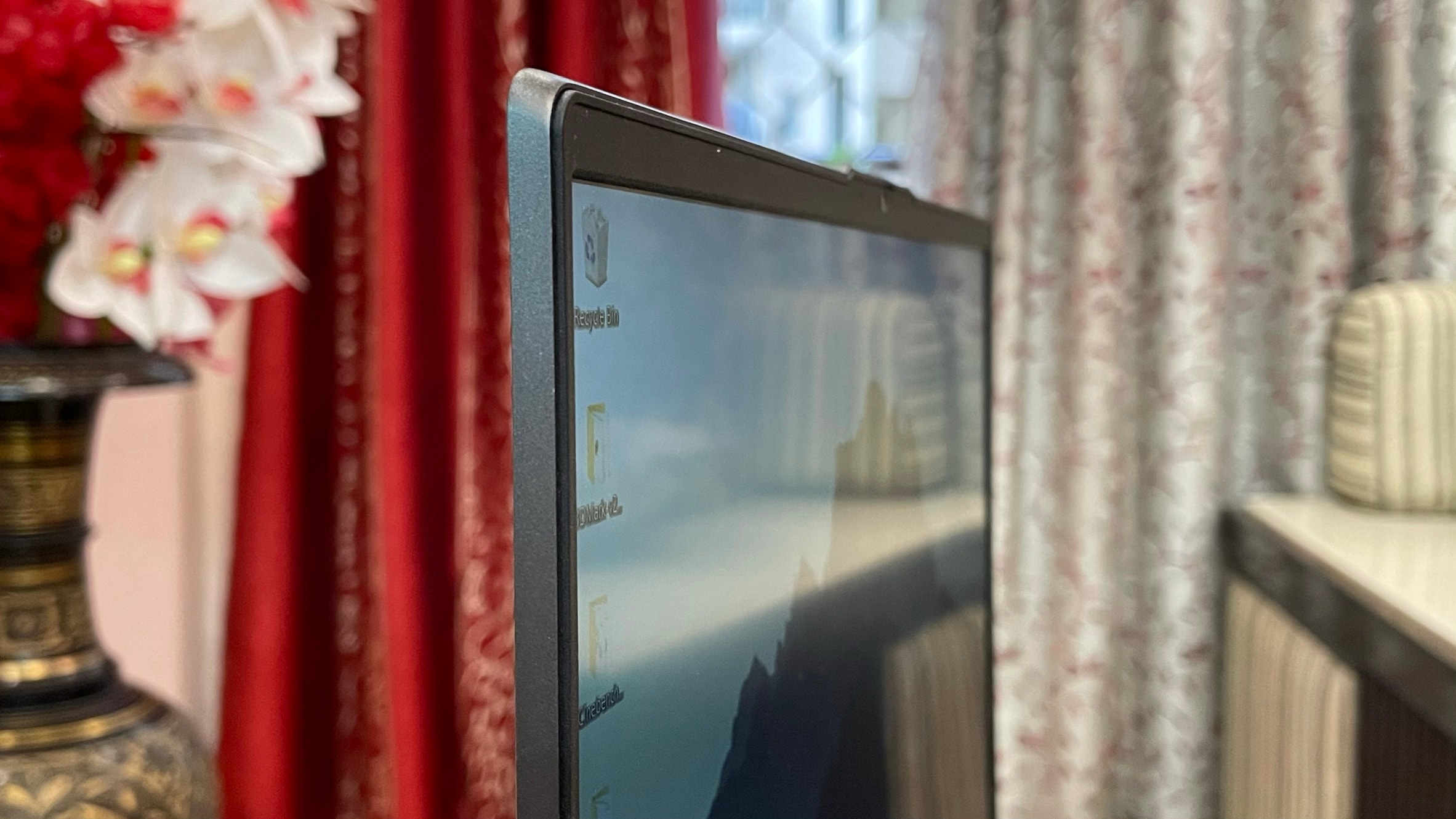 We really have no complaints from the 15.6-inch IPS screen that comes with sRGB and NTSC colour spectrum coverage based on the variant you buy. It's a bright and saturated screen and is thankfully not glossy enough to need you to change the angle of the screen while working with a bright overhead background. All the variants come with FHD resolution, something that we have been batting for since quite some time, as having a QLED screen in a 15.6-inch canvas just adds to the cost without giving you any visible upgrade.
There's a webcam above the screen, housed in a notch-like protrusion, which is meant to be used to lift the screen lid easily - it is always good to see nifty things that make things easier.
Unfortunately, that's where the good news ends. Since the IdeaPad Slim 5i is not pitched as a premium machine, Lenovo has stripped off features like Dolby Vision, 144Hz refresh rate and the impressive 1ms response time. Also, unlike some Legion-branded laptops, what you get here is a decent brightness level of 300 nits instead of 500 nits.
Performance
Talking about making things easier, there is a high chance that you can't go wrong with a Lenovo IdeaPad if you want a product that can get the work done and delivers a mix of almost everything, ranging from light gaming to productive work and even a bit of video and audio editing. But since the IdeaPad is primarily meant for mostly office work, balancing out things and giving a consistent performance can be tricky simply due to the range of different tasks we are required to cover. And with IdeaPad Slim 5, we weren't disappointed. The unit we received was the Intel 11th-gen Core i5 1135G7 model with 8GB RAM and Intel Iris Xe GPU.
With the Slim 5i being our daily driver, we primarily found ourselves working on six or seven different apps including two different Chrome browsers, each with multiple tabs open. On the entertainment front, there was a whole lot of video streaming, social media browsing and even a bit of gaming with Age of Empires. We did feel the fans roaring up at times and the laptop warming up, but not enough to make operations impossible. Nonetheless, there was no lag as such and light to medium work loads seem like something that can be handled by Intel Core i5 easily.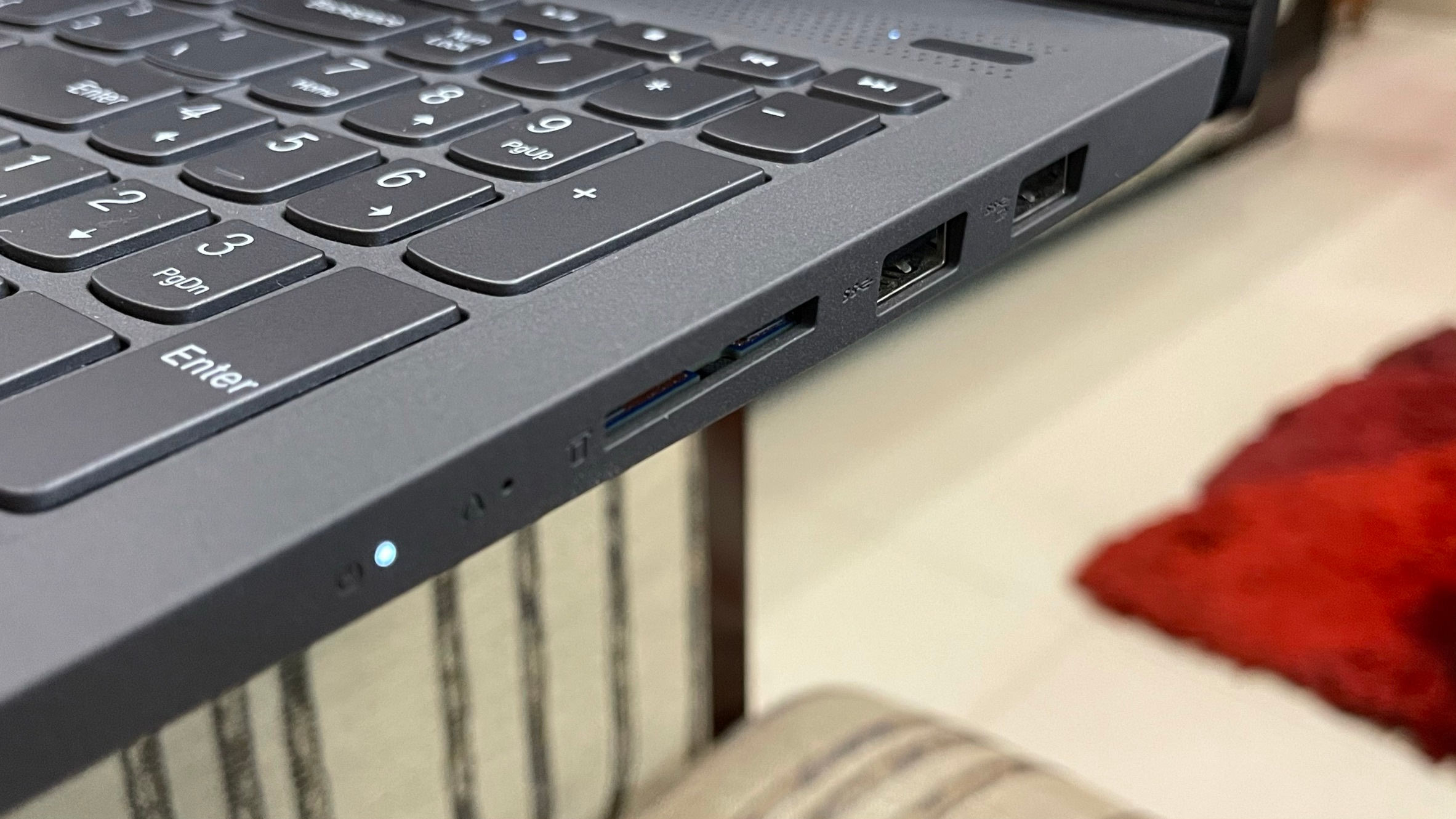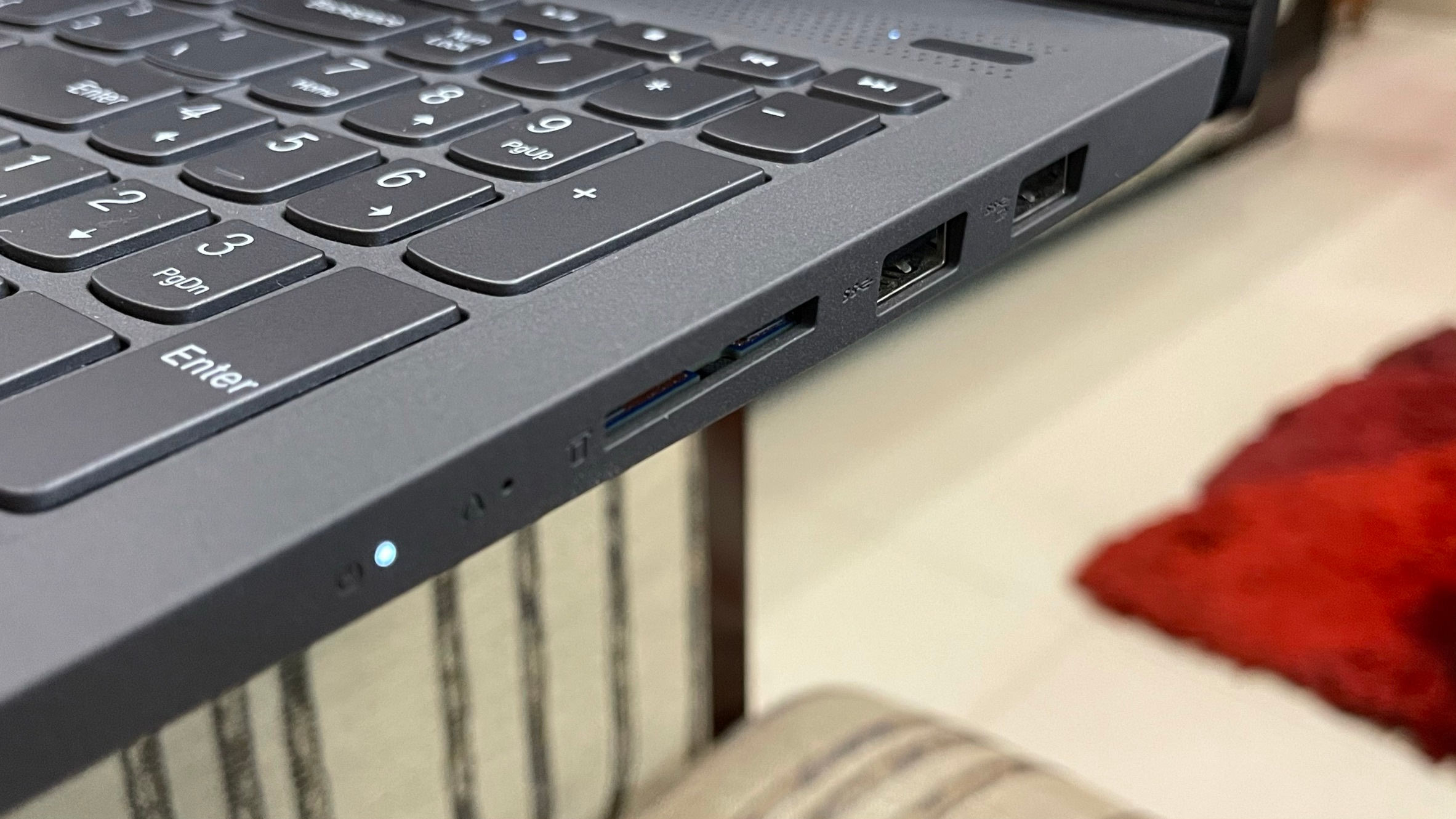 For those curious about numbers, the Slim 5i got 1395 in single core and 4654 in multi core in the Geekbench benchmark, 2141 points in Cinebench and 4543 in PC mark with 1153 in 3D mark. 'Essentials' got the highest in PC mark though with better app startup time, video conferencing and web browsing scores. Running each of these tests once got us a maximum heat level of 37C, which is still bearable.
Like seen in other Lenovo laptops, this one also has Lenovo Vantage. The application gives you access to Network Boost options, Hybrid Mode, TouchPad Lock, information on CPU, GPU and RAM along with some Quick Settings option for Rapid Charge, WiFi Security and Dolby. Changing the Thermal Mode from Performance to Balance and Quiet is also an option. The heat signatures we mentioned above are on 'Intelligent cooling'. You also get 'Extreme Performance' and ''Battery saving'. Some other software preloaded are the McAfee LiveSafe, Corsair iCUE and the usual Microsoft Office trial version.
A full-sized keyboard with a numeric pad is a large space to work upon and is always convenient. And for the battery, the performance was not as bad as one would expect. Powering the IdeaPad Slim 5i is the three-cell 57Wh battery that is not the best performer but not a bad one either. On average use including several Chrome tabs, two to three browser windows, a bit of streaming, working on apps and doing some light-weight browsing and document editing on the web, we were able to stretch the device for 10 hours. Light users can go around for a few hours without the charger but that laptop is unfortunately, not for that audience set. Average and heavy users might want to carry a charger, just in case.
Of course, a lot has to do with the apps and the battery optimisation mode that you have set inside Lenovo Vantage software. But for the most part, it won't let you down.
Adding to the mix is Lenovo's Rapid Charge Boost that is claimed to give you two-hours worth of juice in 15 minutes of charging. And you can always change the modes using the Vantage software to preserve the battery performance in the long run.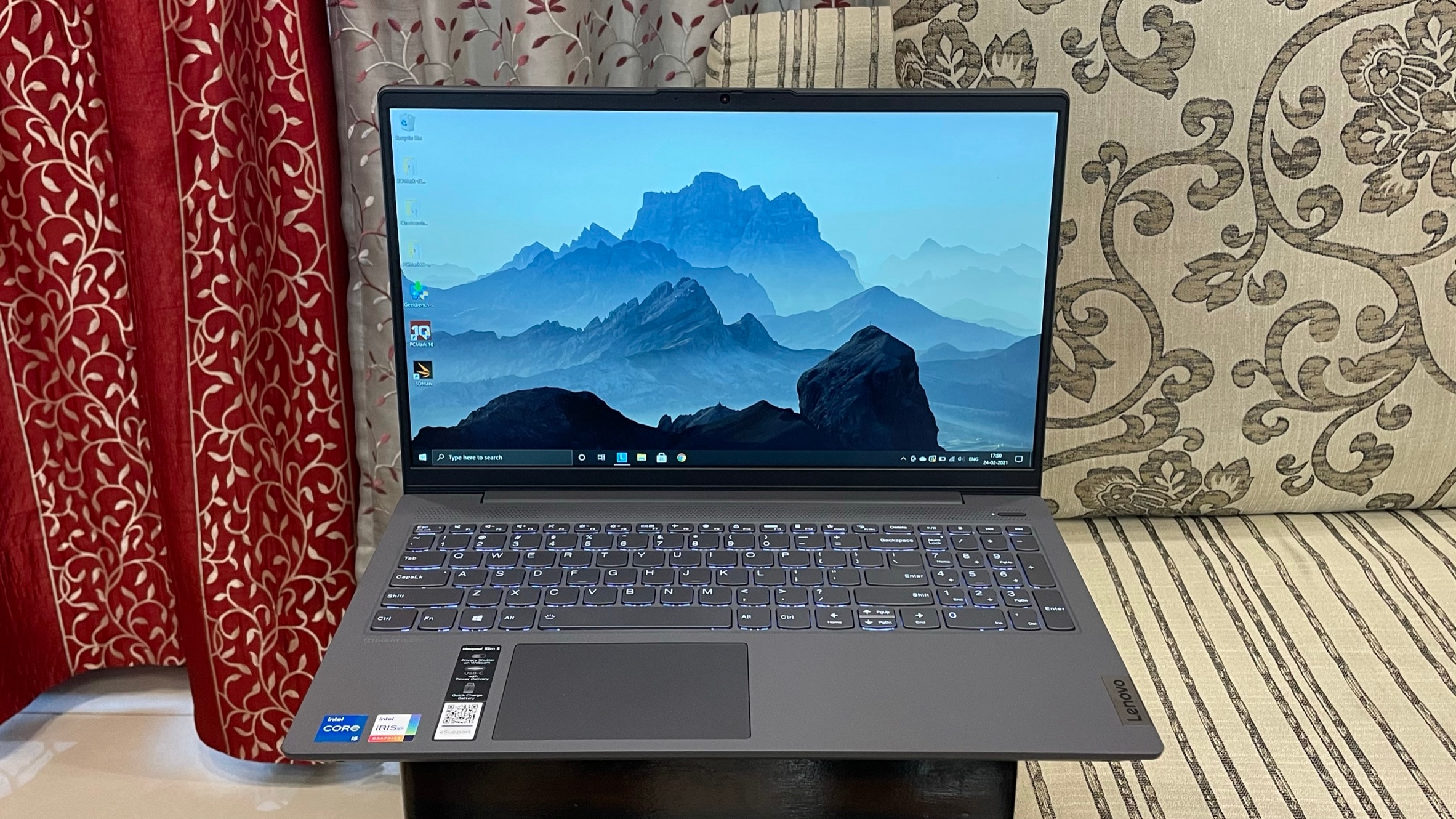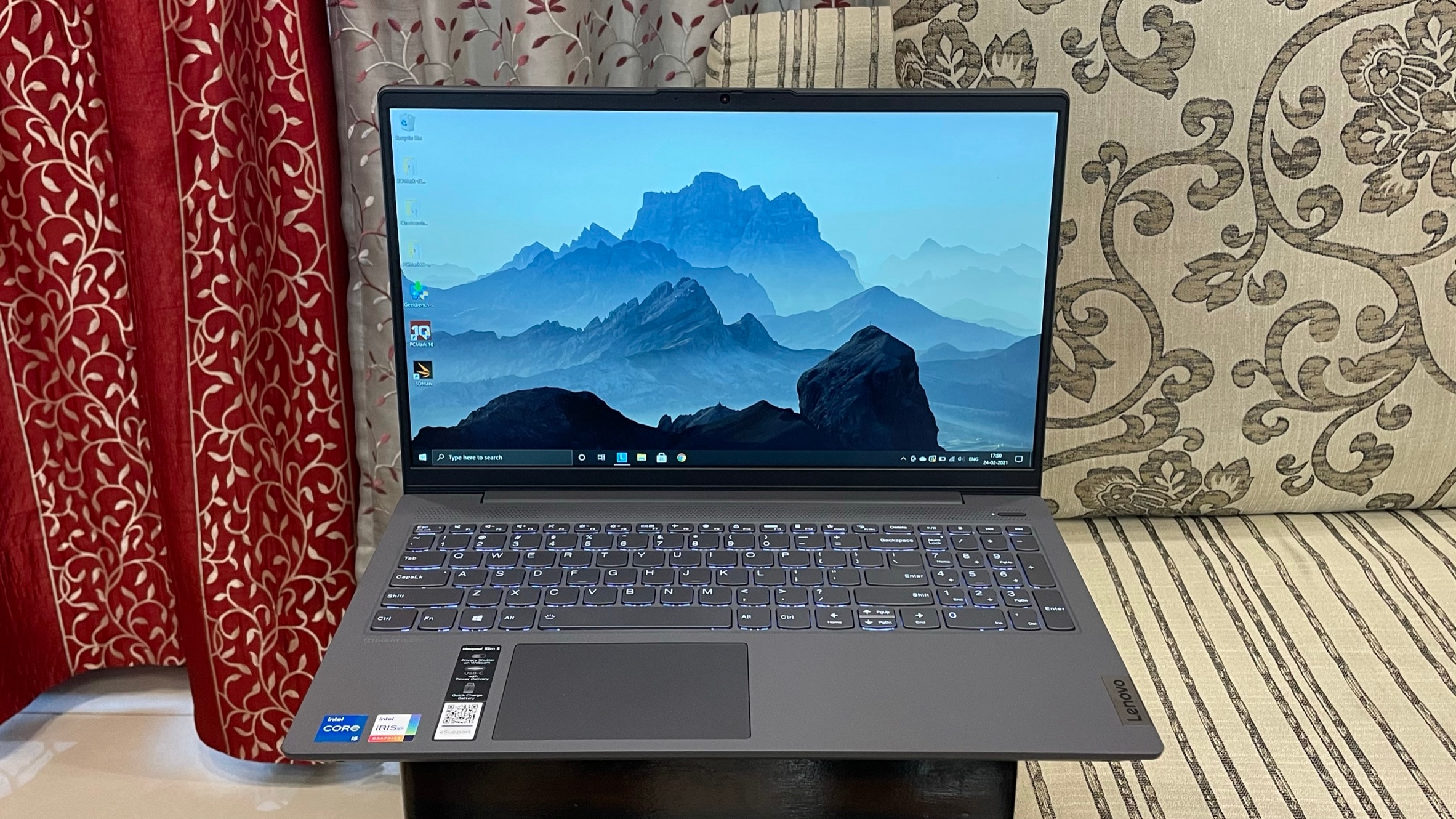 Verdict
From the looks of it, Lenovo IdaPad Slim 5i seems like it can do a bit of everything. However, that is not the case. The device is made for average work loads and if your work has a lot to do with online browsing, using apps that are not power-hungry and streaming videos. The looks are really good and the device in itself is not a heavy one. And with Intel 11th-gen Core processor, you might sail through most of your work without complaints.
Unfortunately, nothing more than light-weight, less graphic-intensive titles are playable and the keyboards are not really gamer friendly. The overall keyboard experience, in fact, might not be up to the mark considering the area around the numeric pad seems a bit cramped.But that said, the viewing experience, working on apps, audio and the overall look and feel of it, does fall on the positive side of things.
There are two models for Slim 5i, the one we got is priced at ₹63,990 while the one with same RAM, storage, battery but slightly better graphics (Nvidia GeForce MX450 instead of integrated Intel Iris Xe) costs ₹70,990. Since the difference between them is just ₹7,000, we would suggest you go for the Nvidia GPU model. However, if you can live without a slightly better GPU, then you won't be missing anything major with the ₹63,990 variant.
Yes, there are other 11th-gen Intel Core based laptops out there but the IdeaPad Slim 5i, given that price tag, proves its worth to a good extent.
Follow HT Tech for the latest tech news and reviews , also keep up with us on Twitter, Facebook, and Instagram. For our latest videos, subscribe to our YouTube channel.
First Published Date:
26 Feb, 02:23 PM IST
71614323420884
NEXT ARTICLE BEGINS