Microsoft Garage launches Group Transcribe app for in-person conversations
Unlike the regular transcription apps, Microsoft's Group Transcribe uses a multi-device collaborative approach for better accuracy and experience.
04 Mar 2021, 09:20 AM IST
in news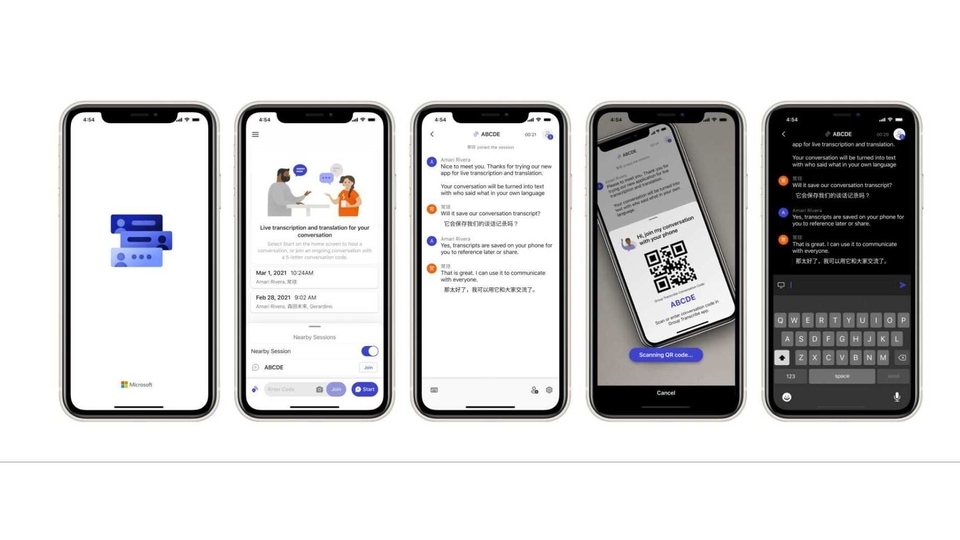 Microsoft has introduced a new application called Group Transcribe that offers real-time transcriptions of in-person meetings and conversations. The app has been developed by Microsoft's in-house incubator, Microsoft Garage. It is currently available on iOS for free.
The application also differentiates itself from other transcribe apps like Otter.ai and Google's Recorder by taking a collaborative approach. The app allows participants in a meeting to record on their own devices simultaneously. To begin, one will have to initiate the recording and invite others through Bluetooth or a link or a scannable QR code. Once other participants join, they'd see real-time transcription on their phone.
Microsoft recommends that participants should use their own phone "within arm's reach" for the best quality experience. The FAQ section further reveals the app does not cap the number of participants but works best for "in-person meetings with up to four people."
Microsoft's Group Transcribe app supports more than 80 languages including Hindi, German, Greek, Japanese, Russian, Swedish, Arabic and French among others. The app also offers real-time translation.
ALSO READ: Otter.ai can now live transcribe Google Meet calls
"This can be a fantastic tool for communication. What I would love to see is for this to break down barriers for people speaking across multiple languages," says Franklin Munoz, Principal Development Lead and one of the lead engineers who developed the app.
The core of the new application is speech and language AI. Microsoft pointed out that it has accomplished several speech and language AI milestones in recent years. The Group Transcribe app will enable its researchers to better latency, accuracy and speaker attribution. The company has also focused on privacy with the new application as it allows users to choose what they want to share.
"We've taken care to make data and privacy controls as granular as possible," explains Senior Program Manager Masaki Itagaki, who focuses on speech privacy. "I hope users leverage these to take the sensitivity of a conversation into account and withhold sharing those conversations on a case-by-case basis."