Microsoft's Nadella launches Sangam and Skype Lite with Aadhaar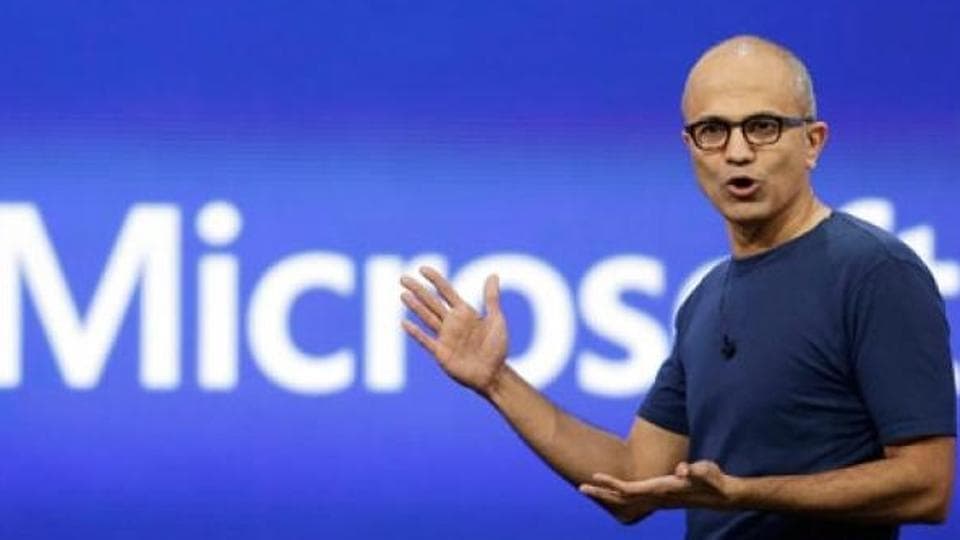 Redmond-based Microsoft on Wednesday launched the new Skype Lite app for Android with its proprietary Aadhaar Praman service and bots capability at the Future Decoded 2017 event in Mumbai. Other launches included Project Sangam -- a skilling initiative.
Microsoft CEO Satya Nadella on Wednesday launched light version Skype along with a new product called Project Sangam at the Future Decoded 2017 event in Mumbai.
The CEO also announced that cloud computing was gathering pace in India and all sectors including auto, finance and the public sector was adopting the new platform.
"Ford, BMW and Toyota have all worked with us to use the cloud. Tata Motors is joining the same industry movement. Cloud has had a positive impact on the bill of materials for vehicles. The experience of the driver and passenger is changing, thanks to the cloud. The business model is also changing and there is a high chance of gross margins improving," Nadella said, adding that the financial sector is also changing in the country with State Bank of India adopting Office 365 for its operations.
He also said that cloud helps in financial inclusion and helps banks take advantage of data for making advanced decisions. Further, he said that the public sector is adopting cloud as well and said that Andhra Chief Minister Chandrababu Naidu has taken the decision to become a cloud first state.
The CEO then showcased the new Skype Lite app for Android with built-in Aadhaar and bots capabilities. "Skype will now support Aadhaar. Skype Lite to come in to help people connect in poor network areas and it is going to come with Aadhaar capabilities," he said. The new Skype Lite app, which is just 13MB, can verify Aadhaar data on the go in the form of OTPs generated more like ordering food or using Paytm. Users can chat with 'Aadhaar Verified' users on both the regular Skype app and the new Skype Lite app while interacting for job interviews, government services and other services.
Saying that Microsoft's latest acquisition LinkedIn was focussed on India, Nadella said that the jobs-based social media was working on India specific products.
The CEO also showcased Project Sangam -- a skilling tool -- that will help citizens learn new skills to apply for jobs. Project Sangam will be an open ceosystem where trainers can pour their content into Sangam and people can take the training right from Sangam and apply for jobs.
The service can be started by first logging in with the Aadhar Praman service from Microsoft, then the user can choose to create a LinkedIn Profile and then enrol under courses for skill training. Lessons can be downloaded for offline viewing. Salary and location are also matched after the courses are taken and then jobs are recommended. The candidate's profile is also shared with the employer. However, the project is still in private preview mode. Additionally, Nadella said that LinkedIn currently has 39 million users in the country.
On Tuesday, Nadella and Flipkart co-founder and CEO Binny Bansal announced that the two companies will be partners on the cloud - Flipkart will exclusively be using Microsoft Azure as its public cloud. Nadella also met with Prime Minister Narendra Modi and IT Minister Ravi Shankar Prasad, assuring the government of its initiatives in healthcare and education. Nadella also participated in a round table at NITI Aayog, tapping into cloud computing for good governance in the country.