WhatsApp now allows you to share documents in chats
WhatsApp Messenger finally gets the much-needed ability to send documents over chats
03 Mar 2016, 10:14 AM IST
in news
WhatsApp users will finally be able to share documents with each other over chats. The feature is now available on the latest WhatsApp builds available on Google Play and the App Store.
Users with WhatsApp version 2.12.453 on Android and version 2.12.14 on iOS will now see a new 'Document' section under attachments, which allows them to attach and share documents.
However as of now, the feature seems limited to PDF files only, though we expect more document sharing options to be added in the near future. Its also worth mentioning that users cannot share a document unless both the sender as well as the receiver have updated to the latest version of the app available on their respective app stores.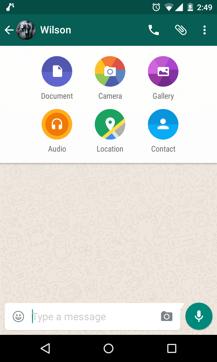 Meanwhile, WhatsApp for iOS also scores a bunch of new updates which now give you the ability to share photos and videos from other cloud storage apps such as Google Drive, Dropbox, or Microsoft OneDrive. In addition, the update also allows users to choose from a variety of solid colours for their chat background.