Asus ZenBook Flip S review: Minor sacrifices, major gains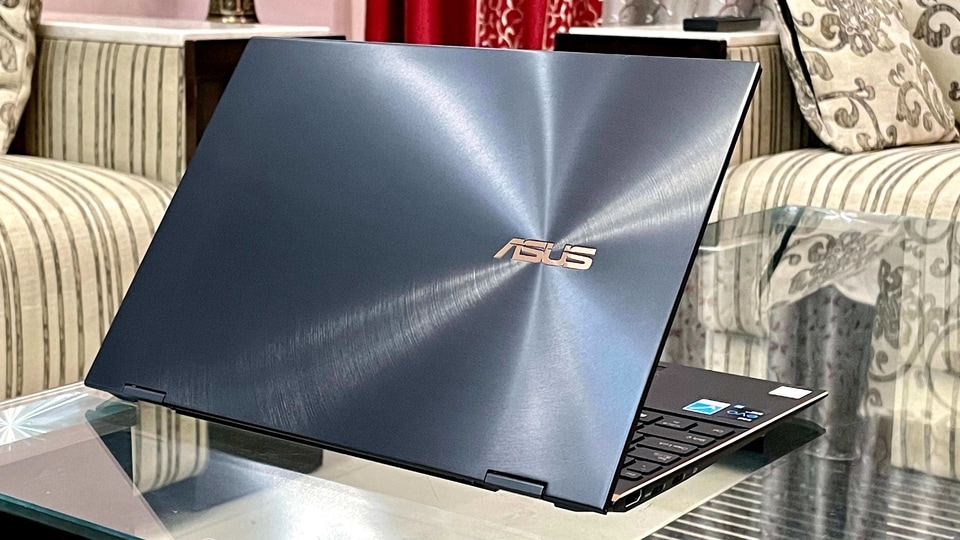 Asus is not done with 2020 yet. It just launched the ZenBook Flip S, which is also among the first in India to feature Intel's 11th-gen 'Tiger Lake' processor. Priced at ₹1,49,990, there are some minor sacrifices but you probably won't care if you are the target customer.
"With great 2-in-1 comes great productivity." We just made that up. But that isn't a lie as some OEMs are not able to make full use of this form factor and push it to its real potential. We have reviewed some 2-in-1s before and we kid you not, a few did make us feel that a traditional laptop was better. But Asus being Asus, is now trying to change that idea.
The Taiwanese tech firm has had quite a year. From ROG Phone 3 to several gaming laptops and then entering the commercial laptop and desktop segment in India, it has really spread its wings. But 2020 is not over yet and so are Asus' plans of launching devices. Today, we are talking about its latest 2-in-1 in India, ZenBook Flip S.
Among other things, this device gets our attention because it is one of the initial set of laptops in the country to launch with Intel 11th generation processor. So, priced at a hefty ₹1,49,990 (for the base variant), is this giving you a bang for the buck? We used this super portable piece of machinery and here's what we found.
Design and display
Asus ZenBook Flip S has played well on the sophisticated look, something that is reflected from its chassis design.The unit balances the Matte Black look with Golden accents on the hinge, around the chassis and the screen lid. The entire product is slim and not a heavy weight considering its 2-in-1 form factor. And at the lid, it is the signature concentric ring pattern, something which has been there in Asus devices since years now.
What's impressive is that unlike other 2-in-1 models, this one doesn't give you any creaking noises despite having a 360-degree rotating hinge. And while we are talking about it, the hinge is quite sturdy and typing on it won't wobble the screen at all. Asus has also thrown it's ErgoLift hinge design in the mix so there is enough space for the airflow through the vents. Although it does lift the keyboard a little, it might not deliver a major change in your typing position. That said, the keyboard is pretty good and the key travel seems as good as any traditional laptop even with a slim overall profile. Looks like Dell XPS 13 is getting some competition here.
Fortunately, you get more than just two type-C ports in ZenBook Flip S. There's a full-size HDMI output port along with two Type-C Thunderbolt 4 ports and a regular Type-A port (3.2 Gen 2) on the right side, besides the power button. However, what many might not like is the traditional 3.5mm headphone jack. Call it a lack of space or just one of the ways to push users towards a wireless future, but its departure will surely affect a lot of users.
What's worth noting is that Asus ZenBook Flip S uses the entire width for the keyboard here. There are no keypad buttons but the ScreenPad 2.0 that brings the keypad right on the touchpad itself. While that's a good use of the space, it results in speakers with Harman Kardon tuned audio placed at the underside. And for a change, it still manages to deliver nice, crisp audio while watching videos or playing games. And if you are watching content with stereo sound, this manages to justify that as well. Now add DTS Audio processing in that and you get a really good performance. All thumbs up in that section.
As for the 13.3-inch display, the 4K resolution screen looks as sharp as you can expect from any other laptop. Add an OLED panel to that you get a really good viewing experience. From the deeper Blacks to saturated colours in videos and good contrast ratios, the content looks well-balanced, rich and vivid. It gets comfortably bright in daylight environments and dims enough so it doesn't hurt your eyes in low light situations.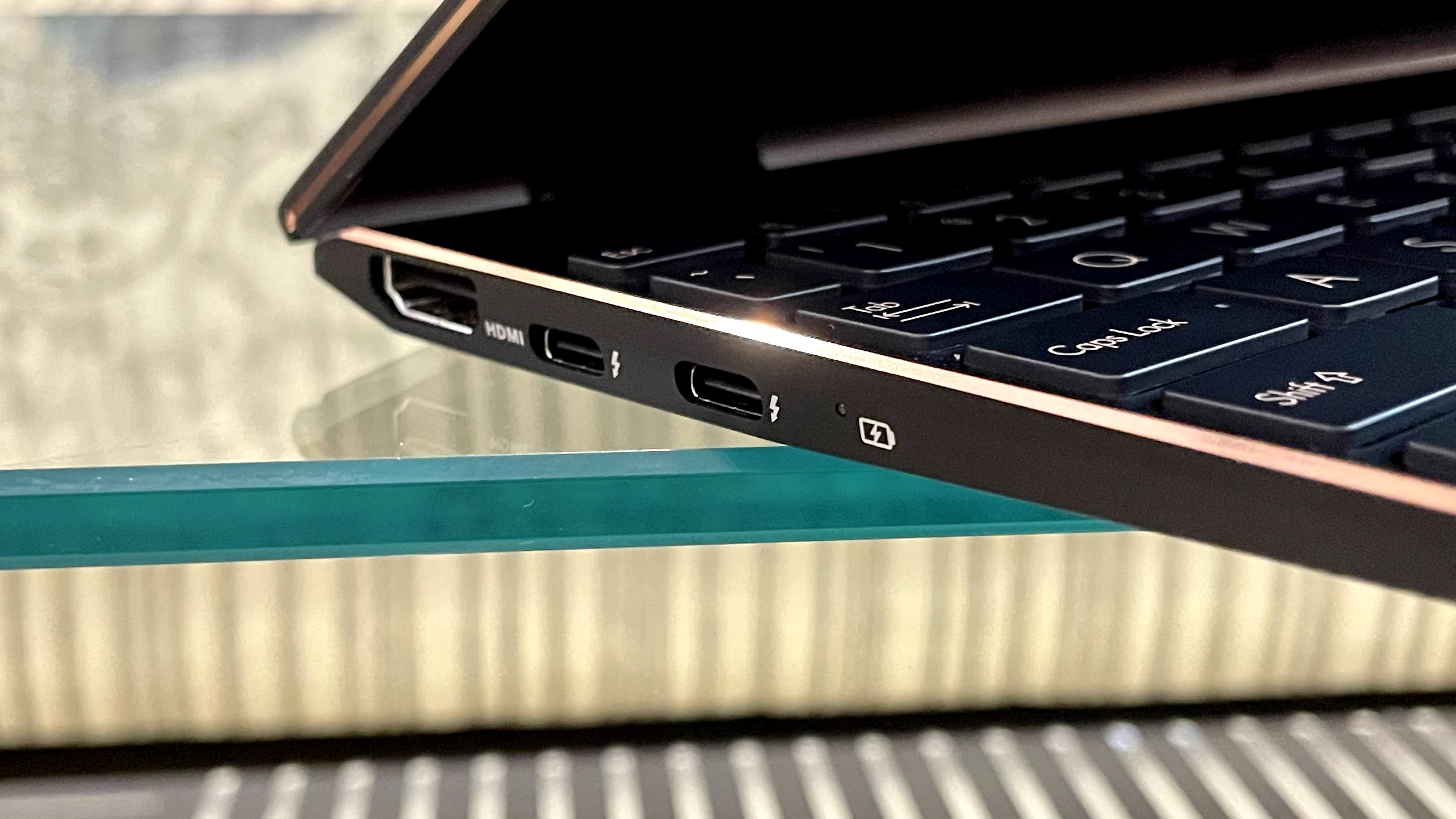 And what's more, is that the screen has DCI-P3 colour gamut support, so be sure to see more shades of every colour that are also close to reality. This might hardly be of any use for most Indian consumers who are going for this premium yet powerful machine. However, in case you are into image or video editing, this addition will definitely come in handy.
The 360-degree hinge is quite good and so are the NanoEdge bezels on the sides. However, the fourth side or the one below the screen is just a Black strip that has nothing but only the Asus ZenBook branding - something we think could've been avoided to bring down the footprint a bit. Although nobody is expected to use the touchscreen full time here, typing on it and operating, in general, is fluid. There are no unwanted stutters while swiping through apps rousing gestures to scroll, swipe or select multiple documents.
Performance
The unit we received was the top of the line mode with Intel Tiger Lake 11th Gen. Core i7-1165G7 processor with 4 cores and 8 threads and 16GB RAM. And for a 2-in-1, that's a generous amount of power. Devices with such form factors are not meant for professional-grade work like Autocad, 4K footage edits, colour grading and more. However, with the spec inside, this will manage to handle them to a certain extent. But being a hybrid laptop, you can use it for heavy browsing, multiple office projects, maybe some video editing to an extent and media consumption. Nothing more. And having the Intel 11th-gen processor doing all of that, you won't get any complaints when it comes to handling them.
At times we did hear the fan roaring underneath, specially while working on multiple Chrome tabs and some gaming with not-so-cranked up settings and even while running Geekbench, PC Mark and 3DMark, at no point did we feel the heat reaching the keyboard. The blank area above it definitely gets hot. We were able to get around 42-degrees after running four software.
As for the test results, we got 4359 overall score on PCMark 10 with 'Essentials' related to web browsing, video conferencing and app start-up speed getting the highest score of 9276. On 3D Mark you get 1163, while on Cinebench R20 you get 1171 average score. And on Geekbench, the ZenBook Flip S got 1485 for single core test and 4328 for multi-core. Now, all of them are lower than what you may get typically in an Intel 10th-gen Core i7 running gaming laptop with 16GB but it still is capable of performing most tasks that you throw at it. Those specifically following the number game here will be disappointed.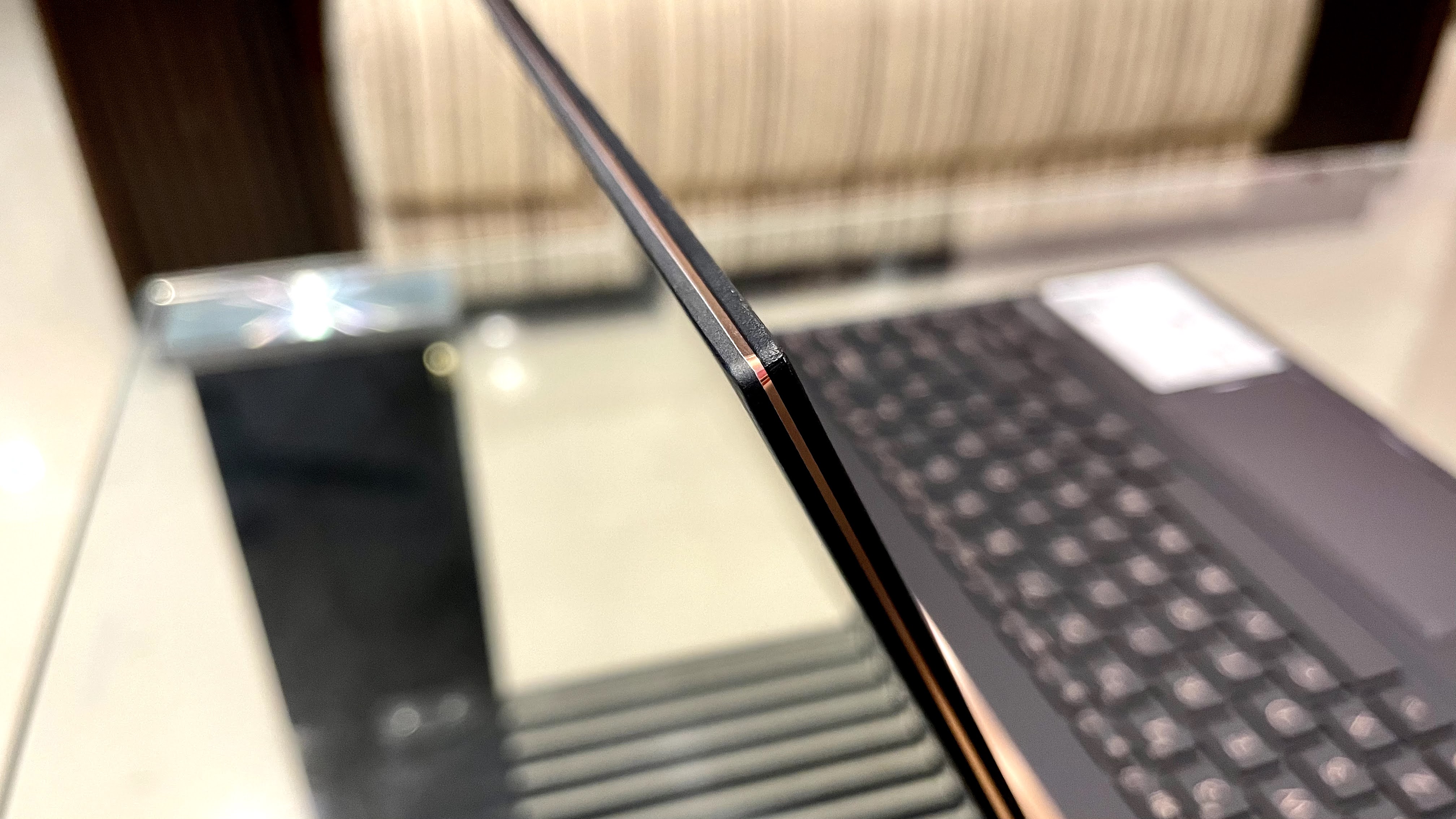 The Intel Iris XE graphics is not the best one out there and it might not be able to handle games like Assassin's Creed Odyssey at fairly good settings. However, working on 30 odd tabs across two Chrome windows and playing some local media files - all are handled perfectly well.
Thankfully, you get most of the basic connectivity ports including full-size HDMI port, two ThunderboltTM 4 USB-C ports that support Power Delivery and external 4K displays while providing data speed of 40Gbps, and a USB 3.2 Gen 1 Type-A port. So, there's hardly anything that is missing here (except for the card reader). What's impressive here is that unlike few others, you do get these ports in such a sleek build.
And as always, you have the MyAsus application from where you can manage everything from battery performance mode to fan speeds, disk checkup, Blue screen error, wifi connectivity issues and more. We did find it handy as it proves to be a single software to handle all those features that you can't via the usual Windows Settings app.
Battery
Battery performance of the ZenBook Flip S is good but not the best. And a whole lot of credit goes to the Intel Tiger Lake processor here. The device itself has a 67Whr battery, which is not the maximum in laptops but still enough for 2-in-1 devices. On mixed usage including browsing, varied screen brightness levels, thermal and fans, we were able to stretch this one to 7-8 hours on light use and around 5 hours on average use.
Asus, however, claims it to run for up to 10 hours in an ideal condition.
It's not the best performance but it's not bad either, considering it has a fan, which takes power to cool things down and a 4K panel that pushes out more pixels.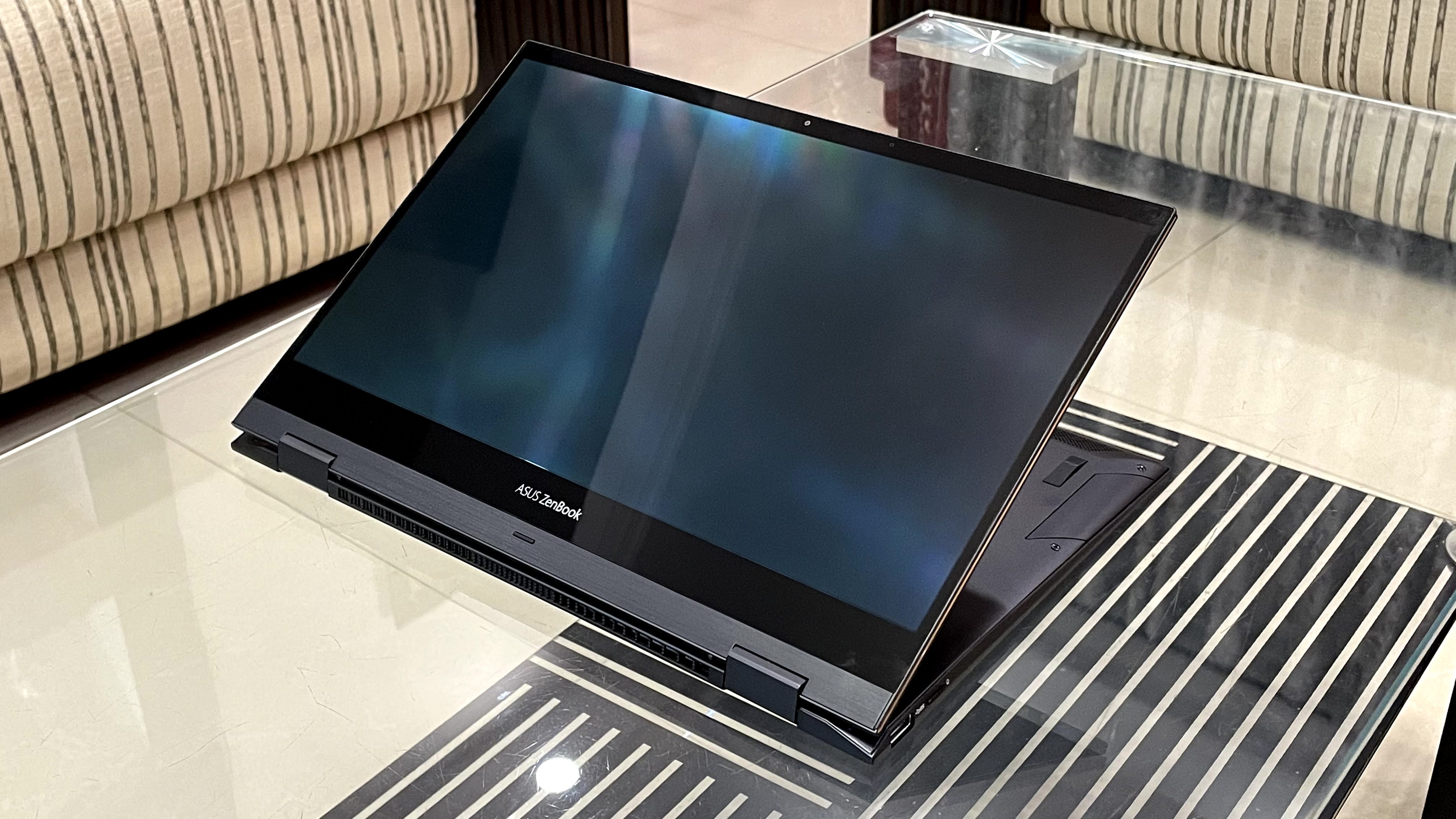 So, if battery is the factor you can't ignore, with ZenBook Flip S you can't leave your charger at home be fine going out for the day, until unless you are a light user and will only watch media files or browse the web. For everything more than this, you would need a charger sooner than later. However, the good part is the fast charging tech that it comes with. The device is claimed to charge up to 60% in 50 odd minutes.
Verdict
While there's nothing major to complain about in the ZenBook Flip S, what many might not be able to wrap their heads around is the ₹1.5 lakh price tag. Considering you get slim laptops that perform well and have good screens at a lesser cost, in case of ZenBook Flip S you might be paying a whole lot of money for the convertible design, slim form factor and the 'premium' looks only.
If you want a stunner of a convertible with a 4K panel and are willing to shed that much money, this might be it. That said, the compact size and the ease of use are the highlights. We did find it easy to move around using this piece of machinery.
But we would recommend users to stick with a FHD screen. And if Intel 11th-gen processor is the priority, you do get a lower-priced Flip 14 or offerings from Dell with the same processor. At the end of the day, it does leave you with minor factors to think about such as lack of a 3.5mm headphone jack in a portable device and not the best battery performance.
So, the question here is if you are willing to sacrifice a few minor features for major gains like good looks, 4K OLED screen and Intel 11th-gen Tiger Lake processor. If you ask us, the latter sounds better.